Government of Gilgit Balistan Cadet College Chilas starts taking admission application for class 8th and session 2023-2024. Chilas is a small town in Gilgit Balistan.
Students from all over the Pakistan can submit admission application form for 8th class in cadet college chilas.
Read also: Army Cadet College Entrance Exam Model Papers for Entry Tests
Eligibility Criteria:
Age limit: 12 to 14 years old till date 31 March 2023
Applicant must be 7th class passed (The students who are studying in 7th class must bring hope certificate from their school principal that he will be pass in their class with good marks.)
Applicant must be fit medically.
Entry Test Schedule:
The entry test or admission test will be held on date 30 January 2023 Sunday at following city centres.
Chilas
Gilgit
Rawalpindi
Peshawar
Lahore
Sialkot
Karachi
The entry test or admission test will be held under Pakistan Army Officials. After successful entry test, the students' entry test result will be published on www.ccchilas.edu.pk after that only successful candidates will be called for Final Interview.
Read Also: Wapda Cadet College Tarbela Admission 2023 FSC 8th Entry Test
Entry Test Subjects:
Urdu
English
General Science
Mathematics
Admission form and Prospectus:
The admission form and school prospectus available with the payment of Rs 1000/- from Cadet College Chilas, Salman Garments. You can also download admission application form online from www.ccchilas.edu.pk but must be submitted Pay order of Rs. 2000/- with the Admission application form.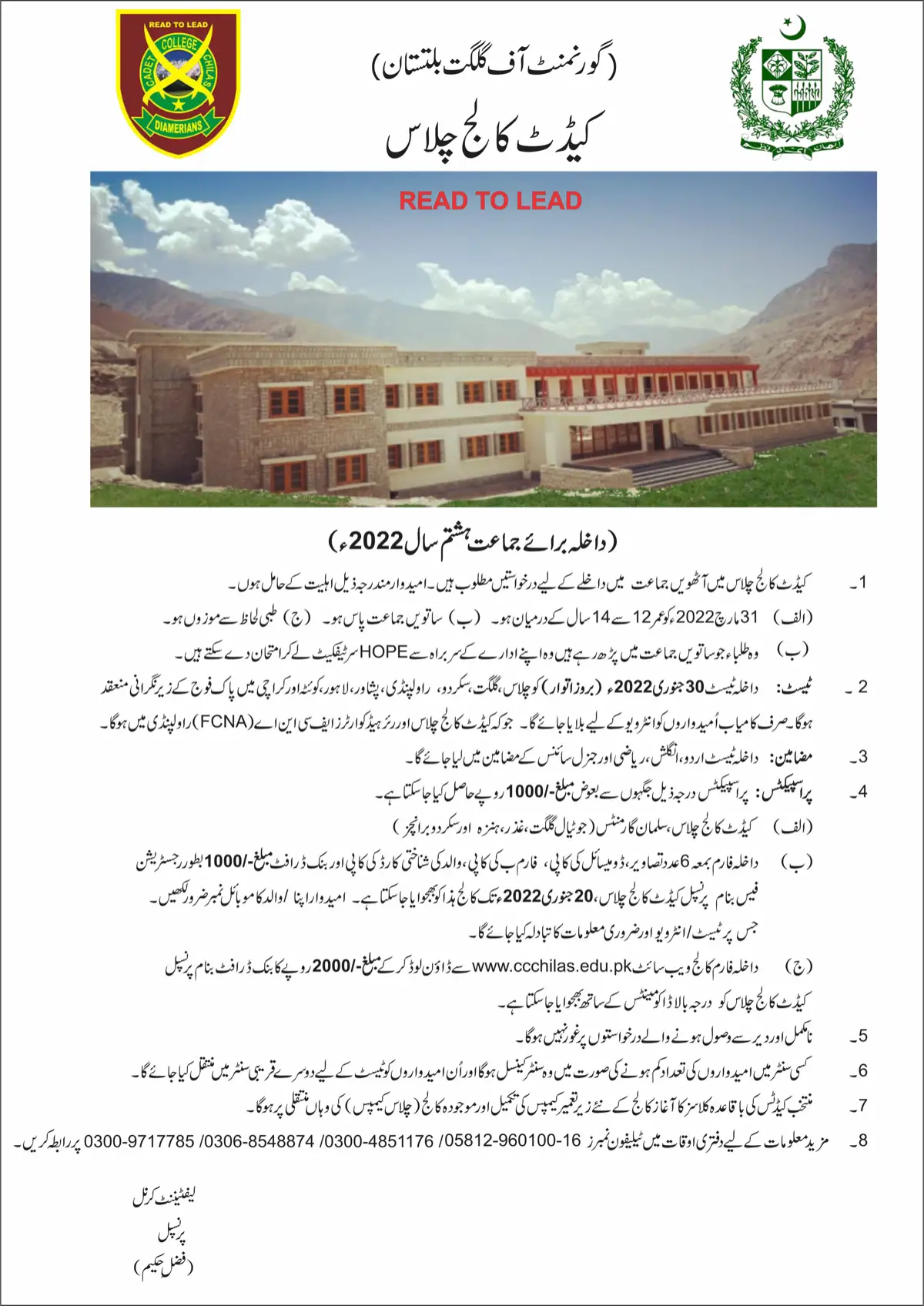 Required Documents:
Admission form with 6 pictures passport size.
Domicile certificate copy.
Form-B copy
Father ID card Copy
Bank Draft (DD) of Rs. 1000/- in favor of Cadet College Chilas Principal.
Last Date for submission of Admission Application From: 20 January 2023
Cadet College Chilas Contact Details:
05812-960100-16
Principal Muhammad Shahid Khan Cadet College Chilas Diamear.
Check also: Cadet College Skardu Admission 2023 Form Test Last Date
Cadet College Chilas Gilgit Baltistan Download Admission Form: Download Here