BZU Multan BA, BSc Registration Schedule 2022 for Private Students
Bahauddin Zakariya University BZU Multan opens registration for private students, who want to take admission in BA / BSC for session 2021.
The admission and fee schedule for those Inter Pass candidates who want to take admission in BA / BSC Session 2022:
Rs. 2500/- Single Fees Registration submission last Date: 05 August 2022
Rs. 5000/- Double Fees registration submission Last Date: 30 August 2022
Rs. 7500 Fees for registration submission last date: 30 September 2022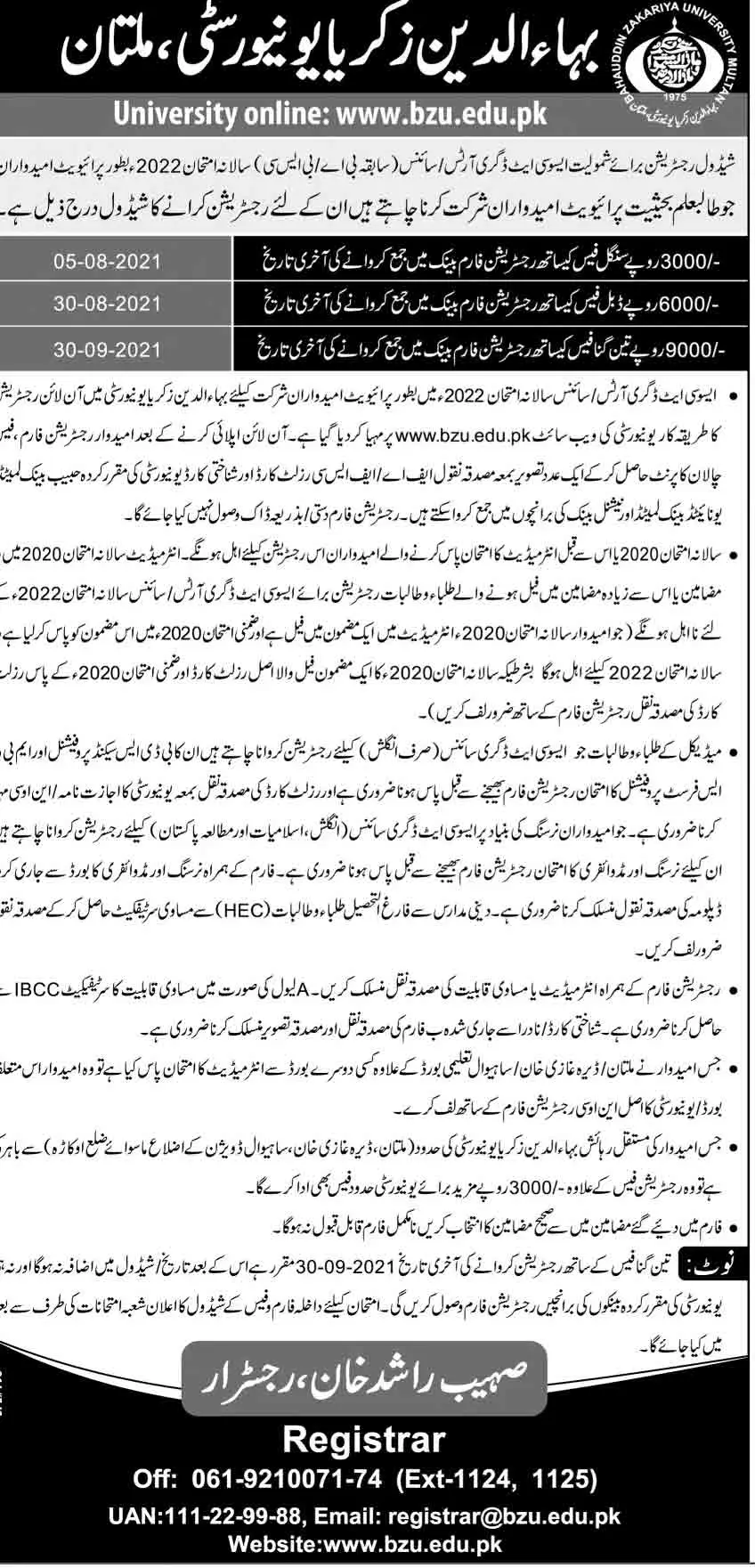 The complete registration forms for BA and BSC available at www.bzu.edu.pk for submission admission forms online.
Bahauddin Zakariya University Multan starts taking admission application through online admission system for BA / Bsc Annual 2020 for Private Students.
BZU has many campuses with affiliated colleges that are providing regular education; BZU Multan offers regular education as well as for those who wanted to appear in Annual Examination of BZU Multan for BA and BSC can submit their Admission application form online as well as through admission office of BZU Campuses.
BZU offers online admission system:
BA / BSC Annual 2022 for Private Students: Click Here
M.A / M.Sc Supplementary 2022: Click Here
LLB Part-I, II & III (Only For Private Girls Students): Click Here
Regular Students (For Colleges)
B.A/B.Sc, B.Com, M.A/M.Sc, M.Com, LLB: Click Here
MA MSC Admission Schedule for Private Students 2022 go here BZU Multan MA Msc Registration 2021 Schedule for Private Students