Bahauddin Zakariya University Multan announced today registration schedule for Private students, who want to appear in Annual Examination of BZU Multan.
Eligibility Criteria:
The BA / BSC Degree holders can submit registration form online to join MA / MSC Annual Examination that will be taken from Bahauddin Zakariya University Multan.
The applicants who graduated (BA, BSC) from BZU Multan, there is no need to register. But those candidates who have got their Bachelor degrees other than BZU University, its necessary to transfer ownership with migration letter and submit registration form according to following schedule:
Admission Test Will be held on date 21 February 2022
Last Date: 19 February 2022 Friday
submit registration form with Single Fees:
Registration form with Double Fees:
Last Date to submit Registration form with Triple Fees:
Fee Structure:    
Single Fees: Rs. 2500/-
Double Fees: Rs 5000/-
Triple Fees Rs. 7500/-
How to Submit Registration form Online:
The applicants who are eligible and wanted for registration can go to www.bzu.edu.pk submit online registration form and after that print the registration form and submit it to Bank with Registration Fee Challan.
The registration form with Deposit Slip can be submitted to following bank branches:
Habib Bank Limited
United Bank Limited
National Bank
The registration form through Courier or by hand will not be accepted.
Following documents copy must be submitted with registration form:
CNIC Card
Graduation Certificate / Degree or Mark sheet
B Form
Latest Passport Size Photograph
For those who have not graduated from BZU must be submit migration form / NOC with registration form, no need for BZU Graduates.
The students who are not from Multan, Dera Ghazi Khan, Sahiwal, and Okara must be submit Fees Rs. 2500/-.
The local students will not submit Fees Rs. 2500/- its only for outsiders.
Read Also:
BZU Gillani Law College Admission 2022 LLB
MA / MSC Programs:
The applicants can be registered in following programs:
Islamiyyat
Urdu
Pakistan Studies
History
English
Economics
Arabic
Political Sciences
Saraki
Punjabi
Persian
Philosophy
Note: the last date with tripe Fees is 19 February 2022, after this date no any application will be accepted and the date of registration will not be increased. Kindly submit registration form with only registration bank branches of BZU Multan. The Annual Examination schedule of MA / MSC will be announced later by BZU Multan University.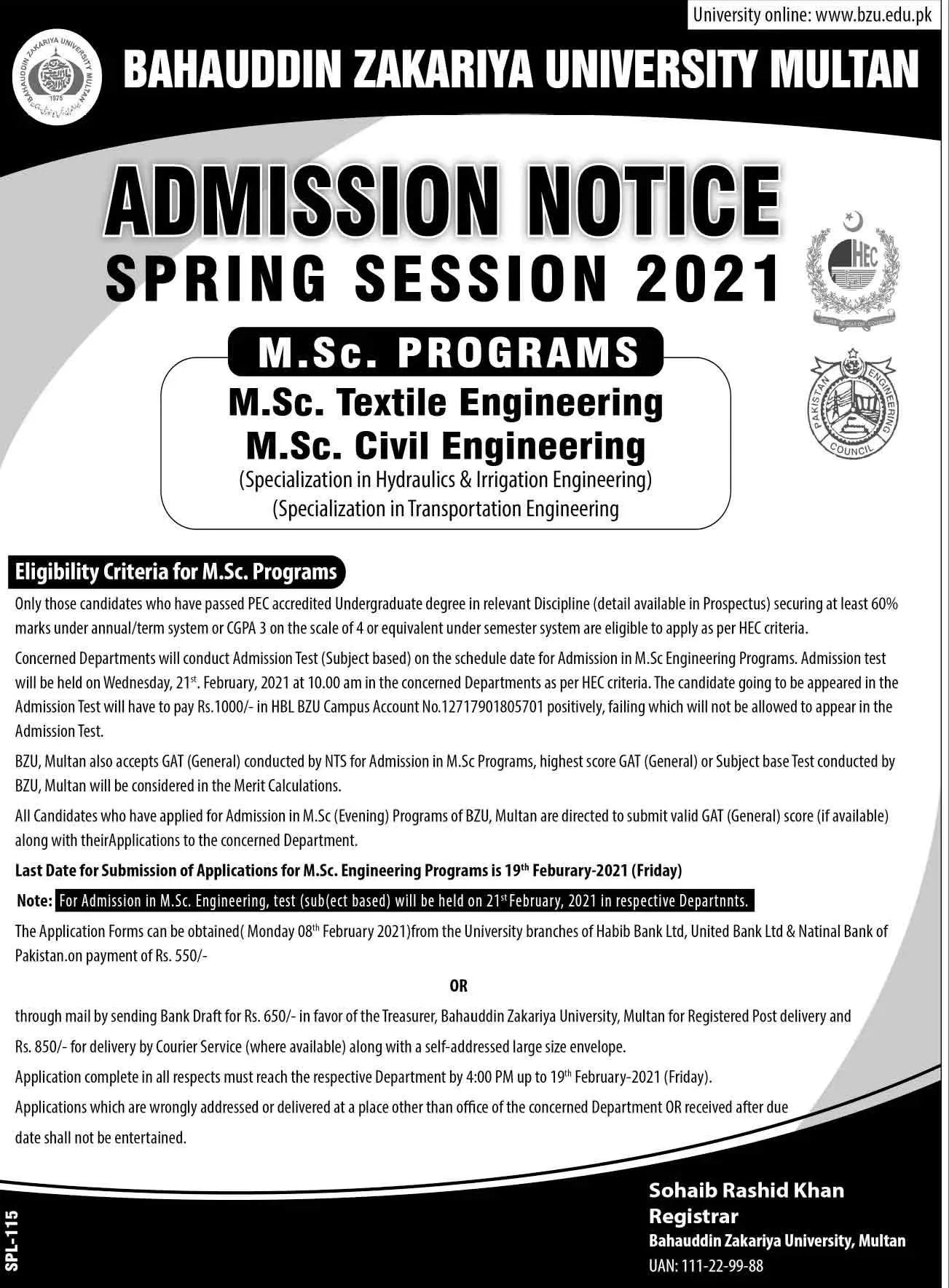 for BZU Multan BA, BSc Registration Schedule for Private Students go Here BZU Multan Admission for Bachelors 2022