The international boxer Amir Khan, whose family is settled in united kingdom uk from many years but the heart of Boxer Amir Khan is with Pakistan always whenever he free he visits Pakistan and shows their love and respect for Pakistan.
Shahid Khan Afridi T20 Captain of Pakistan Said in Twitter:


Yesterday he comes to Karachi and meets his old Friend Shahid Khan Afridi to create memorable moments between both of talented players. In their meeting they photo shots with shahid afridi by doing acting of boxing. Amir Khan said he is aware of talent of Karachi specially larie area of Karachi. Amir Khan wants to open Boxing Academy in Karachi to learn Boxing to Pakistani Talented and takes them for international level.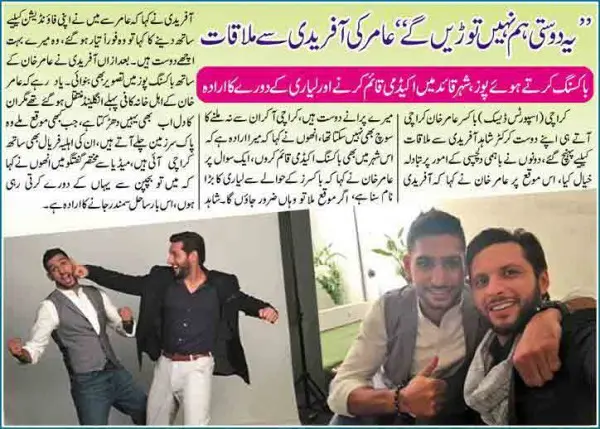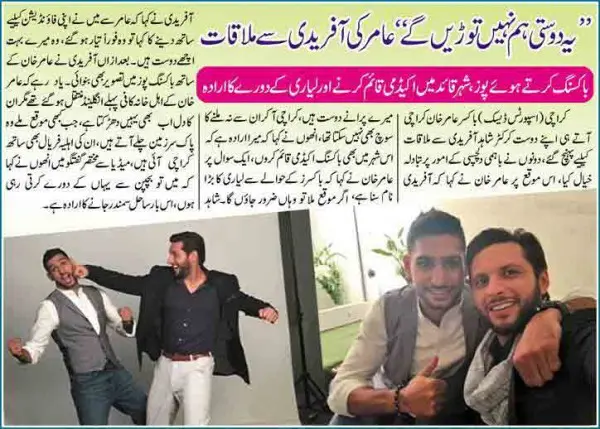 Shahid Afridi also introduces their foundation that is helping to poor people of Pakistan. Amir Khan is agrees to participate in Shahid Afridis foundation. The wonderful meeting of both king khans of Pakistan.
The talent of both players is not hidden from world, both are world class players, Amir Khan is well know boxer for whole world and Shahid Khan Afridi is famous in Cricket. He made many records in the history of world cricket. Shahid Afridi is known as boob boob afridi due to their wonderful batting. Shahid afridi is also good bowler.