BISE Multan Board 9th and 10th Class Date Sheet 2018 Announced
Board of intermediate and secondary education Multan has not published 9th and 10thclass Date Sheet for the session 2018 yet. But it will be published soon. Papers of Bise Multan will be starts from 2-March-2018.
Board of Intermediate and Secondary Education Multan was established on 30th March 1968. Its establishment came into being after an ordinance of Government of West Pakistan, which was passed by the Assembly of Pakistan on 24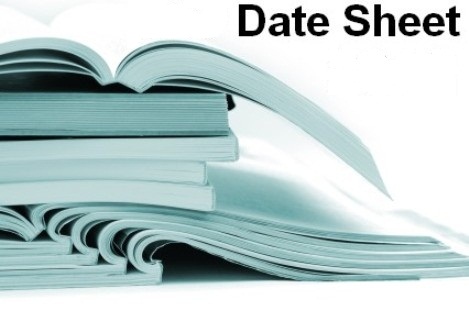 , May during a meeting In the beginning, Camp Office of Multan board started working in the Government  central Training College Lahore, on the mid June, it was shifted to Multan headquarter. In the beginning Quetta, Kallat, Bahawalpur and Multan including Dera Ghazi Khan was included in the Multan Board. In 1968, Quetta and kallat started working separately; in1978 Bahawalpur Pur Board was established and started working separately. In 1982, Dera Ghazi Khan Board was separated from Multan Board. Now Board of Intermediate and Secondary Education is working in every division.
Now Multan board announced date sheet 9th and 10th class on dated 23-02-2017. download these pdf links and make your date sheet. The 2017 Papers will be start from 1st March 2017:the previous date sheets can be download from below, for future purpose.
Date Sheet of SSC Session 2016 Download Now : [button link="https://pakistanedu.files.wordpress.com/2016/02/bise_multan_date_sheet_2016_matric.pdf" size="large"]Click here[/button]
[button link="http://www.learningall.com/wp-content/uploads/2012/12/SSC-Multan-Board-Date-Sheets-2013.pdf" size="large" style="download" color="orange"]SSC Multan Board DateSheets 2013[/button]
[button link="http://www.learningall.com/wp-content/uploads/2012/12/SSC-Multan-Board-Date-Sheet-2013.pdf" size="large" style="download" color="green"]SSC Multan BoardDate Sheet 2013[/button]
[button link="http://www.learningall.com/wp-content/uploads/2012/12/SSc-Bise-Multan-Board-Date-sheet-2013.pdf" size="large" style="download" color="aqua"]SScBiseMultan BoardDate sheet 2013[/button]
[button link="http://www.learningall.com/wp-content/uploads/2012/12/SSC-Bise-Date-Sheet-Matric-2013.pdf" size="large" style="download" color="teal"]SSC Bise DateSheet Matric 2013[/button]
[button link="http://www.learningall.com/wp-content/uploads/2012/12/Date-Sheet-SSC-Matric-Multan-2013.pdf" size="large" style="download" color="pink"]Date Sheet SSC Matric Multan 2013[/button]