Balochistan Residential College Zhob opens admission in 7th and 8th class session 2022 with 8th entry. The admission application forms available online.
Eligibility Criteria:
Age limit of applicant must be between 11 to 13 years old till date 28 February 2022. The date of birth of applicant will be between 01 March 2009 till 28 February 2011. The final age verification will be held in CMH Quetta Hospital.
Read Also: Balochistan Residential College BRC Turbat Admission 2022 Entry Test
Entry Test Schedule:
BRC Zhob Entry Test for 7th class will be held on date 20 January 2022 (Expected) at BRC Zhob Center and on date 21 January 2022 (expected) in Center Darbar Marriage Hall Railway Station Quetta. The entry test model papers can be download online for entry test preparation.
The entry test will be held from Balochistan Textbook Board Syllabus year 2020. These four subjects with marks:
English 25
Mathematics 25
Urdu 25
General Science 25
The total number of Entry test will be 100 marks. The admission entry test will be held in Urdu and English Language short and long questions for paper pattern.
The admission will be given on merit basis for those only who will appear in admission entry test and submit admission application form.
Read Also: Balochistan Residential College Khuzdar Admission 2022 Form Entry Test Result
How to submit Admission form:
The admission application form available online with Pay order of Rs. 2000/- and admission form also available following bank branches with Payment of Rs. 2000/-
Allied Bank Zhob
Allied Bank limited Killa Saifullah
Al Hadi Public School Dera Murad Jamali
Allied bank limited Hali Road, Quetta
Allied Bank limited Loralai
Apply Also for: Balochistan Institute of Information Technology & Management Admission 2022
Application Deadline:
Last Date to submit Admission application form: 27 December 2021 without late Fees.
With Late Fees Rs. 500/- Last Date:27-12-2021
With late fees Rs. 1000/- Last Date: 27-12-2021
After 27-12-2021 no any admission application form will be accepted.
The complete admission application form with related documents and Copy of Father ID Card submit to Incharge Admission department Balochistan Residential College Zhob.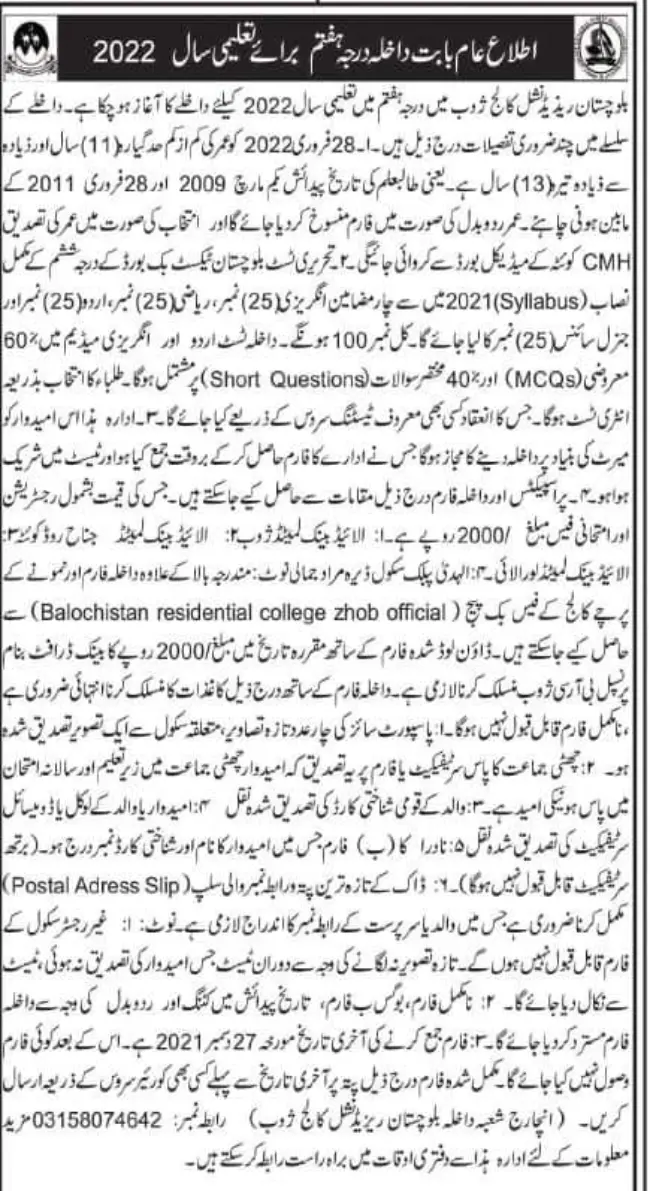 Apply Here Also: BRC Loralai Admission 2022 Entry Test Result Model Papers to download Model Papers for entry test and Latest Admission application form available here: