USEFP Global UGRAD 2024
The USEFP Global UGRAD Program is a prestigious semester-long exchange program designed to enhance cross-cultural understanding and foster academic excellence.
It provides undergraduate students from Pakistan with the chance to study at a U.S. college or university for one semester, fully immersing themselves in a new academic and cultural environment. The program aims to develop participants' leadership skills, expand their global perspectives, and create lifelong connections between Pakistan and the United States.
The United States of America is working in Pakistan for education and providing facilities for students there. USA starts the United States Educational Foundation in Pakistan for educational activities.
How to apply Online:
The United States Educational Foundation in Pakistan announced an Undergraduate exchange program for Pakistani students. Whose age is less than 25 years and who is currently studying at any college or university in Pakistan is encouraged to apply for this wonderful program. USEFP Programs provides scholarships and free education all over Pakistan.
Download Application form from official website of this program: usefp.org
The United States of America starts the USEFP program in Pakistan for the purpose of promoting mutual understanding between Pakistani citizens and USA citizens. USEFP has many schools and different areas all over Pakistan for providing free education services. The USA wants to win the hearts of the Pakistani people.
USEFP 2024 Undergraduate Semester Exchange Program for Pakistan
USEFP Global UGRAD 2024 Apply Online: Apply Here
The United States Educational Foundation in Pakistan encourages women minorities from all over Pakistan, but especially from FATA, Gilgit, Baltistan, and Balochistan. The online application is open at usefp.org/UGARD. For more information, email [email protected] or call 051-8431300.
USEFP Last Date to Apply Online
The application deadline for the Undergraduate Exchange Program for Pakistan is September 27, 2023
For more information about the Undergraduate exchange program for Pakistan, the benefits, eligibility and ineligibility for this program, and how to apply for this program, check out the image below. This is a national program; however, women, people with disabilities, and individuals from FATA, KPK, AJK, Gilgit Baltistan, Balochistan, Northern Sindh, and Southern Punjab are highly encouraged to apply.
The application process for the USEFP Global UGRAD 2024 Semester Exchange Program involves several stages. First, interested students need to complete an online application form, which can be accessed through the USEFP website or other designated platforms. The application typically includes providing personal information, academic details, English language proficiency scores, and essays or personal statements that highlight the applicant's qualifications, goals, and commitment to cross-cultural exchange.
Eligibility Criteria
Pakistani Citizens who are 25 years old The candidate is currently enrolled in a college or university in Pakistan and committed in returning to their home university following the completion of the program.
the applicant's 14th or 15th year of formal education. Applicants are required to submit their most recent and old transcripts with the scholarship application form.
Read Also
USEFP Fulbright Scholarship 2023
To be eligible for the USEFP Global UGRAD 2024 Semester Exchange Program, applicants must meet certain criteria. These typically include being a Pakistani citizen, enrolled as a full-time undergraduate student at a recognized university in Pakistan, having completed at least two semesters of study, and maintaining a strong academic record. Additionally, applicants must demonstrate proficiency in English and possess the necessary personal qualities, such as adaptability, open-mindedness, and a commitment to community service.
Selection Process
After the submission of applications, a rigorous selection process takes place. This involves a thorough review of the applications by a panel of experts, including academic professionals and representatives from USEFP. Shortlisted candidates are then invited for an in-person interview, which allows the selection committee to evaluate their communication skills, motivation, and suitability for the program. The final selection is made based on a holistic assessment of the applicant's academic performance, language proficiency, leadership potential, and personal qualities.
Scholarship Grant Benefits
The selected candidates under the USEFP 2024 Program will be eligible for free transportation, Air Ticket, Visa, Tuition Fees, housing, meals, insurance for Accident and sickness.
The USEFP Global UGRAD 2024 Semester Exchange Program offers a wide range of benefits to selected participants. These include full funding for tuition and fees, round-trip airfare, health insurance coverage, and a monthly stipend to cover living expenses. Participants also receive support in the form of pre-departure orientation, academic advising, and cultural activities during their stay in the United States. Moreover, the program provides an opportunity for participants to engage in community service and gain valuable leadership skills through various extracurricular activities.
Read also: Pakistan Scottish Scholarship Scheme 2024
A limited allowance will be provided to the student for the purchase of books. The monthly maintenance allowances will be provided to selected candidates under the USEFP Program in 2024.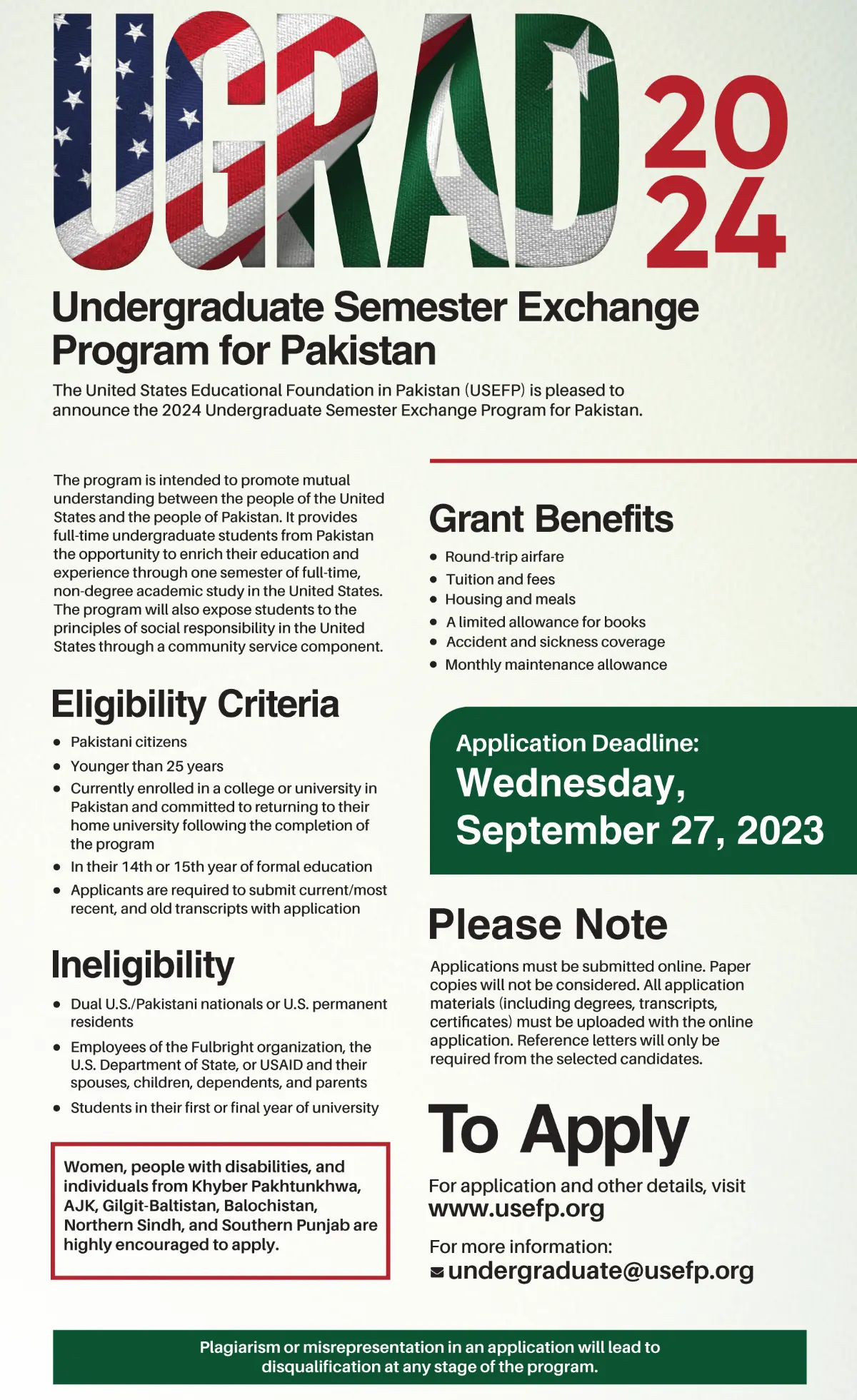 The application process for the program requires careful attention and preparation, ensuring that interested students meet the eligibility requirements and submit a compelling application that highlights their qualifications and aspirations.
The USEFP Global UGRAD Program is a gateway to a world of academic and personal growth, paving the way for a brighter future for Pakistani students.
Round Trip airfare
Tuition and fees
Housing and meals
Limited allowance for books
Accident and sickness coverage
Monthly maintenance allowance.
Academic and Cultural Experience
During their semester abroad, Global UGRAD participants embark on a transformative academic and cultural journey.
They enroll in a variety of courses at their host institutions, gaining exposure to different academic disciplines and teaching methodologies. Participants also have the chance to interact with students from diverse backgrounds, fostering cross-cultural understanding and broadening their perspectives.
Immersed in a new cultural setting, they experience the vibrancy of campus life, explore local traditions, and engage in community activities, creating lasting friendships and professional networks.