Cadet College swat starts taking admission applications for 8th class session 2022-2023. College Prospectus and admission forms is available on payment on Rs. 600/- by hand and Rs. 650/- by money order or online deposited MCB Bank limited khawazakhela swat branch code no 0568428191000750 in the name of principal  cadet college swat applications should be reached college before 31 October 2023 for admission in 11th class pre medical, Pre engineering, under self finance scheme limited seats.
Cadet College Swat has extended its closure due to Corona pandemic.
Written test for 8th class will be held on date 12 December 2023 Through NTS
College Prospectus:
Admission Form:    
Sample Papers: 
Class VIII Papers        
Class XI Papers         
HSSC – I, II  Practical Schedule   
Membership Form: 
Eligibility for 8th Class:
age limit: the age limit of applicant must be between 12 to 14 years old till date 30 April 2023. the Hafiz e Quran candidate will be get 6 months age relaxation.
The applicant must be pass 7th class till April 2023.
Last Date to Apply: 31 October 2023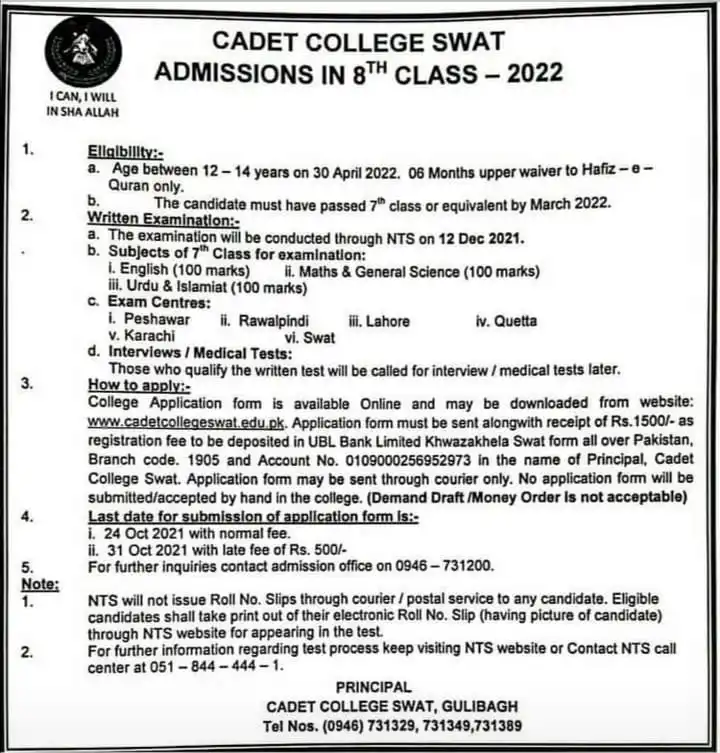 Eligibility for 11th Class:
Applicants must have appeared in Matric Annual Board Exam 2023, and must have obtained 70% or above marks in class 9th. the age limit of applicant between 15 to 17 years old.
students to produce a hope certificate of getting more than 80% marks in Matric exam from the institute in which he appeared in Matric Annual Exam.
Written Test for 8th class:
the written test will be take on 12 December 2023 by NTS.
Written Test Exam Subjects for 8th class:
English 100 marks
Mathematics and General Science: 100 Marks
Urdu and Islamiat: 100 Marks
Exam Centers:
Peshawar
Rawalpindi
Lahore
Quetta
Karachi
Swat
Last date of submission of Admission form for 8th Class:  with Normal fee
Last Date of submission of admission application form with Late Fees:
the final selection will be depends on written test, Interview and Medical Test.
Cadet College Swat Admission 2023
Interview schedule of selected candidates:
Entry Test Result will be announced on by the Cadet College Swat website:
Cadet College Swat admissions schedule for 11th class starts from today date 13 April 2023. The entry admissions announced by Cadet College swat. 
Fresh students who have passed their 9th class with 1st division 70 % marks and the age of candidate must be from 15 years to 17 year on dated 01 July 2022-. If you are eligible to apply for admissions then Cadet College Swat takes entry test from you on dated Sunday. If you passed your written test then Cadet College Swat will be announced medical test and interviews dates for you.
How to apply:
college prospectus along with application and challan form is available at the college of Rs. 1500/- only.
Admission forms and prospectus can be obtained from Cadet College Swat admission office or MCB khawaza khela and MCB Mingora swat from today to
you can also Download Admission Application form from below this Link:
Download Application form:
The last date of submission of admission forms is  and with late fee of Rs. 1500/-
Admission form can also demand from Cadet College Swat by sending DD of Rs. 1600/- to principal of Cadet College Swat before due date. The complete details of you must be written in back of DD (demand draft).
Due to time lost in Kalaam Festival, Muharram Holidays and Measles break, the start of the winter vacation has been delayed. The winter vacation will commence on Friday instead of. Cadets will be allowed to leave the college after the paper on 31 December  at 11:00 AM.
Cadet College Swat Merit List 2023 Selected Students for 8th Class
10th entry list of successful candidates Merit List 1 Entry Test Result
following are the successful candidates in the regions mentioned against their Roll Numbers
Malakand Division Selected Roll Numbers:
13014, 13076, 13077, 13124, 13460, 13461, 13475, 13492, 14002, 16018, 16030, 16038, 16074, 16100, 16122, 16130, 16132, 16210, 16225, 16271, 16318.
KPK and FATA Region Selected Roll Numbers:
13016, 13029, 13065, 13073, 13102, 13016, 13168, 13205, 13218, 13226, 13250, 13261, 13298, 13360, 13361, 13367, 13368, 13373, 13374, 13382, 13383, 13385, 13389, 13390, 13408, 133488, 13538
Rest of Pakistan Region Selected Roll Numbers:
12013, 12020, 12026, 12033, 12036, 12041, 12047, 12049, 12066, 12079, 13292, 14001, 15004, 15015, 15021, 15025, 15034
The Total Selected candidates of Entry Test Result of 8th Class is 66.
Special Seats for Self finance only:
FATA: 13150, 13254
Shuhada Seats: 16365, 13570
Chitral: 16102
Tehsil Bahrain Swat Kohistan: 16212
Dir lower / upper: 16019
Bunir and Malakand Agency: 16128
Shangla: 16292
Total seats for self finance is 09
open merit candidates are to deposit of Rs. 133680/- and self finance Rs. 233,680/- latest by Wednesday.
Cadet College Swat Interviews Schedule Class 8th 14th Entry at Cadet College Swat Gulibagh.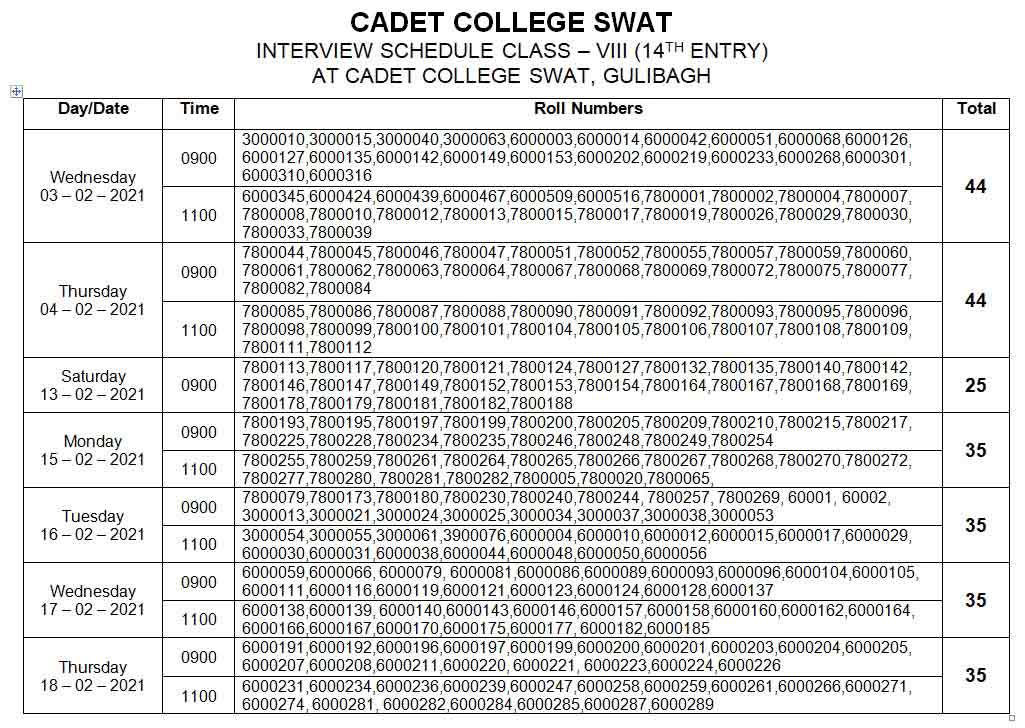 Read Also: University of Swat Admissions 2023 BS Test Registration