University of Swat invited applications for Admission in BS 4 years program in Main Campus, Women Campus and Shangla Campus.
University of Swat announced the schedule of Test Registration for Admission in BS Law & Sharia 5 years proramme session 2021-2023.

It's a notified for the information of all the prospective candidates seeking admission to BS law an sharia 5 years programme at university of swat.
Admission Schedule:
Issuance of prospectus and admission forms: 31 December 2020
Last Date for submission of admission forms: 15 January 2021
Hafiz e Quran Test:
Display of provisional Merit List:
Display of final Merit List:
Interviews and Fee Submission Form Quota Seats:
Interviews and Fee submission from Merit List:
Interviews and Fee Submission from Waiting List:
Commencement of classes: 18 January 2021
Eligibility:
Intermediate pass candidates are required to pass law admission test LAT which will be conducted by the higher education commission HEC Islamabad.
The minimum general eligibility requirements are given below.
For Admission to Four Years Bachelor Degree Programs Admission to Undergraduate program BS / BBA is open to candidates who have passed the qualifying examination of any recognized Board of Intermediate and Secondary Education, securing at least 45% marks in the aggregate or 50% marks/ equivalent CGPA (for other than annual system), shall be eligible for admission to the Bachelor Degree Programs.
For Admission to Two Years Master Degree Programs A person holding a 02 years bachelor/equivalent degree from any recognized University, with at least 45% marks (for annual system) or 50% marks/ equivalent CGPA (for semester system), shall be eligible for admission to the master degree programs.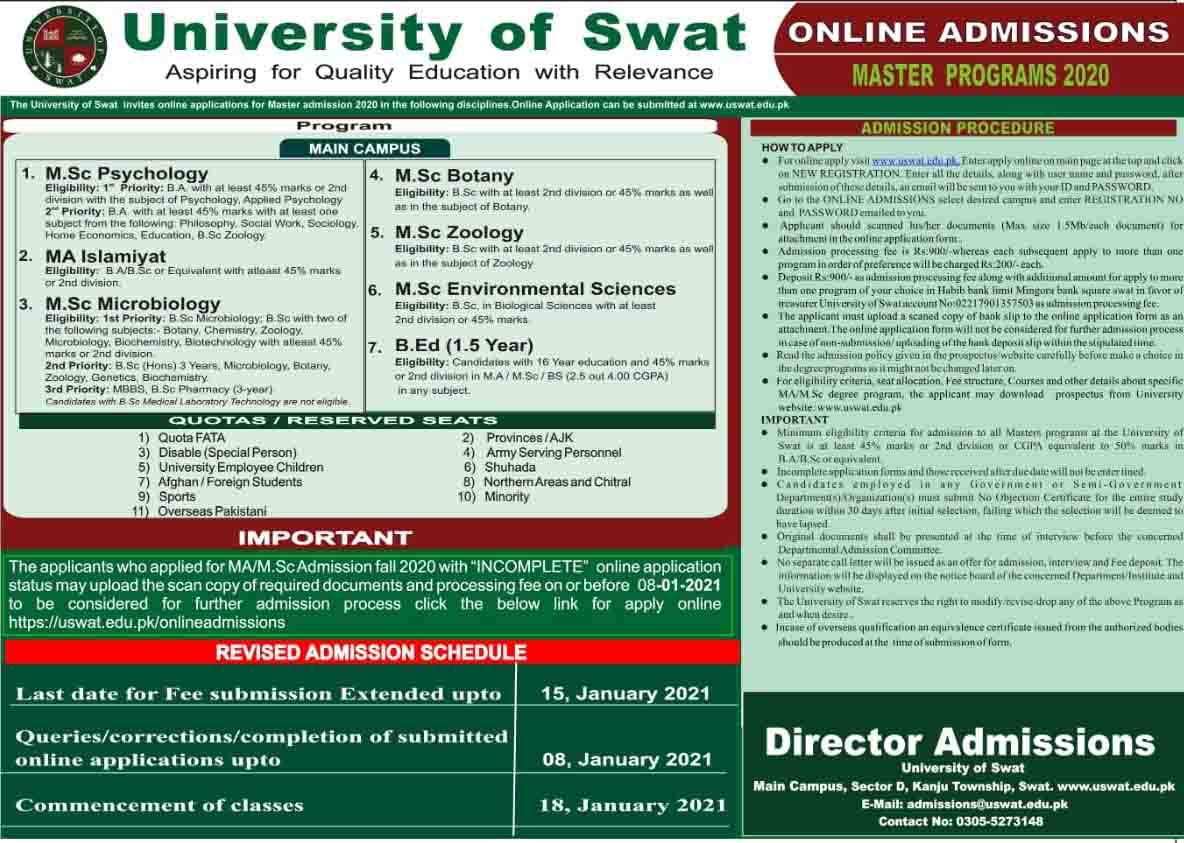 Some programs (BS and Masters etc) have additional admission criteria prescribed in the relevant scheme of studies. The admission criteria given by departments will be consider final and must be followed in letter and spirit.
A student must be a full-time student, must not be admitted in other institution, and must not indulge in any other activity/paid assignment without prior/proper permission of the University
Last date for online registration for the said test is 15 January 2021
How to submit application form:
The interested and eligible candidates can go to etc.hec.gov.pk for online registration and for further information.
The candidates without minimum qualification LAT test score will not be considered for admission to BS law and Sharia programme at the University of Swat.
Director of Admissions University of swat phone number: 0946-923090