University of Sahiwal starts taking admission applications for admission in BA / MA / MSc and MS Programs session 2023. Applications are invited for admission in Graduate, Post Graduate and Undergraduate Programs, admission application form and challan form can be download from www.uosahiwal.edu.pk.
Prospectus 2023:
Admission Forms:
Prospectus Fees and Challan Form:
Last date for submission of admission forms for all programs is 30 September 2023 Morning and evening session.
BS Programs:
BBA Hons
BS Applied psychology
BS Computer Science
BS Chemistry
BS Physics
LLB 5 years
Masters Programs:
MBA 3.5 years
MBA Executive
MSc Applied psychology
MA English
MSc Economics
MCS
MSC chemistry
M.Phil / MS Programs:
MS Business Administration
Diploma Programs:
Advance diploma in clinical psychology
Scholarship Programs:
PEEF Scholarship
HEC Need based scholarships
PM / CM Laptop scheme
University Endowment Fund
Every effort has been made to ensure the accuracy of information contained in this Prospectus. The University accepts no responsibility for errors or omissions. This Prospectus provides information and should not be taken as binding on the University. The University reserves the right in every case at its discretion and for any reason to introduce changes to the given information including the addition, withdrawal or restructuring of courses, rules, policies, fees, or other matters.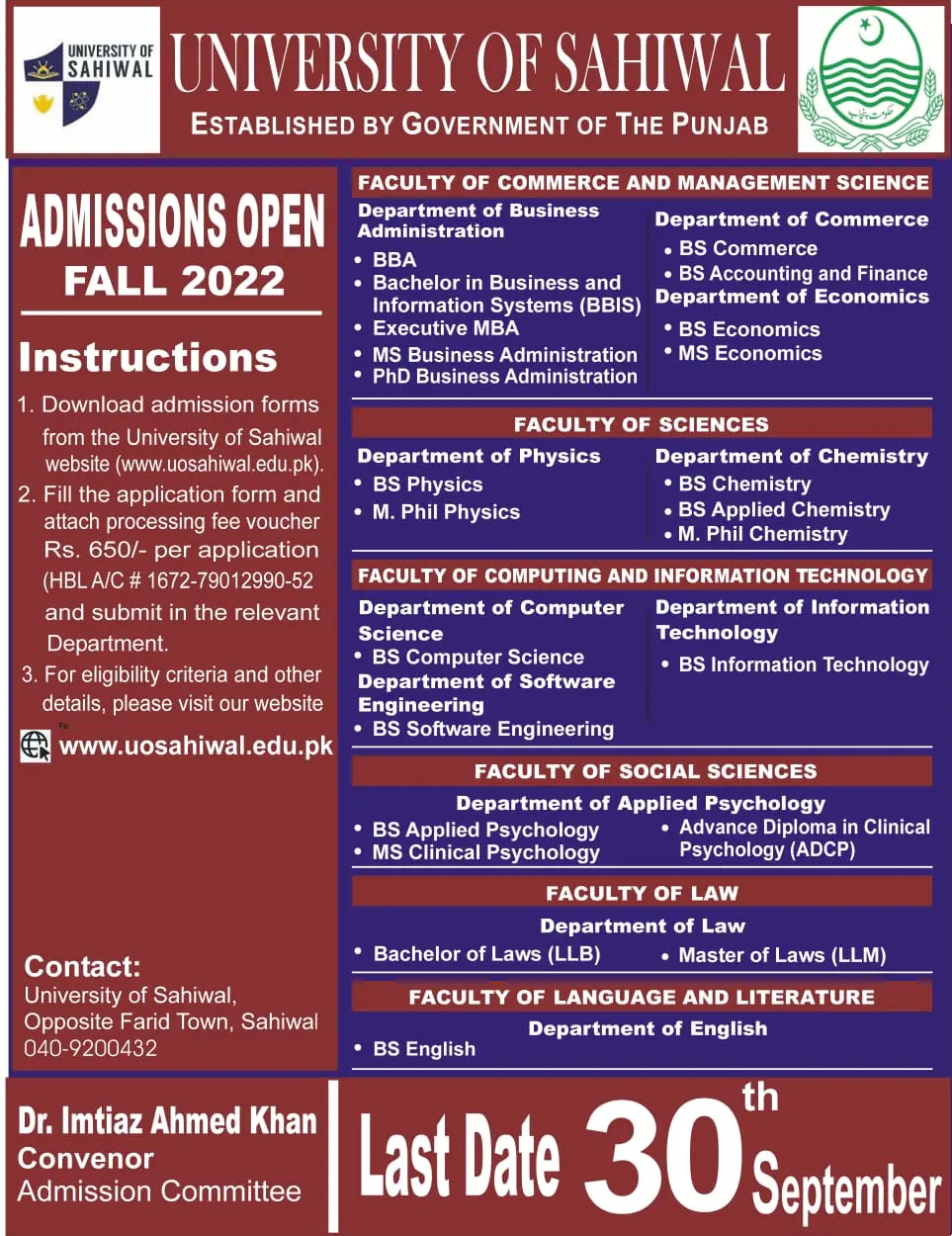 The prospectus is issued on the express condition that it shall not form part of any contract between the University and any student. Admission to the University is subject to the requirement that the student will comply with the University's registration procedures.
Students will duly observe the Charter, Statutes, Ordinances and Regulations of the University. The Prospectus has been published by the Prospectus Committee appointed by the University Authorities.