Institute of business Management University of engineering and technology Lahore open Admissions in BBA, MBA, Bsc for Gradate and Master Program's session 2018. IBA UET Lahore Admissions Entry Test will be held on date 11 August 2018 Saturday, reporting time was 9:30 AM and Entry test start time: 10:00 Am. UET IBM Entry test was held today. Interview for Post Graduate Programs is scheduled for tomorrow, applicants list can be viewed from IBM website. The UET IBM Starts receiving admission Applications though Online System.
Applications are invited for admission in IBM, please fill this form and submit with copies of your testimonials with original paid challan form.
Programs:
BBA 4 years program
MBA 3.5 years program
MBA 2.5 years program
MBA 1.5 years program
MBA Finance 1.5 years program
Executive MBA 2 years weekend / evening program
MS Management / Marketing 1.5 years weekend program.
Admission Schedule Test Date time:
Last date  to apply : 11 August 2018 Saturday
Entry test Undergraduate / Post graduate Program: 16 August 2018 Thursday at 10:00 am.
Interview Postgraduate:
Note: Thesis is optional in all MBA Programs.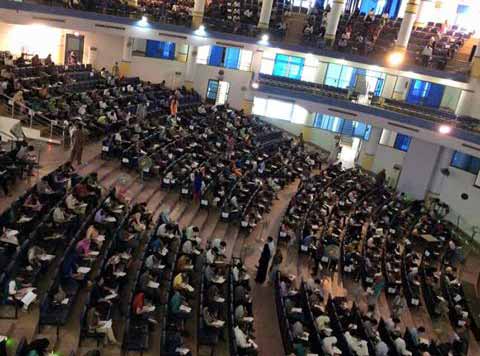 Entry Test Venue:
Undergraduate: New Auditorium
Post Graduate: IB&M Department
Interview Schedule for Postgraduate
Programs on Thursday,
Program Title     Interview Time Slot
MBA 1.5               09:00 am to 10:15 am
MBA Engineering             10:15 am to 11: 15 am
MS Management             11: 15 am to 12:00 pm
MBA 2.5               01:00 pm to 01:40 pm
MBA Finance     01:40 pm to 02:10 pm
MBA 3.5               02:10 pm to 02:30 pm
MS Marketing   02:30 pm to 02:50 pm
MBA Executive 02:50 pm to 03:30 pm
All those candidates who appeared in ECAT on  are also eligible to apply for BBA and B.Sc. Management Science. For details please visit Institute of Business & Management's admission office (UET main campus) from 08:00 am to 08:30 pm from Monday to Saturday. Also visit http://ibm-uet.edu.pk/