Resource Academia international school system project by Punjab Group of Colleges, The Campuses of Resource Academia is in Lahore, Okara, Faisalabad, Sialkot, Sheikhupura, Peshawar, Gujranwala, Sahiwal and Islamabad.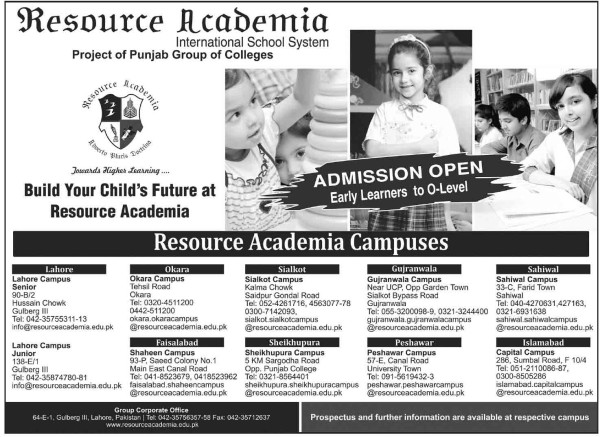 Enrolment Procedure
Complete the Admission Form in all respects.
Attach:
Four passport size photographs
Last Examination Result and a School Leaving Certificate of the previous school attended, if applicable, to the Admission Form.
A copy of the pupil's Birth Certificate.
Hand in all of the above to the Admission Office
Fee Concession Policy
"In the case of children of PGC alumni and PGC permanent employees, each child is entitled to 25% Tuition Fee Concession. However, in case of any one child already receiving one of the above concessions, only the larger concession will be applicable."
Fee Structure
Enrollment ProcedureEffective for Academic Session  2018 -19

Fill out the Admission Form.
Attach: Four passport size photographs.
Last Examination Result.
School Leaving Certificate from the previous school attended, if applicable.
A copy of the pupil's Birth Certificate/ NADRA certificate / B – Form.
A copy of Father's ID card. If PGC alumni , then a copy of certificate/degree.
Admission tests for English Language, Mathematics and Urdu.
An interview after the candidate qualifies in the written tests.

Fee Structure
Registration Fee
Rs.  3,000
Admission Fee
Rs. 10,000
Security Deposit (refundable on leaving the school)
Rs. 10,000
Tuition Fee (per month)
Playgroup
Rs. 13,000
Nursery
Rs. 13,000
Kindergarten
Rs. 13,000
Class 1
Rs. 13,500
Class 2
Rs. 13,500
Class 3
Rs. 13,500
Snacks/Lunches for the Pre-School (per month)
PG – KG
Rs  850
Computer Lab Charges (per month)
Nursery – Class 3
Rs. 200
Science Lab Charges (per month)
Classes 1 – 3
Rs. 200
Swimming Pool (seasonal) (per month)
KG – Class 3
Rs. 200
Cooking Classes (per quarter)
PG – KG  
Rs. 500
Classes 1 – 3
Rs. 600
Classes 4 – 7
Rs. 700
Resource Material (photocopies etc) based on actual amount spent per student in a quarter.
Tuition Fee (per month)
Class 4
Rs. 14,500
Class 5
Rs. 14,500
Class 6
Rs. 14,500
Class 7
Rs. 15,500
Class 8
Rs. 15,500
GCE O Level 1
Rs. 18,000
GCE O Level 2
Rs. 18,000
GCE O Level 3
Rs. 18,000
Computer Charges (per month)
Classes 4 – 8
Rs. 200
Laboratory Charges (per subject per month) Physics, Chemistry & Biology
O Level
Rs. 700
Computer Charges (per month)
O Level
Rs. 1,500
Art Charges (per month)
O Level
Rs. 800
Fee Concession Policy
After admission, parents may be entitled to the following concessions:

In case of two siblings being enrolled, the younger sibling is entitled to 25% Tuition Fee Concession.
In case of three siblings being enrolled, the eldest sibling is entitled to 50% Tuition Fee Concession.
In case of four siblings being enrolled, the eldest sibling is entitled to 50% Tuition Fee Concession, while the youngest is entitled to 25% Tuition Fee Concession.
In the case of children of PGC alumni and PGC permanent employees, each child is entitled to 25% Tuition Fee Concession.However, in case of any one child already receiving one of the above concessions, only the larger concession will be applicable.

Fee Payment Schedule
 The fee will be paid on a quarterly basis as follows:

1st Quarter (September to November) to be paid by the second week of September.
2nd Quarter (December to February) to be paid by the second week of December.
3rd Quarter (March to May) to be paid by the second week of March.
4th Quarter (June to August) to be paid by the second week of June.

Students and their Parents/Guardians are responsible for submission of their School dues within the prescribed due dates. In case of default, Students may face administrative and disciplinary actions including removal from the School Rolls.

Admission Office: 90-B/2 Hussain Chowk, Gulberg-III, Lahore 
Tel: 042-35755311-13, 35764709, 35714935  Fax: 042-35878878 
e-mail: info@resourceacademia.edu.pkWebsite: www.resourceacademia.edu.pk 
Pre-Junior School: 138-E/1, Gulberg III, Lahore Tel:35874780-1, 35763543