Chief minister Sardar Usman Buzdar offering Punjab Youth Internship Program  for Media Graduates (PYIP) is an initiative of the Government of Punjab to equip the unemployed youth with productive skills to obtain better employment opportunities. The selected candidates will be receive Rs. 20,000/- per month through Easy Paysa during the Internship Program. These opportunities for Employers, Applicants, and Institutes, Government of Punjab requires 25,000/- candidates under this internship.
The interns will receive a monthly stipend of PKR 20,000/- during the internship through Easy Pay Card. the punjab government provides the Training Internship Program for 500 Media Graduated Youth of Punjab.
Last date to apply 12 September 2021
Stipend Payment: Rs. 20,000/-
Total Internships: 20,000/-
Internship Duration: 2 Years
CM PUNJAB MEDIA INTERNSHIP PROGRAMME (2021-22)
Eligibility:
The program is specially designed for the unemployed Media Graduated youth so that they obtain basic training to enhance their skills, which shall facilitate in a secure livelihood in the long term. It will assist the interns to get hands on experience and enable them to apply their theoretical knowledge acquired in their educational institutes. PYIP will benefit 20,000 fresh graduates who shall also receive a monthly stipend for the duration of this internship.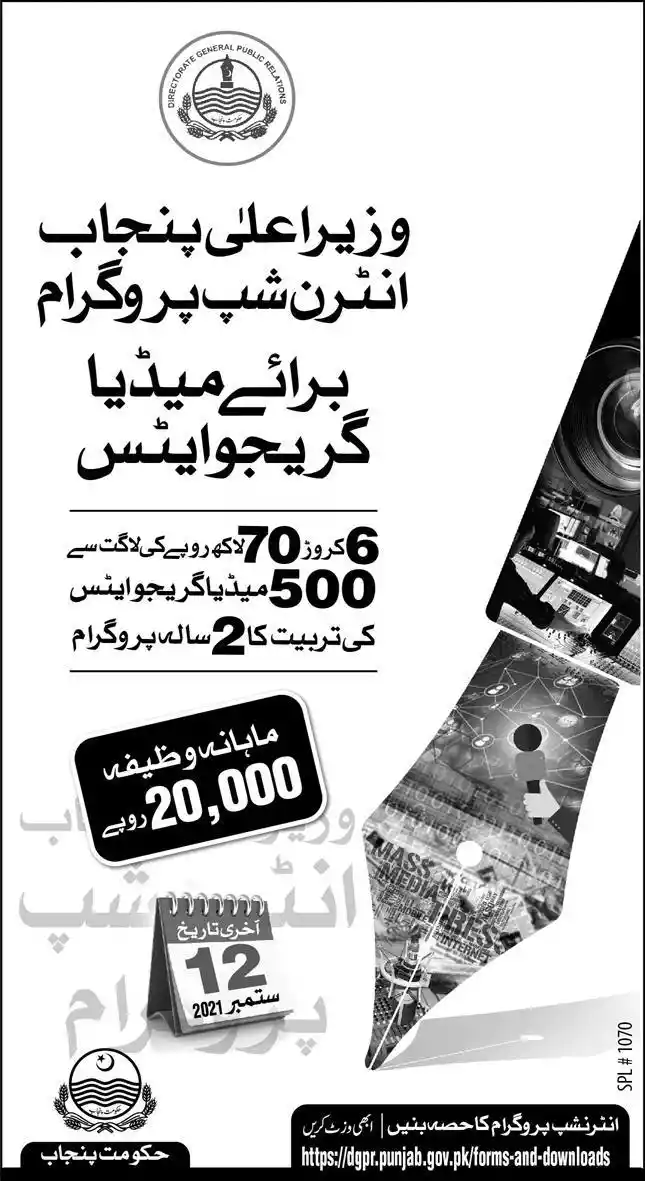 Read Also:
Khaadi Internship Trainee Program 2021 Apply Now Online
The Program is open to the Unemployed Youth who fulfil the listed criteria:
Age should be between 18 to 30 years
Must have completed 16 years of education OR
Technical/Vocational Diploma holders, Sub-Engineers, Health Technicians, Paramedics, Agriculture & Livestock Technicians
Must have HEC/Technical Boards recognized Degree/Diploma obtained from a Local, Foreign, Government or Private institute
Must have Domicile of The Punjab Province
Must have a valid CNIC or Form B
Must have passed out in the year 2020 or onward.
The government of Punjab announces employment opportunities for Punjab Youth Internship Program 2021-2022, The Government of Punjab the youth affairs sports, archaeology and tourism department and Punjab information technology board invite applications for Internship posts for the period of 2 Years to handle the students who apply for this program.
The Punjab Youth Internship program requires Managing director, Manager Finance, Project Coordinator, Program officer, Office Assistant, Database administrator, office helper, and security guards.
Candidates in government or sami government service should apply through proper channel. We reserve the right to cancel/ reject any application without giving any reason.
PMYTS Helpline:
Address: 21-Mahmood Gaznavi (Abbot Road), Lahore
Email: [email protected]
Contact: +92 042 99201390-1-2
+92 042 99201371-2