Khaadi creative company the online store now working in Pakistan also, Khaadi Creative starts Trainee Program for fresh Graduate designers. It's a wonderful training program for those who have design related field, the candidates who have Bachelor degree in textile fashion, jewelry, footwear, Fine arts, furniture, or graphic designer can apply for this Creative trainee program though online career.khaadi.com. the application open from.
Read Also: PSO Internship 2021 Deadline to Leap Application Form
Creative Internship 2021
Duration: 06 to 08 Weeks
Eligibility:
Final year students BBA / MBA Program with minimum 3.0 GPA. 3rd and 4th year students of bachelors in textile /fashion design.
Functions: HR, Marketing & Branding, Retail, Merchandising, Finance, Supply Chain and IT and Legal.
Application on date 11 May 2021
Deadline: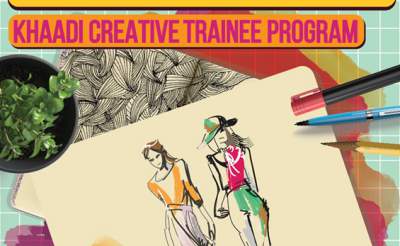 Khadi creative company starts online store in Pakistan to buy or sell online cloths, fashion, textile fashion and footwear.  Starts discovery new style with Khaadi creative company. Khaadi is the best company for fashion related people can get creative training program with internship.
The Khaadi Company looking candidates from Pakistan for Creative trainee program for fresh designers from all over the Pakistan. The interested candidates must have creative, innovative and have a customer centric approach. The selected candidates against creative trainee program will be get work closely with khadi team professionals on upcoming collections for the brand.
Khaadi first opened its doors in 1998 in Karachi, Pakistan offering customers kurtas and loose fabric made from hand-woven fabric. Shamoon Sultan, the chairman and founder, had the intent of reviving the ancient craft of the handloom and popularizing the traditional medium in a contemporary manner. Khaadi, which means "hand-woven", has stayed true to its name and continues to produce a fusion of styles to complement both the east and west, while still using hand-woven fabrics on select products.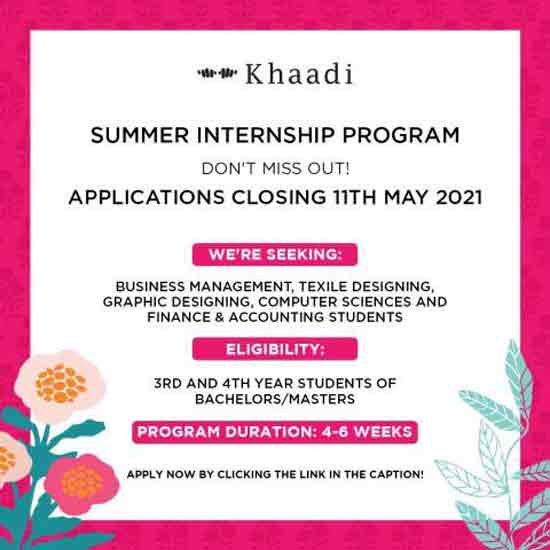 How to apply:
The interested and eligible candidates may apply online through careers.khaadi.com/pk before; it's a last date to submit application forms online.
Online Application Form: Apply Here