PSO Internship 2023 Deadline to Leap Application Form
Pakistan state oil is largest gas and Oil Company of Pakistan providing L.E.A.P Internship Program session 2023. The internship registration is starts from 25 March 2023 and the deadline of application.
How to register:
PSO Internship Deadline:
Pakistan state oil internship program consists of the essential elements that assist you in gaming first hand exposure and learning. While creating opportunities that will shape up your future career path, the university students can contact through university to apply for PSO Internship Program Session 2023.
How to register:
Contact your placement department
Register and play the game
Interview of shortlisted candidates.
Local Universities will be required to submit the name and contact (cell # & email) of their focal person on [email protected] by April 02, 2023. PSO shall provide a username and password to the focal person for registration of their eligible students, after proper scrutiny at university's end. Registrations should be completed by the deadline given below.
PSO Summer Internship Program 2023 Eligibility criteria
PSO said shape up your future with LEAP.
The internship applications will be accepted only through university officials, no direct or individual applications will be accepted.
Eligibility Criteria:
The university students: who are studying in undergraduate program i.e. 4 years bachelor's degree.
BBA
BS (Economics, Accounting, Finance, Social Sciences, Chemistry, IT, Computer Science, Media Science, Management Sciences, Liberal Arts
LLB
Engineering: (Mechanical, Electrical, Electronics, Chemical, Civil, Mechatronics.
Students of 6, 7, and 8 semester / in 3rd year in above discipline with minimum CGPA of 2.7 or above candidates can submit Internship Application form.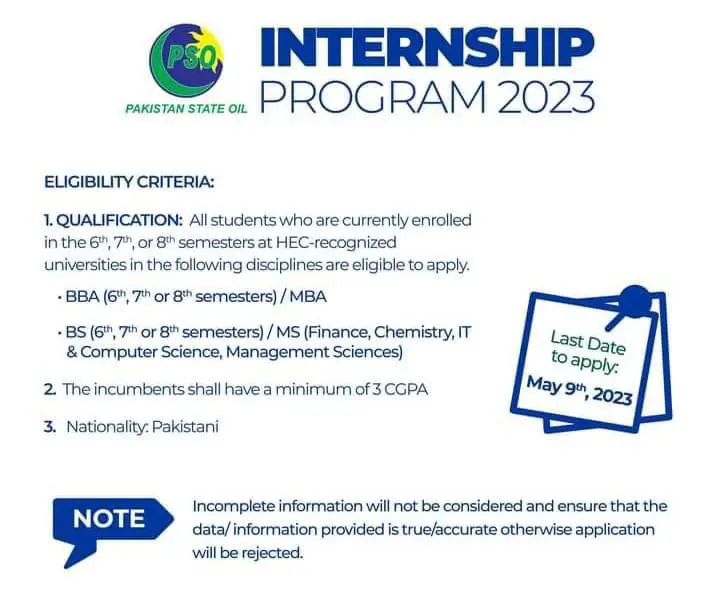 PSO Management Trainee Program 2023