Punjab Medical Faculty announced the admission schedule and registration form for Session 2020. It's a notification for all affiliated private and government institutions that the Annual Examination for old scheme (dispenser and Dental Technician) and new scheme (All Technologies) and qualifying Test will be held on date 01 March 2021.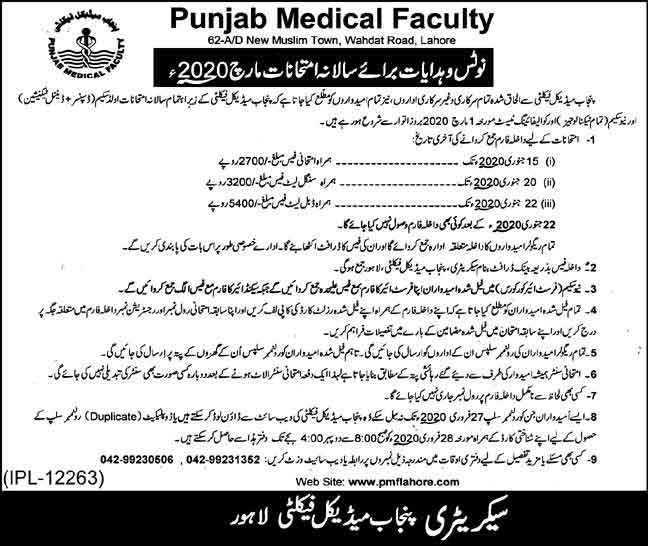 Last Date for Registration to Appear in Annual Examination:
15 January 2021 with Examination Fees Rs. 2700/- PKR
20 January 2021 with Examination Late Fee Rs. 3200/- PKR
22 January 2021 with Triple Examination Fees Rs. 5400/- PKR
After the date 22-01-2021 no any registration form or admission will be accepted. The registration form or admission form would be submitted through the applicant's institute or college. The Demand Draft admission fees must be submitted to Secretary Punjab Medical Faculty Lahore.
Read Also: Punjab University Lahore MA Msc Admission Fees 2021 Forms Schedule
The students who will not get the roll number slip and Date sheet before date 27-February 2021. Those students can download roll number slip online through pmflahore.com or can also get from Punjab Medical Faculty office during office hours (08:00 am to 04:00 PM after date 28 February 2021.
Read Also: : MA Msc Admission Schedule 2021 University of Sargodha for Admission in University of Sargodha MA and MSC Program Session 2021-2022.
Download Admission Form 2021: Download Here