MA Msc Admission Schedule University of Sargodha
UOS, University of Sargodha announced Admissions schedule for Master MA, MSc Part 1 session 2017. The schedule of submission of admission forms published by UOS, According to schedule, the last date of submission of admission forms with single fee is 25 November 2018 and with double fee is 02 December 2017 and with triple Fee . After these due dates university will not be accepted or admission form.
Degree                                 Single Fee        Double Fee             Triple Fee
MA Part 1                                 Rs. 3550/-      Rs 7100/-            9240/-
MA Part 2/ M.sc Part 1          3800/-              7600/-               9900/-
M.sc Part 2                                3520/-               7040/-               10560/-
MA Compartment                    6050/-              12100/-              18150/-
M.sc Compartment                  6600/-               13200/-              19800/-
The candidates who have not registered with University of Sargodha requires to submit Rs. 2200/- registration fee.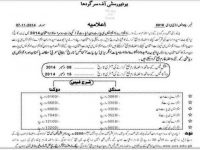 Private candidates can be submit their admission forms in following programs: M.A Urdu, Islamiyat, English, Politics, Economics, Punjabi, Arabic, Pak studies, and MSc Mathematics.