MA Msc Admission Schedule University of Sargodha
UOS, University of Sargodha announced Admissions schedule for Master MA, MSc Part 1 session 2019. The schedule of submission of admission forms published by UOS, According to schedule, the last date of submission of admission forms with single fee is  and with double fee  and with triple Fee . After these due dates university will not be accepted or admission form.
Degree                                 Single Fee        Double Fee             Triple Fee
MA Part 1                                 Rs. 4050/-      Rs 8100/-            12150/-
MA Part 2/ M.sc Part 1          4350/-              8700/-               13050/-
M.sc Part 2                                4550/-               9100/-               13650/-
MA Composite                    7650/-              15300/-              22950/-
M.sc Composite                  8150/-               16300/-              24450/-
MA Composite                   4050/-                8100/-               12150/- (for private candidates having compartment in one part only).
MSC Composite                4350/-               8700/-                13050/- (for private candidates having compartment in one part only).
The candidates who have not registered with University of Sargodha requires to submit Rs. 2700/- registration fee. for unregistered / fresh candidates only.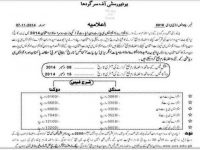 Private candidates can be submit their admission forms in following programs: M.A Urdu, Islamiyat, English, Politics, Economics, Punjabi, Arabic, Pak studies, and MSc Mathematics.
Last Date for Submission of Admission Application form with Single Fee: 29-05-2019
Last Date to Submit Admission form with double fees: 11-06-2019
Last Date to submit Admission Form with Triple Fees: 18-06-2019
The Examination expected to be held in October / November 2019
Display first Merit list: 
How to Apply
You must have a photograph, a mobile phone, copy of your and your father/guardian's CNIC and copies of all testimonials before start.
Register at www.admissions.uos.edu.pk using your mobile number.
Complete online application form and submit.
Make sure you have provided all required information correctly because you will not be able to edit your application once submitted.
Once you have submitted the application, you will be able to download the challan form for application processing fee (Rs. 550). Make sure to submit the application processing fee in any branch of HBL before the closing date of admission. The submission of dues shall be acknowledged by email and SMS.
To apply for more than one program, submit your first application and then create a new application for other program(s). Subsequently, submit dues of application processing fee for each application.
The successful candidates shall be intimated by SMS, email and website portal (admissions.uos.edu.pk).
At the time of admission the candidates will be required to submit their original terminal degree/DMC, application form, copies of all academic testimonials, CNIC (applicant + father/guardian) and an affidavit (specimen available on website) on stamp paper of minimum Rs. 50. Start of class in all disciplines will be subject to the class size. All admissions shall be provisional subject to authentication by the relevant department as per prescribed procedure. Separate admission notices will be published for admissions in graduate, undergraduate, Pharm-D and DPT disciplines.
All postgraduate programs are Morning /Regular.