Punjab Khidmat Card Program 2021 Application Form Criteria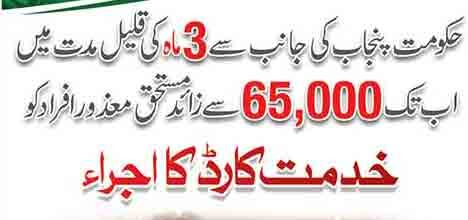 Chief Minister of Punjab shahbaz sharif announced Punjab Khidmat Card Program scheme in year 2014 and from the day of the program, government of Punjab regularly working on this program and increasing this program to other cities and all villages of Punjab to make successful this program to disabled humans. Punjab government introduces ATM Card for payment purpose of selected candidates against this program. All selected candidates will be get payments through ATMs of Bank of Punjab. Government of Punjab will be given medical equipments for disabled persons, if any disable person is technical and wants to start his own business government will also give him loan though PM Loan scheme with easy ways.
Chief Minister of Punjab shahbaz sharif is working actively for this program to provide financials to disable child's, young and old people of Punjab. Within last three months government of Punjab distributes sixty five thousand Khidmat Cards for disables from Punjab. According to government news media government of Punjab has distributes more than 45 Crore against this program.
Registration Centers:
Government of Punjab opens more than 100 Khidmat Card Branches within Punjab to serve the people of Punjab.
How to Contact Khidmat Card Branch:
Toll Call Free Now: 0800-05050
Eligibility criteria:
Government of Punjab has not published any specific eligibility criteria for Punjab Khidmat Card Program Scheme. All disabled persons with any type of age that is from Punjab with no age limit means all disable persons are eligible to apply for khidmat card program.
Application Form:
Punjab Khidmat Card Scheme Application Form
Read Also: PM Health Card Program 2021 Online Registration Form Eligibility