PBTE DAE Date Sheet 2021 1st, 2nd, 3rd Year Exams
Punjab board of technical education PBTE announced date sheet for DAE Annual Examination session 2021. Construction Technology Training Institute Islamabad CTTI and government of Pakistan working with partnership to provide technical education for the Youth of Pakistan. The Annual examination for DAE students has been issued by Punjab Board of Technical Education PBTE as per below schedule:
Practical Examination: 14 June 2021
Written Examination will start from Date: 15 July 2021
How to submit Examination Fees:
The students who want to participate in Annual Examination for DAE first second and Third requires to submit Single Admission Fees Rs. 2050 before last date 20 April 2021. The examination fees must be submitted to Punjab Board of Education.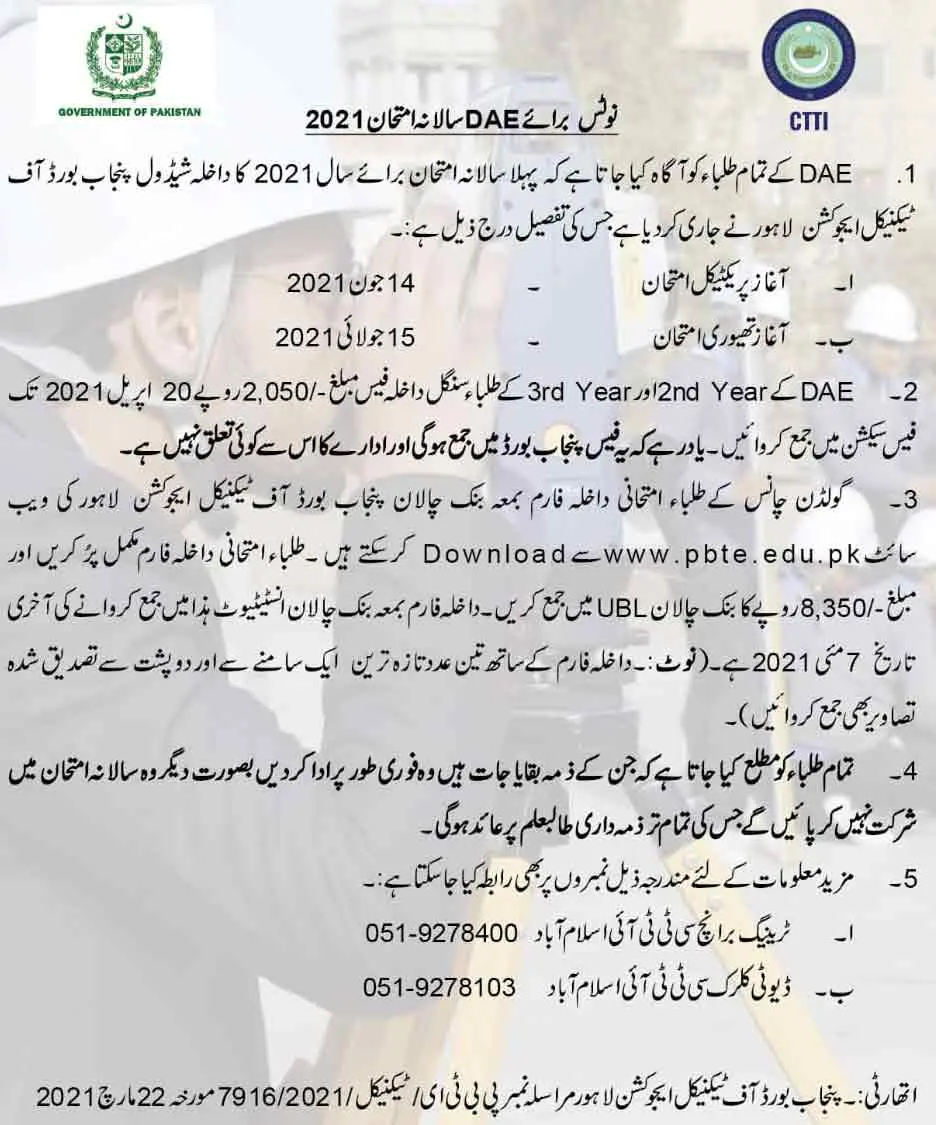 Golden Chance:
The new students can also submit admission form and the admission form can be download from Punjab board of technical education website www.pbte.edu.pk and fill the admission form with Challan Fee Rs. 8350/- and submit admission form and admission Examination Challan Fees to Habib Bank Limited HBL Pakistan.
Read Also: PBTE Result 2021 Matric Tech & Vocational Top Position Holders
The last date to submit Challan Form to Institutes is 07 May 2021
Students must submit three passport size photographs with Annual Examination Admission Form, the pictures must be attested from both sides back and front side. PBTE notification about the students who have not submit their Examination Fees that they must submit their examination fees otherwise students cannot participate in Annual Examination that will be held in the month of July 2021.
How to contact PBTE:
The students who want to contact Punjab Board of Technical Education can call on following number for more information:
051-9278400
051-9278103
the government of Pakistan authority Punjab board of technical education Lahore issues the notification PBTE / Technical / 7916/2021 on date 22 March 2021.
PITAC College of Technology Lahore Admission 2021 DAE Diploma
TEVTA Chinese language Course 2021 Admission Form Punjab
CTTI Islamabad Admission 2021 Merit List Construction Technology Training Institute