National University of Science and Technology open admissions Fall 2021 in MS Statistics
NUST has announced the schedule of Entry Test NET for undergraduate admission 2021. Online registration for NET-I shall start from October 25, 2021, and the last date to apply for NET-II is November 25, 2021. Computer-based NET and paper-based exams shall start on November 28, 2021.
NUST Entry Test NET Schedule Admission 2021
NET-2021
Online Registration

Test Schedule

Islamabad
Karachi & Quetta
Series – 1
25 Oct – 25 Nov 2020
15 Jan 2021 onwards
–
Series – 2
31 Jan – 1 Mar 2021
06 Mar 2021 onwards
13 Mar 2021 onwards (Tentatively)
Series – 3
9 May – 19 Jun 2021
26 June 2021 onwards
10 Jul 2021 onwards (Tentatively)
Dates for Remember:
Registration: 31 January 2021 to 01 March 2021
Conduct of Test: 06 March 2021 onwards computer based and 13 March 2021 onwards (paper based).
Venue:
Islamabad NUST Campus, Sector H-12
Karachi Shall be printed on admit Cards
Quetta: Garrison Academy
Commencement of Programmes (Tentative)
All Programmes except Aerospace Engineering,
Avionics Engineering and BS Applied Biosciences: september 2021
Aerospace Engineering and Avionics Engineering
Applied Biosciences: November 2021
Undergraduate Merit 2021 (NET and SAT) basis of All Programmes (Less Applied Biosciences) has been uploaded on our portal.
Multi-disciplinary University
National University of Sciences and Technology is a multi-sectoral university which offers a wide range of study options.
Academic Excellence
By virtue of its merit-based selection, it attracts the most talented students who perpetuate a culture of academic excellence.
Recognized Qualifications
The academic programs are duly accredited by the respective professional bodies, and the qualifications are recognized internationally for their quality and relevance.
State-of-the-art Labs and Studios
There are well-equipped labs, workshops and studios for art and design work.
On-campus Hostels
There are separate hostels for boys and girls, with dining and administrative support facilities. Rooms are furnished for single and double occupancy.
Quality Culture
NUST invests in the best. Quality standards and international best practices are followed in letter and spirit.
Counseling and Career Advisory Services
The University has a specialized Centre to guide and help the students to cope with adjustment and stress-related issues. Besides, Career Development Center provides programs and services to help students to make effective career choices.
Scholarships
The University provides various types of financial support and incentives to both talented and needy students in the form of scholarships, fee waivers and deferred payments.
Entrepreneurial Culture
NUST infuses a spirit of enterprise among its students through taught courses and programs designed to nurture budding entrepreneurs.
Please update your preferences in order of priority, if desire so through "Update Preference Form" by login to ugadmissions.nust.edu.pk with your user name and password till 31 July, 2021.
No request for change of preferences will be entertained thereafter.
In order to view Closing Merit Positions of session 2021 (Engg/CS) proceed to following
Disclaimer: The last year merit positions do not guarantee admission in session 2021 as this only is a reference to choose the preferences in order of priority. The merit positions vary every year.
NUST University today date 02 August 2021 announced first Merit List Congratulations to the ones who made it to NUST
Last day to submit fee and documents for the 1st selection list candidates is Tuesday August 6, 2021 (11:59PM).  And to the ones, who couldn't make it to this selection list, you still have a chance, please wait for the subsequent lists.
Merit Positions / Selection Status Undergraduate Programmes  2021 
Link Search Merit List: Click Here
Admission on SAT Basis 2021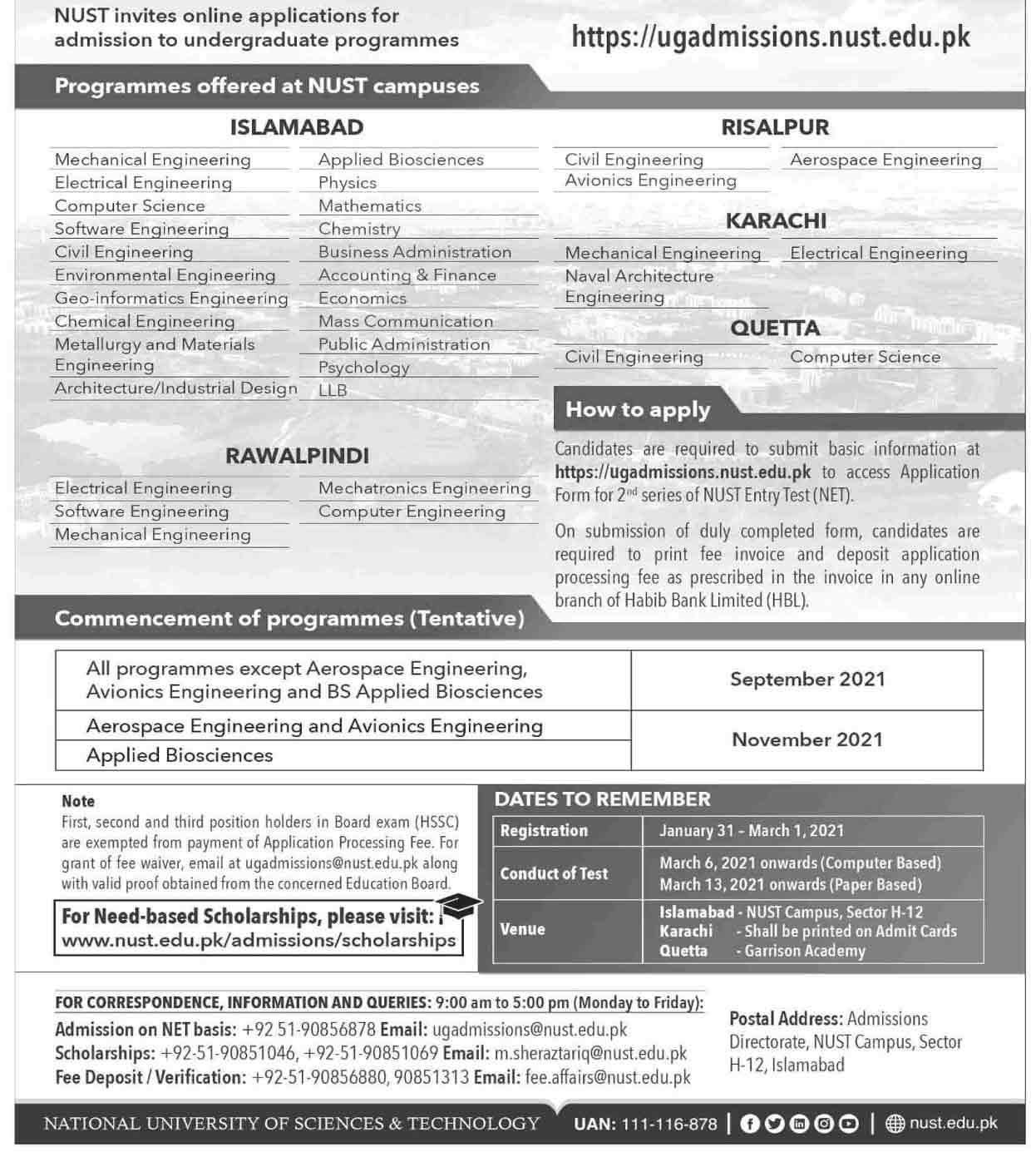 Registration for Applications on SAT Basis for Session-2021 will remain open
NET-2017 (Series-3)
Online registration for NUST Entry Test 2021 ( Series-3 ) for UG Programmes will remain open from.
NUST Announces Admissions for Master Programs 2020 like MS, MBA and EMBA. The Online Admissions start from dated. 
Last Date of Submission of Master Program Admissions:
Last Date of submission of GAT General / Gre General / GMAT Score
PhD Admissions in NUST Starts
NUST Online Admissions Entry Test Result 2021 Merit List of BS and Engineering Undergraduate.National university of science and technology NUST offers online Admissions for Undergraduate Programs for session 2020. NUST offered different academic Engineering Programs for Rawalpindi, Islamabad, Risalpur, and Karachi Campuses.
NUST Entry Test Result – 2021
Uploaded Result Detail:
Result of NET 2021 (series-3) conducted on  except B Architecture / B Industrial Design.
Result of NET 2021 (series-2) conducted from 26 Mar to 04 Apr 2021 both computer and paper based test.
Result of NET 2021
NUST Engineering Programs in Rawalpindi Campus:
Mechanical Engineering, Electrical Engineering, Electric Telecom Engineering, Computer engineering, Software Engineering and mechatronics engineering.
Nust Engineering Programs in Islamabad Campus:
Mechanical, electrical, Civil, Software, Chemical, materials, environmental, geoinformatics engineering and BS computer science, B architecture, B industrial Design BID, BS Applied Biosciences, BS Physics, BS Mathematics, Bachelor in business Administration BBA, BS Accounting, BS Finance,  BS Economics, BS Mass communication and BS in Public administration.
NUST Engineering Program in Risalpur Campus:
Civil, Aerospace and Avionics Engineering Programs.
Karachi Campus Program offered by NUST:
Mechanical, Electrical, Industrial and manufacturing engineering.
How to Apply:
Application form for first series NUST Entry test NET 1 will be available online at www.nust.edu.pk , the admission form can be submit through online process ugadmissions.nust.edu.pk after that the candidate print fee invoice and deposit application processing fee as prescribed in the invoice in any online branch of Habib bank limited HBL.
Dates of registration:
Schedule of NUST Entry Test – 2021 note: For each series, separate online registration form is required to be submitted
Commencement of Undergraduate Programmes -(Tentative)
 Engineering/Computer Science
Business Studies, Social & Natural Sciences and Art and Design
BS Applied Biosciences
NET Registration
Registration for NET (Series-1) will remain open from Dec. The deadline for registrations for NUST Entry Test (NET-1) is . Students who want to register can do it online: https://ugadmissions.nust.edu.pk/ or they may visit career counsellor's office. Good Luck to the registered students.
NUST Entry Test Schedule:
Entry Test Centres:
Computer based entry test will be held at NUST Campus sector H-12 Islamabad.
Paper Based entry test will be held at Karachi and Quetta.
Conduct of entry Test for All Programs:
NET 1: 26 December  onwards two sessions daily
NET 2: March to April  Tentative
NET 3: July tentative
Note: paper based test at Karachi and Quetta to be held twice Exact Dates later:
Commencement of Programs:
All programs except Aerospace Engineering, Avionics Engineering, and BS Applied Biosciences:
Aerospace and avionics engineering Programs:  September .
BS Applied Biosciences Classes will be start from dated:  November.
For more help related to fee or any type related to admissions contact us at:
For Fee Queries
Phone Number
+92-51-90851316, +92-51-90851315, +92-51-90851313, +92-51-90851317
Fax Number
+92-51-90851302
Email
[email protected], [email protected]
For NUST Entrance Test (NET) Queries
Phone Number +92-51-90856878
Fax Number: +92-51-90851402
Email: [email protected]
Postal Address National University of Sciences & Technology, H-12, Islamabad.
Online Application form for Graduate and Master Degree:

Apply Online Here