FAST National University of Computer and Emerging Science Offering following degree programs for Year Session 2023.
BACHELORS DEGREE PROGRAMS
BS (Accounting S Finance)
BS (Artificial Intelligence)
BS (Business Analytics)
BS (Civil Engineering)
BS (Computer Science)
BS (Cyber Security)
BS (Data Science)
BS (Electrical Engineering)
BS (Financial Technologies)
BS (Software Engineering) Master of Business Administration
MASTERS DEGREE PROGRAMS
MS (Applied Linguistics)
• MS (Artificial Intelligence)
• MS (Business Analytics)
• MS (Civil Engineering)
• MS (Computer Networks and Security)
• MS (Computer Science)
• MS (Data Science)
• MS (Electrical Engineering)
• MS (Management Sciences)
• MS (Mathematics)
• MS (Software Engineering)
• MS (Software Project Management)
PhD Degree Programs:
PhD (Civil Engineering) PhD PROGRAMS
PhD (Computer Science)
PhD (Electrical Engineering)
PhD (Management Sciences)
PhD (Mathematics)
PhD (Software Engineering)
Why FAST-NUCES?
• Pakistan's first federally charted multi campus private University.
• A great number of graduate of FAST-NU are employed in Multi National IT companies.
• Graduates have established many companies that are earring revenues of millions of dollars.
• All program are accredited by relevant accreditation bodies.
• BS (AU) is accredited by Int. ACCA with several exemptions of papers.
• FAST-NU has so far produced more than 30.0 graduates.
• MS scholarship available in Computing domains.
• Semester Exchange Program with Oakland University Michigan in the Undergraduate Programs of Computing 8 Engineering.
• Graduate Program Credits accepted by Computer Science Program at Oakland University, Michigan.
• Highly qualified and experienced faculty and well-equipped labs. • Entrepreneurship and startup support.
• Need based study loans available.
BS (CS) with specialization in Robotics 6 Game Development are available.
Admission Schedule 2023
Important Announcement
The Merit Lists for MBA/MS (all disciplines) will be announced on 24 July 2023  at 06:00 PM.
Results of MS / MBA will be Announced on Date 24 July 2023 at 06:00 PM
The Merit for BBA, BS (A&F) & BS have been announced for Admissions Fall 2023.
Merit List (Selected Candidates) 2023 and enter your ARN to view your results. The Admissions Entry Test for MBA and MS(AF) will be conducted on 25th August, 2023 (Saturday). The entry test will be conducted on campus.
Head over to nu.edu.pk to check the merit list of Undergraduate Programs at FAST-NUCES Lahore.
For queries, call our Helpline at (042) 111 128 128 or Email us at admissions@lhr.nu.edu.pk
FAST NUCES Lahore Admission 2023
| | | |
| --- | --- | --- |
| Admission Schedule 2023 | BBA & BS | MBA, MS & PhD |
| Last date for Application Submission | 05 July 2023 | 05 July 2023 |
| Admission Tests | 10 July 2023 to 21 July 2023 | 10 July 2023 to 21 July 2023 |
| Declaration of selected / Test Qualified Candidates | 24 July 2023 | 24 July 2023 |
| Interviews | (Financial Aid Applicants) | 27 July 2022 |
| Admission Formalities | Aug 01 – 19 August 2023 | Aug 01 – 19 August 2023 (Mon – Mon) |
| Commencement of Classes | Aug 21 (Mon) 2023 | Aug 21 (Mon) 2023 |
Entry Test Result 2023 & Merit List: Check Here
Last date to apply for MBA in Islamabad campus is 05 July 2023
Merit list has been announced for Undergrad Programs only (Both NU and NTS).
Following are the FAST NU cut off aggregates for the year 2023. Aggregate is calculated on basis of 50% Fsc part 1 and 50% NU Test Score
LAHORE
EE-64
CS-68
CV-66
BBA-50
A&F-50
ISLAMABAD
CS-64
EE-60
BBA-50
A&F- 50
FAISALABAD
CS-50
EE-50
BBA-50
KARACHI
CS-56
EE-50
BBA-50
PESHAWAR
EE-50
CS-50
NTS/NAT selected applicants should submit their required documents and fee by (Mon)
Note: Graduate Programs Merit will be announced after 24th July, 2023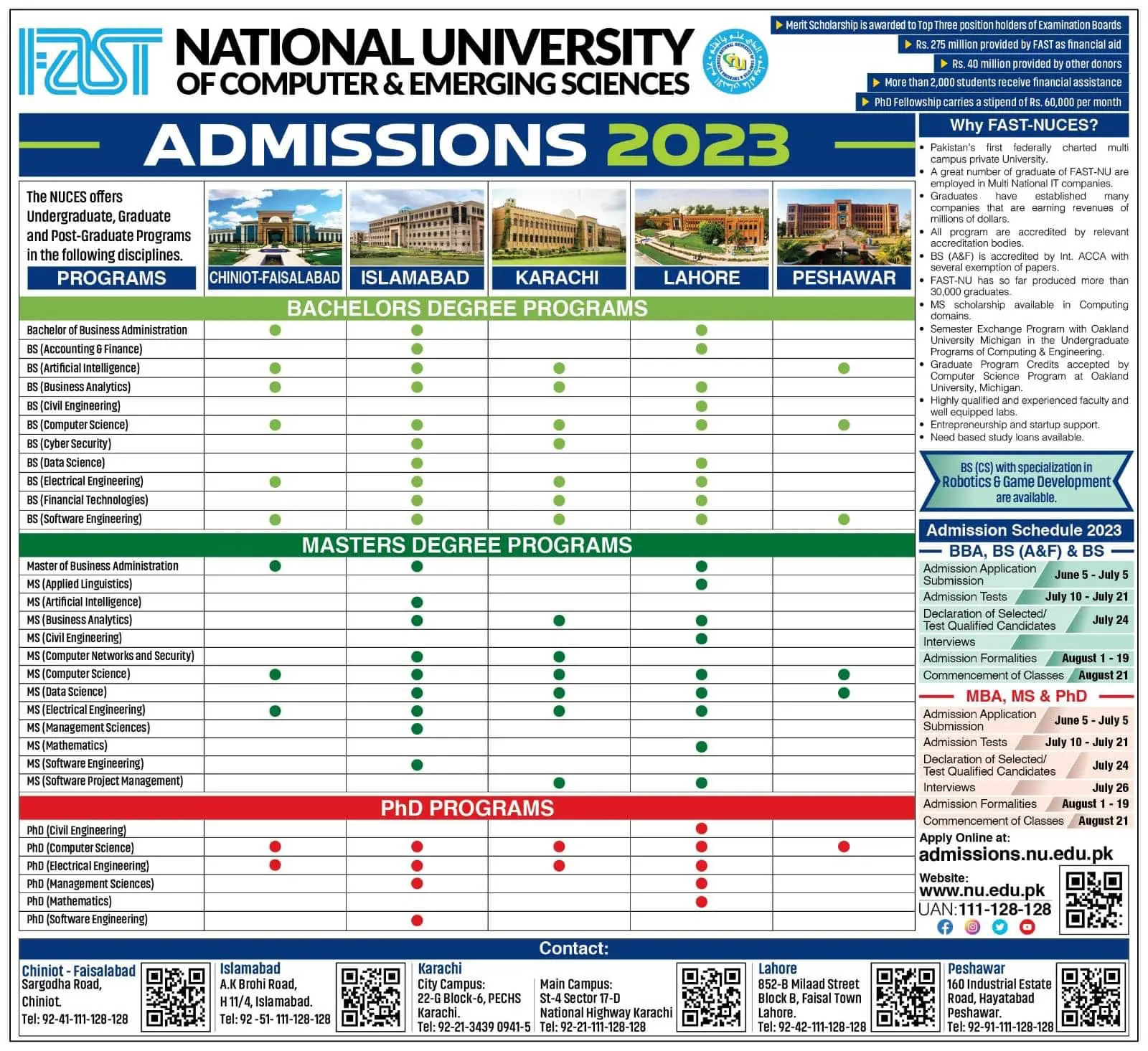 People asking about 2nd merit List it will be posted after 31st when admissions on 1st Merit List are completed. As seen for past 5 years there is 2nd merit list for almost all campuses except Lahore CS chances of 2nd merit list are very low and even if there is, the merit drop is really small like last year it dropped from 66 to 65.97.
Merit List has been Published:
Kindly note following points while checking your result
Result will be shown on basis of type of test you have applied i.e nu test, nts, gat, sat
Selected mean you are selected for respective degree program. You now have to visit campus along with your original documents and bank draft . The amount of bank draft will be shown on result page. You will also receive letter but don't keep waiting for it sometimes due to address issues letters are not delivered in time so visit campus with bank draft asap
3.waiting means you have to wait for next merit list(s)
Not Selected means you are not selected and you have to apply next year
Fast doesn't offer spring semester those who do not get admission will have to apply next year in fall intake again
There are some cases in which people don,t leave seats in that case no other merit list for that respective degree program in that campus will be displayed and status of people on waiting will be changed to Not Selected in next list
Result can be announced at any time there is no fixed time for it keep on checking can be announced as late as 06.00 pm
National University of computer and Emerging Sciences Karachi Campus increase Online admission date extended till 11th July 2021
Admissions Fall 2023 are now open. Last date to apply
Smoking is not allowed in University Campuses
BRING YOUR CNIC ON TEST DAY ELSE YOU WILL NOT BE ALLOWED TO TAKE THE TEST.
Please register online for admission applications.
Once profile has been created, fee will be generated on the basis of your preferences.
Print the Challan Form and deposit your Fee in any branch of FAYSAL BANK.
Fee will be verified by the respective Test Center/Campus when the Bank will send the details. It might take from 2-3 working days.
Schedule for your test after fee verification.
Print your admit card.
Visit the required Test Center on the selected date and time. Try to reach the test center at least 30 minutes before test start time to avoid any inconvenience.
In case of any query, contact the nearest campus or email at admissions@nu.edu.pk.
For Lahore Related queries contact: admissions@lhr.nu.edu.pk
Tentative Admission Schedule for 2023
National University of Computer and Emerging Sciences FAST Islamabad Campus Opening Admissions in BBA, BS, MBA, MS, and Ph.D for different programs
apply for admission by logging go to www.nu.edu.pk or www.apply.nu.edu.pk and follow the instructions. visit the campus for verification of documents, admission eligibility and confirmation of test schedule.
bring along the following documents check the advertisement below for more information.
2nd merit list cutoff (Last Year Merit List)
Lahore campus
EE 65.5
CV 64.5
CS 65.97
BBA 47
AF 35
Islamabad
EE 62
CS 63
BBA 49
AF 44
Karachi
EE 47
CS 53
BBA 33
PWR
EE 45
CS 40
FSD
FAST NU PREDICTED AGGREGATE
Here is the predicted cut off aggregate for this year fall admissions. The predicted aggregate is being made considering last 2-3 years trend and this year weightage. The cut off aggregate might not be the same in final list as it is just a guess but hopefully it will around about this aggregate.
LAHORE CAMPUS
CS – 67-68
EE – 66-66.5
CV – 63.5-64
ISLAMABAD
CS – 61-62
EE – 59.5-61
FAISALABAD
CS – 50-52
EE – 55-56
KARACHI
CS – 52
EE – 45
Peshawar
EE – 40
CS – 35
NTS BASED PREDICTED AGGREGATE
Lahore
CS&EE : 80
ISLAMABAD
CS&EE : 75
REST CAMPUSES: 65-70
Dear students please note there is difference between nu test marks and nts marks
If you are applying on basis of nu test than aggregate will be calculated as follow
50% fsc part 1 marks or combined fsc marks + 50% nu test marks.
Merit list for nu will be displayed on basis of aggregate
If you are applying on basis of nts test marks than each campus will decide a cut off merit. For example if University decides cut off mark to be 72 than every student who have secured >= 72 marks in nts will be selected.
If you apply on basis of nu test and nts test both than separate merit will be announced for both. Also nts merit is usually high because of limited number of seats reserved for nts students.
Apply Here Also: NUST Online Admissions 2023 Entry Test Result Merit List
Tuition Fee is payable in full before the start of each semester. It is subject to revision every year. For the academic year 2023-24 the tuition fee is as follows:
FAST University City Campuses:
Chiniot-Faisalabad
Islamabad
Karachi
Lahore
Peshawar