In last two years the financial position of Saudi Arabia is not good, the market is down, after taking points from head of different business departments they said government of ksa is not investing or giving payments to different project contractors due to this companies is going to downfall. Al most in last one year there are lot of expatriates go back to their own countries due to no work and salaries is not paying many big companies to their employees like Bin Laadin group is a multinational construction company that is also working in Makkah and Madina and almost everywhere in Saudi arabia and taking projects from government of kingdom of Saudi Arabia.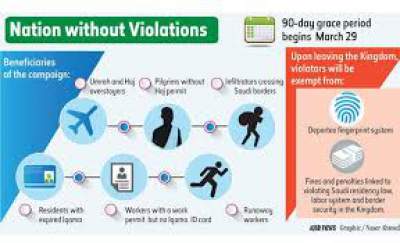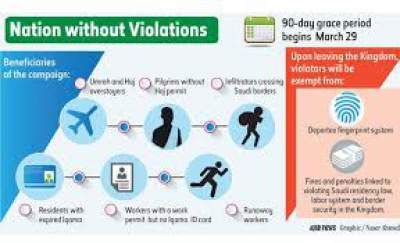 Violating the residency system entails deportation, a prison sentence and fines. The fine can range between SR15,000 ($4,000) and SR100,000, Gen. Sulaiman Al-Yahya, director general of the Passport Department, told the Saudi state-run news channel Al-Ekhbariya.
Due to no jobs and employees cannot receive salary many employees leave their job and search jobs outside the companies and working illegal to fulfil their basic requirements like food and necessities of life.
According to Arab news agency Jeddah province of Makkah perfectly ready to launch A nation without illegal expatriates. This complain starts from 29-03-2017 and will be remain resume for 90 days, it's a chance for illegal expatriates to leave Saudi arabia with legal with their own expenses. The time limit for the violator to leave the kingdom on his own and at his own expense is 90 days as of today Wednesday 29-03-2017.
"A special section has been designated for it at the General Services Center in Al-Shumaisi to cover Makkah and Jeddah," Hussain said.
Over stayers following the 90-day grace period will risk paying fines. "Violators who don't initiate correcting their status and get detained will be subject to enforcing the rules and regulations of the labor law and residency system," Lt. Col. Talal Al-Shalhoub, spokesman of the General Directorate of Passports (GDP), told Arab News.