Military College Jhelum sarai alamgir starts taking online applications for 8th class session 2023-2024. the online registration starts from today, the last date of submission of online registration forms with single fee, after the online applications will be paid with double fee till last date.
Admission in 8th and 1st Year class Entry:
Last date for submission of online application would be 31 March 2023 with normal fee while 10 April 2023 with double fee.
Entrance Exam will be held on 30 April 2023
Age limit is 12 to 14 years on 1 April 2023 (including grace period).
A candidate who have passed 7th class or studying in 7th class may apply.
Registration fee:
Wards of Army Officer (Serving / Retired) – Rs. 2500/-
Wards of JCos/Soldiers (Serving / Retired) – Rs. 2000/-
Wards of Civilians & other Armed forces – Rs. 3000/-
Further details will be updated during this week.
the online registration has been started at official website www.militarycollege.edu.pk till last date. after submission of online registration forms, the candidates need to submit fee challan form to habib bank limited admission form and fee registration form to any habib bank limited. five years training program and after pass of matriculation that few students will be sent to Pakistan Air force, Pakistan Army, Pakistan Navy Cadet Colleges for two years military training.
Registration Fees for 8th class:
Current Army Officers / Retired Army Officers / : Rs. 2000/-
JCOs, Current Service, Retired Army persons, MES, Pakistan Rangers: Rs. 1500/-
Civilians Candidates: Rs. 2500/-
Eligibility Criteria for 8th Class:
the age limit of applicants from 01 April 2023 will be from 12 to 14 years old. the 90 days relaxation will be given under laws.
Qualification: the 7th class pass male and female candidates can submit online registration forms for admission in 8th class.
Military College Jhelum 8th Class Admission 2023
Written Test / Selection Process:
the written test will be held on dated 30 April 2023 Sunday, of subjects Urdu, English, Mathematics, General Science, and Islamiat (for non Muslims can give entry test of Pakistan studies instead of Islamiat). the written test will be taken from Punjab Textbook Boards class 5th, 6th and 7th. after successful Entry Test Exams the candidates will be called for Intelligence Test and Interviews.
 for Admission in Askari Cadet College Kallar Kahar Admission 2023 Entry Test Result
After all tests and interview, the selection will be held on merit basis.
the interested and eligible candidates may submit application forms or can take any type of information related to admission tests and interviews from these numbers:
0544-650581 and 0544-650582 and Army Numbers: 804-33511-33512-33513 extension number: 2255 and 2209.
Military college will be accept un-complete Applications or the candidates will not submit fees will be rejected.
Military College Jhelum admission 1st year 2023
Military College Jhelum open admissions in 1st year 11th class pre engineering and Ics for session 2023. The admission applications invited by Military College Jhelum, prospectus available at college on college timings.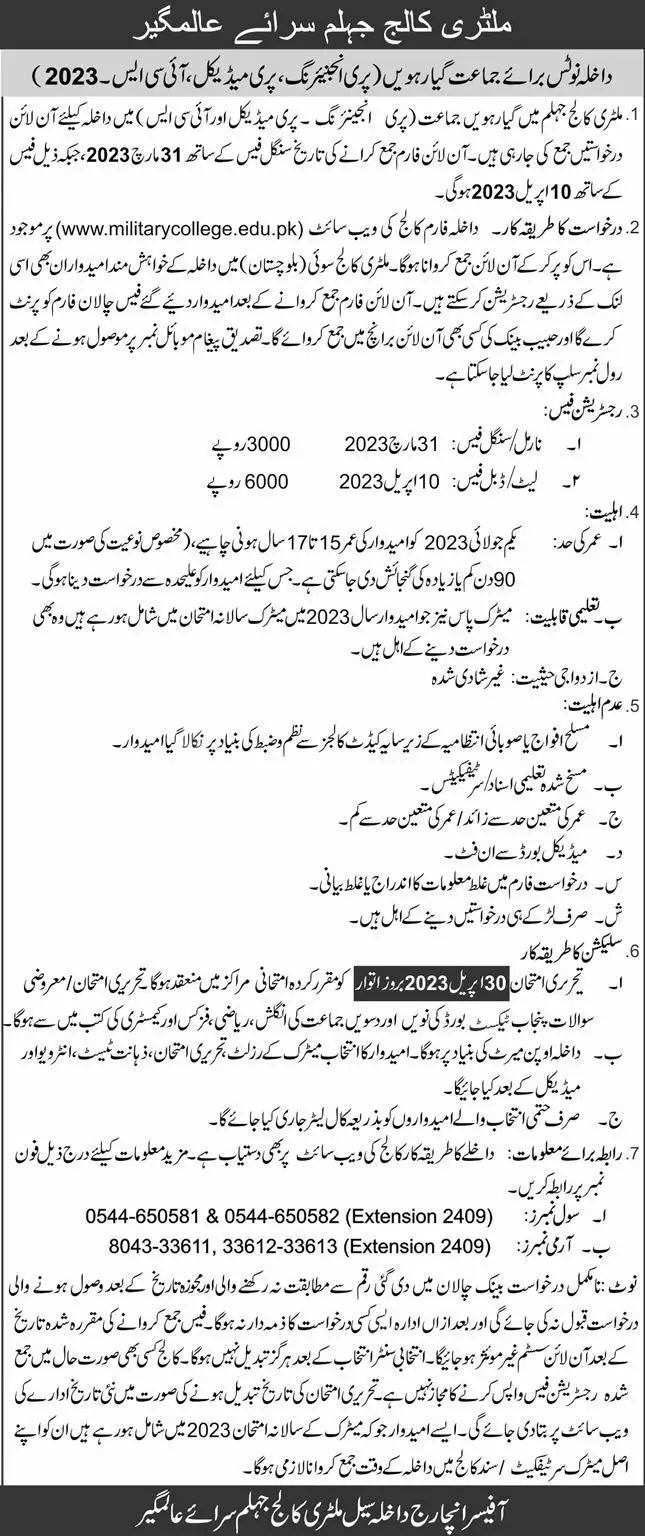 11th Class Entrance Exam Tentative Date:
The College has extended the online registration date for Lateral Entry XI Class 2023 due to the prevailing situation of Coronavirus in the country.
Now candidates can apply with normal fee till .The tentative date of Entrance Exam for Lateral Entry XI Class is last week of 30 April 2023.
The admission forms and prospectus can take from college from Rs. 560 for civilians and Army Officers and Rs. 280 for Army JCOs.
Admission and prospectus forms can be demand by courier by sending demand draft DD with the name of Military College Jhelum. Admission form can also be download online from their website, but when you will submit your admission form must be attached DD pay order from habib bank of Pakistan with the name of Military College Jhelum. (code: 658).
Eligibility:
Matric pass candidates, intermediate candidates can also apply for admission in Military College Jhelum.
The age of candidate must be 15 to 17 on dated 01 July 2023.
Admission will be on merit, the final selection will be depends on previous mark sheet, written test and interview.
The admission application form must be reached before dated 31 March 2023 written test will be held on dated 10 April 2023 Sunday. The written test will be taken of following subjects: English, Mathematics, Physics, and Chemistry).