MCB Bank has been with Pakistan since the very beginning when the country was first drawn on the world map in 1947. As one of Pakistan's oldest and most trusted banks, our identity is deeply woven into the country's history and heritage. We have come a long way together, and this journey full of challenges and accomplishments has strengthened the values we uphold and cherish. We require qualified and motivated professionals whose work ethic is based on hard work, to fill the position of Management Trainee Officer.
Brief Job Description
The primary responsibility is to manage different banking functions in line with the vision of the bank regarding the provision of top-of-the-line banking services to its valued clients. After comprehensive training, they shall be strategically placed across the bank in all areas of the banking ranging from branch banking to support offices that will help them to set the foundation for success throughout their careers.
Application Deadline: 10 July 2022
Criteria for Hiring
Eligibility criteria shall be based on but not limited to the below-mentioned areas/points:
1. Minimum 16 years of Education from HEC Recognized and/or foreign Institutes/Universities.
2. Only those candidates shall be considered who have fully completed their degrees, have in-hand, their final transcripts/degrees.
3. Age should not exceed 26 years as of May 31, 2022.
Experience
Not essentially required however may be preferred.
Job Location
Lahore, Karachi, & Islamabad
Important Note
1. Only short-listed candidates shall be contacted.
2. The Bank reserves the right to post or to transfer employees to any function or Group or Location, at its sole discretion.
3. Direct or indirect influence, internal or external, shall disqualify the particular candidate without any notice or communication.
4. Candidates with IT skills and having diploma from Institute of Bankers of Pakistan (JAIBP) will be preferred.
5. The candidates shall go through a comprehensive selection process which includes initial shortlisting on the basis of eligibility criteria and geographical human requirement followed by interviews.
6. Successful selected candidates shall go through a formal Class Room and on-the-job training before their placement in their respective roles in various functions of the Bank.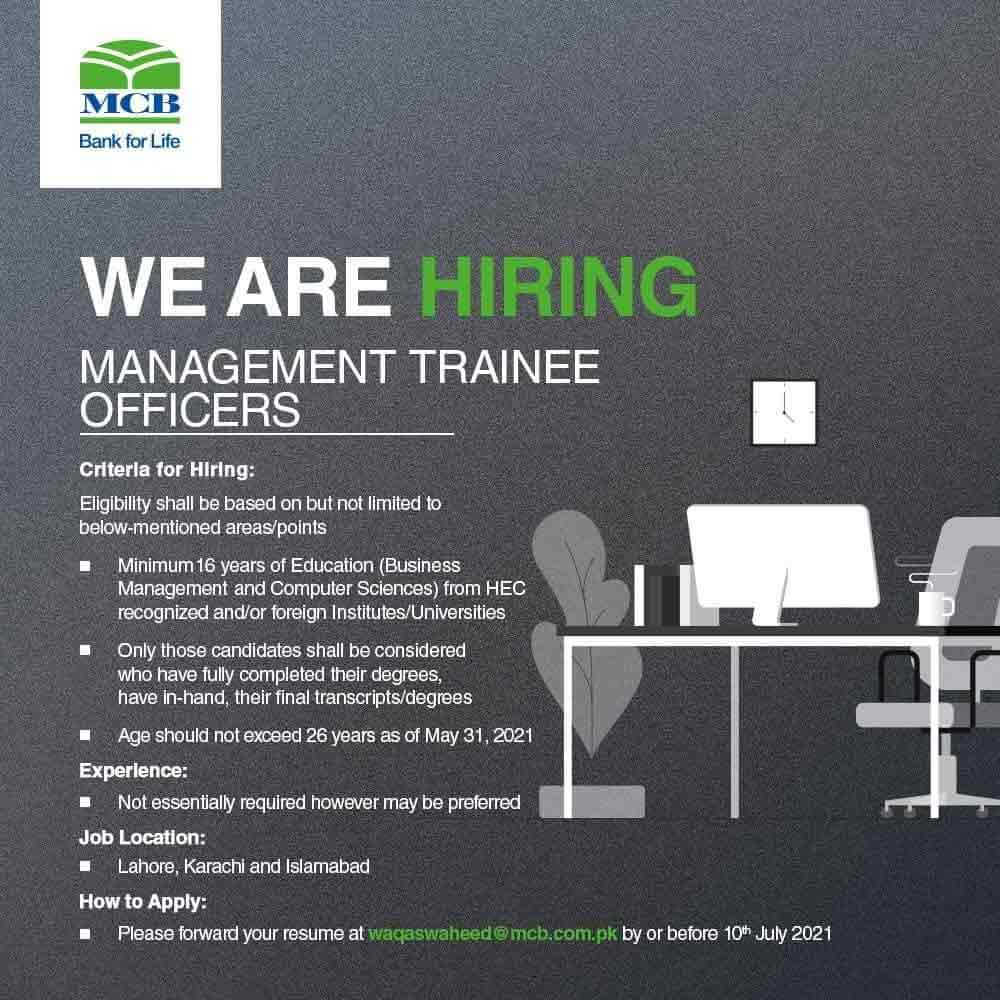 Interested candidates may incorporate "Date of Birth, CNIC No., Residential Address and applied City" in the profiles/resumes and send it to WaqasWaheed@mcb.com.pk by or before 10th of July 2022. CVs short of this information will not be entertained.