The citizens and residents who are under 65 years required to complete three doses of the COVID-19 vaccine, and the definition of an immunized person in Saudi Arabia is one who has completed three doses of the vaccine are eligible to apply for Online Hajj year session 2022.
Registration Procedure:
Applicants registration and selecting the favourite packages
The registration phase ends, then we start electronic lottery and nominating candidates
Reservation for the nominated candidates then sending Saddad SMS
Paying reservation amount and issuing permit
Printing the permit via Absher portal
Registration completed successfully, Request ID:64453223. In case you pass immunization health criteria, you will be able to complete the procedures for selecting package, booking, electronic payment and issuing the permit through the reservation portal, according to priority, starting from the date of 03 June 2022 1443H/2022.
Price Range Package 2022:
In case you are not nominated for any of the selected packages, you will be nominated to be assigned to a package based on a specified price range. Please specify the price range below.
Minimum: 10526.07 SAR
Maximum: 17860 SAR
NOTE : Registering my wish to perform Hajj for the year 1443 Hijri is a preliminary submission, and is not a final registration. Registration is not considered until the issuance of the final approval after ensuring that health and regulatory standards are met, and the result of the submission will be notified through a text message on my mobile phone. The request is automatically canceled if the health or regulatory requirements are not completed, and in the event of a mismatch in the data provided, the Ministry is entitled to cancel the approval at any time.
 the candidate – hereby certify that I
BREAKING NEWS RELATING TO HAJJ
Saudi Arabia have decided to hold Hajj with very limited number of pilgrims from various nationalities who already reside in the Kingdom of Saudi Arabia.
KSA Local Haj want to do hajj this year go localhaj.haj.gov.sa and select your package now
There are many people from Saudi Arabia, whose waiting for Hajj 2022 from Local cities of kingdom of Saudi Arabia. The ministry of Hajj and Umrah government of Saudi Arabia is not announced or not yet receiving Local hajj applications currently. The online applications will be started from The ministry divided the process into two stages: the first is an optional phase that lists and explains the Hajj programs and packages. This stage begins on  and will end on . 
Ministry of Hajj Phone Number: 800-430-4444
Email Address ministry of Hajj Saudi Arabia: mohcc@haj.gov.sa
Local KSA Hajj Registration 2022 Form How to Apply Online
The thousands of Local people foreigners workers want to do Hajj year 2022, we give you complete information and make selection process, currently government of Saudi Arabia issues local permit for some companies that will provide Hajj permit with transportation facilities. The government bane those companies who are advertising different packages with facility of transportation and living standards during Hajj session 2020. The timing countdown has been started by official website of ministry of Hajj and Umrah for Local Hajes.
The Online Applications will be open from 03 June 2022 till Date 11 June 2022 after than the interested and eligible candidates may submit their application from online though localhaj.haj.gov.sa official website of ministry of Haj and Umrah Ksa government.
Government of Saudi Arabia is offering different packages or cost of Hajj for local foreigner workers that want to do Hajj this year. The government fees for Hajj will be from SR. 12000/- to SR. 16000/-.
Keep in mind that government requires only specific number of applications so started package that is SR 12000/- will be end soon because many people will be select this package, this package will be end almost after two or three hours when the online application started because many companies and people from Riyadh, Jeddah, Dammam, Makkah, Medina, Khobar, Abha, Jubail, Qatif, Dhahran, Khamis Mushait, Hofuf, King Abdullah Economic City, Jizan, Al Bahah, Sakakah, abqaiq, Saihat, Turaif, Rabigh, Diriyah, Duba, Al Zulfi and many other cities will be apply for online through official website of ministry of Hajj and Umrah year 2021, so after than only package will be remain from SR 7000/- to SR 14000/-. So interested and the people who cannot afford much fees need to remain update and when the online application will start apply as early as possible to submit their information online, in this way you will be eligible to do hajj year 2022.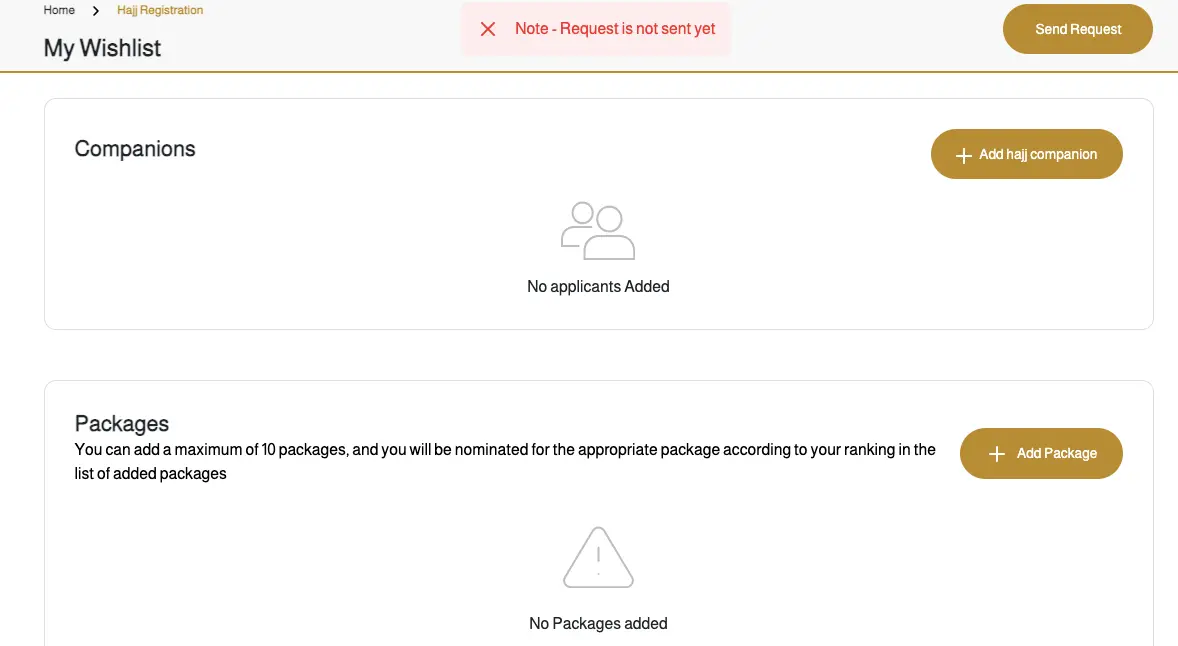 If you need any help related to Local Hajj 2022 from Saudi Arabia can submit comment we will give your answers though comment box.
Local Hajj Package Details Expected:
General
Consists of variety of services, Value added services such as lodging in Mina towers, return flights land transportation to Makkah, inclusive of the essential services, Further, Haj Service providers may include optional additional services.
– 11,905 SAR
Low Fare
A Value driven with several options in lodging in Mina camps, and return land transportation from the city of the pilgrim. In addition to the Mashaer train services.
12000 SAR
Moyassur
Designed to accommodate all the essential services with a fixed rate, and to those who wish to lodge in approved Accommodation buildings near by Mina, and facilities to utilize Mashaer train.
14000 SAR
Local Hajj Packages Booking Steps:
First of all go to localhaj.haj.gov.sa
Fill out the required fields program type, number of pilgrims, and city of departure and remain package type normal fare.
Select the preferred program with the ability to display the results.
After than entry your phone number to receive the confirmation code.
Select the optional additional service and adahi service.
Review pilgrim information and confirm the reservation.
Pay invoice within the due date.
After submitting payment through ATM to ministry of Haj Saudi Arabia.
Login to moi.gov.sa and go to hajj permanent service take print you're Haj Permanent, in Saudi or Arabic language called it Hajj Tasreeh.
Go to any hospital and take blood certificate.
the phone number and the company name is written at your Hajj tasreeh or Haj Permanent you can contact them and inform about your registration after than they will guide you.
Year 2021 the Hajj packages for Local is start from 12000/- saudi Riyal to 16000/- Saudi Riyal (so expense this year)
The Ministry has announced three Hajj packages. The first package (Hospitality Package Camps) costs SR12,113; the second package (Distinguished Hospitality Camps) is priced at SR14,381 and the third package (Distinguished Hospitality Towers) costs SR16,560.
Terms and Conditions
I declare that I am the applicant to perform Hajj for the year 1443 Hijri
I am less than (65) years old.
My health is good and I do not suffer from severe chronic diseases.
The persons to be registered cannot be registered in another application.
I am not infected with the emerging corona disease (covid-19) or suspected of infection.
I did not undergo dialysis or had any chronic diseases that required hospitalization during the previous six months.
All doses of the new corona vaccine have been completed according to the instructions of the Ministry of Health.
Go to consult a doctor directly in case of suspicious symptoms.
Adhere to personal protective measures such as a muzzle, sterilizing hands regularly.
I never performed hajj before.