Leadership School Admission 2020 Playgroup to Matric
Leadership School is working all over the Pakistan, now starts taking admission applications from playgroup to matric O level.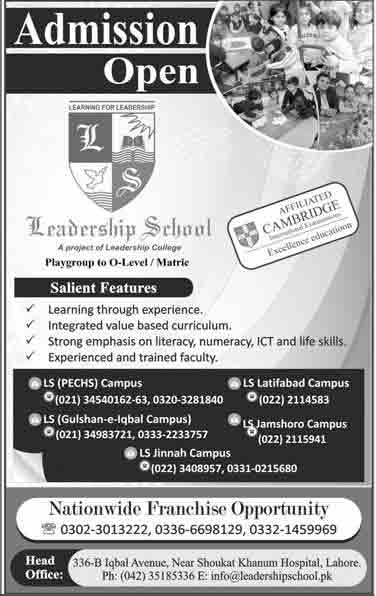 The preschool classes:
Play Group
Nursery
Kindergarten
Junior School Classes:
Class 1
Class 2
Class 3
Class 4
Class 5
Middle School Classes:
Class 7th
Class 8th
Class 9th
Senior School Classes:
Matric 10th class
O level
If your child's age is 2.5 years than you can admit your child to Leadership school play group class.
ELIGIBILITY:
CLASS           AGE
PLAY GROUP 2 ½
NURSERY 3 ½
KINDERGARTEN 4 ½
CLASS – I 5 ½
CLASS – II 6 ½
CLASS – III 7 ½
CLASS – IV 8 ½
CLASS – V 9 ½
CLASS – VI 10 ½
CLASS – VII 11 ½
CLASS – VIII 12 ½
O-LEVEL/ MATRIC 13 ½
The parents of student can visit school for registration purpose the school working time is Monday to Saturday time 8:00 am to 04:00 pm and the time on Friday 12:30 to 2:30 pm.
The interested students can also submit registration online to leadershipschool.edu.pk registration page.
Leadership school system is a wonderful education service within Pakistan that provides quality education to the childs of Pakistan. Leadership school is a growing institute that has many campuses around the Pakistan and even if anybody requires franchise in Pakistan Leadership school will help to group the educational service anywhere in Pakistan. If you want to open school than you can take franchise from leadership school because leadership school have a complete system of checking and auditing of schools. The interested parties can visit 336-B Iqbal Avenue Near shaukat khanum hospital Lahore for further information or contact number 042-35185336 and you can also send email to [email protected].