Lahore University of Biological and Applied Sciences Lahore are seeking qualified candidates to fill various faculty and administrative positions. The university is committed to providing equal employment opportunities to individuals from diverse backgrounds in the following Faculties/Departments.
Assistant Registrar (Must hold MS/MPhil)
Admin Staff (BS/BA with proficiency in MS WORD)
FACULTY POSITIONS
Professor
Associate Professor
Assistant Professor
Lecturer
Faculty of Social Sciences
• Psychology Faculty of Pharmaceutical Sciences
• Pharmaceutics
• Pharmacy Practice
• Pharmaceutical Chemistry
• Pharmacology Faculty of Biological Sciences
• Biotechnology
• Biochemistry
• Microbiology
• Forensic Sciences Faculty of Applied Health Sciences
• Department of Physical Therapy
• Department of Nutrition
• Department of Food Sciences
• Department of Radiography and Medical Lab Technology Public Health of Nursing
• Islamiyat
• Computer Science
• Maths & Biostatistics Faculty of Faculty Visiting Faculty
How to Apply:
Candidates are advised to clearly indicate the position they are applying for in the subject area (in email). Interested candidates must submit their updated CVs to hrlubos@lmdc.edu.pk
Good Salary & other Benefits
Job Application Deadline: 21 May 2023
The university offers attractive salary packages with fringe benefits to its employees.
Requirements
• For faculty positions, candidates must meet the academic qualifications in line with HEC requirements. Preference will be given to candidates with relevant teaching and research experience.
• For administrative positions, candidates must possess a relevant bachelor's or master's degree from an HEC recognized institution. Preference will be given to candidates with prior administrative experience.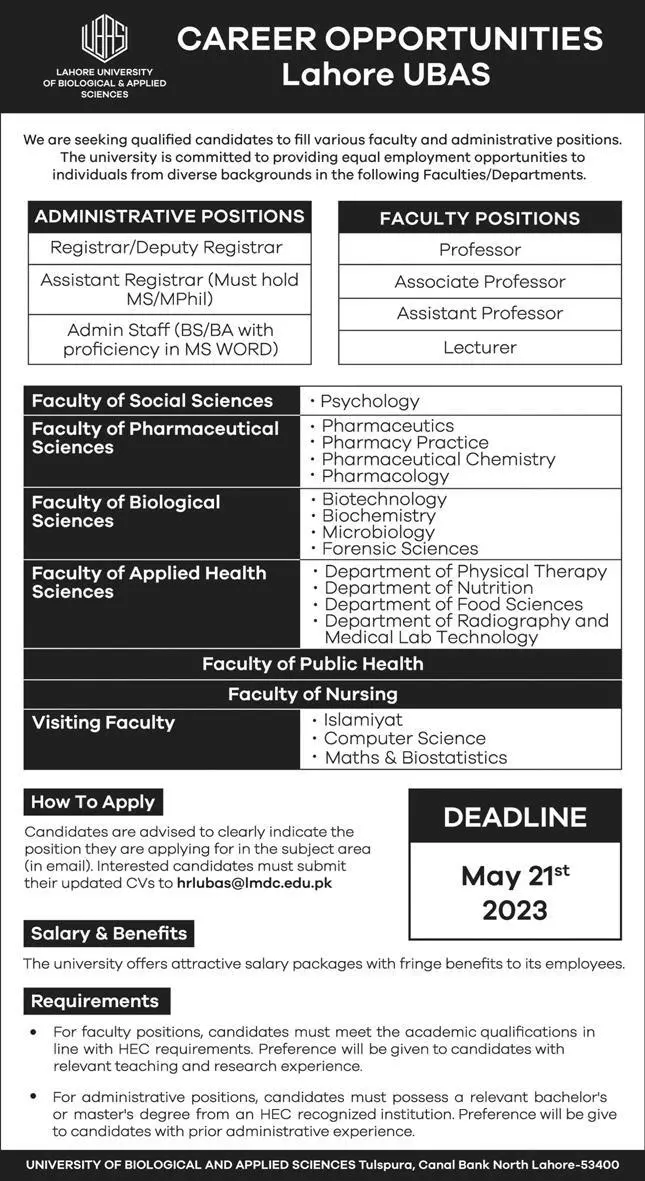 UNIVERSITY OF BIOLOGICAL AND APPLIED SCIENCES Tulspura, Canal Bank North Lahore-53400