KMU CAT Test Registration 2022 Date Apply Online
Khyber Medical University KMU Peshawar Announced the Centralised Admission Makeup Test Session 2022. KMU Peshawar invites applications for KMU CAT makeup Test From the candidates who did not appear for KMU Test that was held on date 11 September 2022.
 The students who wish to apply for Admission in Pharm-D at KMU Institute of pharmaceutical Sciences Peshawar are required to apply for KMU CAT Test that will be held on date 11 September 2022 Saturday Time at 09:00 AT Pakistan Standard time at KMU Peshawar.
KMU CAT Delayed:
The Khyber Medical University centralized admission Test KMU CAT 2022 scheduled for september 4 has been postponed for all the test enters across khyber pakhtunkhwa due to flood in KPK.
The New and final date has been decided as 11 September 2022 Sunday.
Schedule for Registration:
The students who want to take admission in BS and Doctor of pharmacy can register for entry test as per following schedule:
Registration Starts: 03 August 2022
Last Date of Registration: 28 August 2022
KMU CAT Test Date: 11 September 2022
Pattern of CAT Test:
CAT Entry test shall comprise a single Question paper containing 100 multiple choice questions MCQS dividend into the following four sections:
Biology: 35 MCQS
English: 15 MCQS
Chemistry: 30 MCQS
Physics: 20 MCQS
Test Duration: the duration of test shall be 120 minutes 02 hours and the total mark shall be 100.
There shall be no negative marking.
There shall be question papers of different codes in which the sequences of questions and their responses shall be different from one another.
Eligibility Criteria for KMU CAT Test:
The students having FSC Pre-Medical Degree or Equivalent Examination with a minimum 50 Percent marks are eligible to apply for KMU Cat Test.
Male and female candidates are eligible to apply.
KMU CAT Test is mandatory for admission in BS Programs offered in KMU Affiliated institutes and for Pharm-D at KMU Institute of Pharmaceutical Sciences KMU.
Fresh candidates are eligible to apply for KMU CAT Test, the students who already appeared in KMU Cat Test are not eligible to apply again.
New Registration will start from Monday 03 August 2022 10:00 AM.
Only fresh candidates are eligible to apply. Candidates who have already appeared in KMU-CAT are not eligible to apply.
How to Apply Online:
The students can apply online on KMU testing portal cat.kmu.edu.pk or pharmd.kmuts.pk for BS Allied Health Sciences programs including Paramedics / Public Health / Nursing / DPT / BS OT / BS SLP / BS Audiology and BS P&O Pharm-D and BS bsadmissions.kmu.edu.pk. and create account using CNIC and Form B Number and Email Address.
Generate fee slip and print it. Visit any bank branch of MCB and deposit application processing fee of Rs. 3000/-
Login again to verify your payment details and submit application.
Verified candidates shall have to download and print their roll number slips at least one week before the test date.
Khyber Medical College Merit list and Seats Information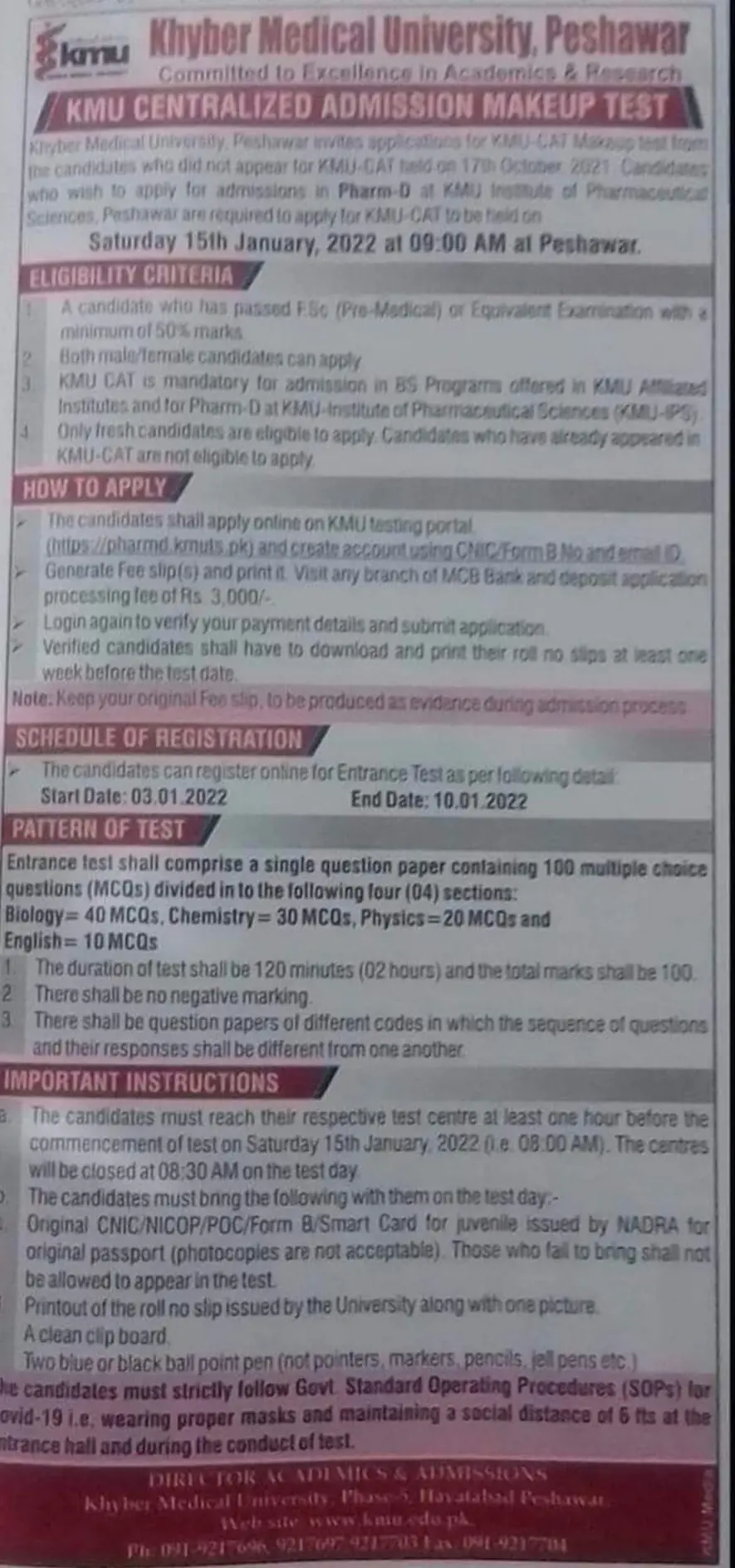 KMU Test Roll Number Slip:
KMU CAT Test Roll Number must be download online before seven days of Test Date.
Note: keep original fee slip to be produced as evidence during admission process.
For those students who were not appeared in KMU first Test. KMU announced makeup CAT test, that will be held on Saturday 04 September 2022. Apply if you want to get admission in KMU BS allied health science program apply for KMU CAT Test.
The roll number slips will be made available on week prior to test on cat.kmu.edu.pk wherein all details like test center location, timings other necessary instructions will be mentioned.
Apply online cat.kmu.edu.pk/register.php