Jazz Pakistan's best telecom company offering summer internship program session 2018-19. It's a opportunity for Graduate and master level fresh candidates to make their career by join Jazz Summer Internship Program.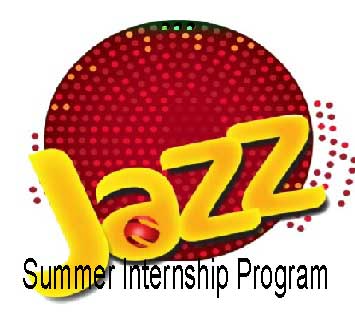 Internship Start date- 19th July, 2018
Internship End date- 30th August, 2018
Functional Project- Work with team of professionals applying academic knowledge to real world business projects, Skills Based Training- Expand your capability and capacity to hone your skill set Professional Development- You will get hands on experience through guidance and will be assessed by subject matter experts Mentorship- Be matched with a Jazz professional to guide you through your summer experience Fun- Attend social networking activities and build relationship with your peers.
Eligibility criteria:
Fresh male and female graduates or master degree holders can submit internship applications. Only online applications will be accepted.
Internship application deadline: 25 June 2018
How to submit internship application form: the interested and eligible candidates can submit internship application form online through rozee.pk.
Apply Online: [button link="https://www.rozee.pk/jazz-summer-internship-commercial-jobs-803928.php?utm_source=jobSearch&utm_medium=website&utm_content=jobSearch_803928&utm_campaign=ROZEE.PK_JOB_SEARCH"]Click Here[/button]
Internship fields:
Finance
Commercial
Business service development
Internal audit
Technology
Mobile financial services and digital
People and organization
Internal auditor
Corporate and regulatory affairs
Position: Summer Internship (Multiple slots)
Job details:
Industry: Telecommunication / ISP
Job Type: Full Time/Permanent
Job Location: Lahore, Pakistan
Gender: No Preference
Experience: Doesn't Matter
Posting Date: Jun 20, 2018
Summer Internship Program-What to Expect
Jazz Summer Internship program is a 6 weeks paid program for students
After the application deadline, the shortlisted students will receive an online assessment link
The link will be valid for 24- 48 hours
Candidates clearing the assessment will be called in for an interview.