Standard chartered bank of Pakistan offering wonderful offer for those who love iPhone latest model like 7 and iphone 7 plus with all type of GB. SCB Pakistan offers asan installment plan for a limited time. This offer converts your credit card transactions into a monthly installment plan with 0% mark-up to 12 months.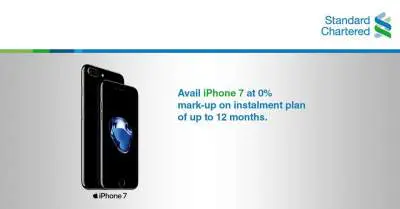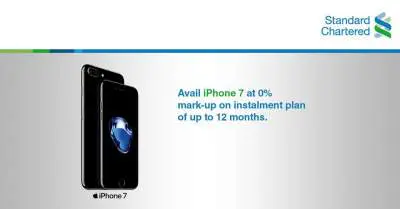 SCB Pakistan just provides service to facilitate the card holders and iPhone is 3rd party product so scb will not responsible in any manner to any person or to any claim.
Please call 111 002 002 to place your order or to find our about other products available on assan installment.
iPhone 7 Prices by SCB (jet black, black, silver, gold, rose rold)
iPhone 7 32GB : 87400
iPhone 7 128GB: 100600/-
iPhone 7 256GB: 113700/-
iPhone 7 Plus Prices by SCB Pakistan
iPhone 7 Plus 32GB : 103100
iPhone 7 Plus 128GB: 38767/-
iPhone 7 256GB: 129600/-
Pre-order your iPhone 7 today with your Standard Chartered credit card at 0% mark-up on instalment plan of up to 12 months.
For details visit goo.gl/aPh8dk
Book now by calling 111-002-002.
Don't have a credit card? Visit goo.gl/jNHWYH to apply online.