Hubert H. Humphrey Fellowship Competition 2021-2022 Opportunity in USA
The United States educational foundation in Pakistan USEFP, A bi-national commission, invites applications for the Humphrey fellowship program. This non degree program is designed for mid-career professionals and consists of 10-12 months of graduate level non degree academic coursework and an opportunity to work in the US in the relevant field.
Dear all, applications for Humphrey Fellows are open. It is a competitive process based on the potential of applicants leadership and commitment abilities to serve their nation on return.
Visit link for Pakistan students. usefpakistan.org/humphrey
Students from other countries kindly visit full bright website of your own country.
Deadline: 20 July 2021
Eligibility Criteria
Successful applicants must be committed to serving Pakistan. They must be Pakistani citizens with a minimum of five years of progressively responsible professional/work experience, coupled with a Master's degree and a guarantee of re-employment upon return to Pakistan. Applicants must possess a high level of fluency in spoken and written English. Successful candidates should be poised to assume leadership positions in their field.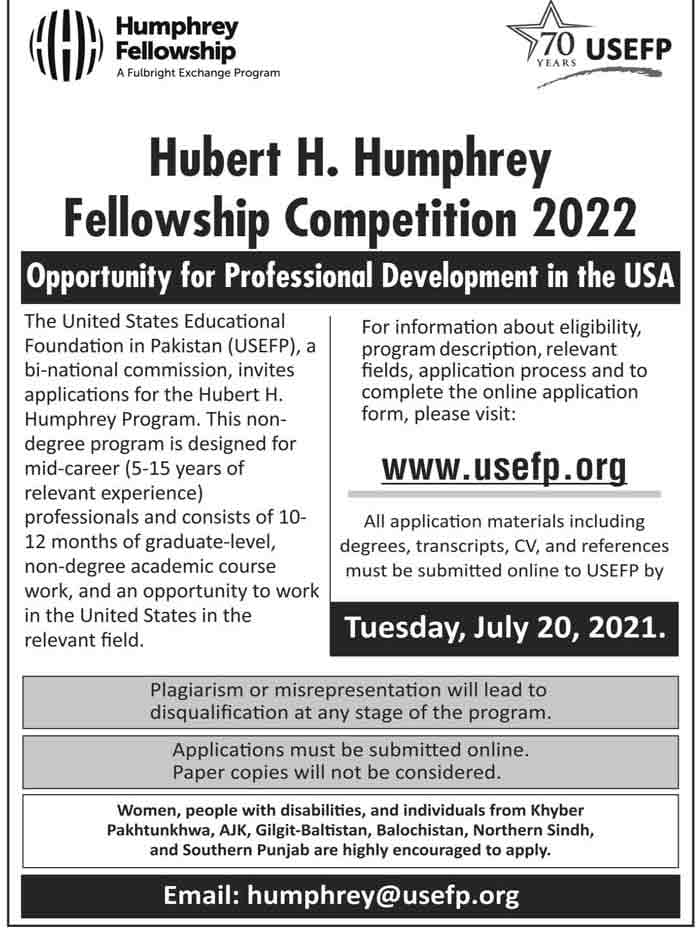 For more information about eligibility of programs, description relevant fields, application process method, and complete details about this program usefpakistan.org/Humphrey/
All application materials must be received by 5 pm before dated 20 July 2021.
Please note:
Applications must be submitted online.
Paper copies will not be consider
TOFEL test is not required with the application. Only successful candidates will be requested to take TOFEL.
This is national scholarship program. However women, people with disabilities, and individuals from FATA Khyber pakhtunkhwa AJ and K, Gilgit Baltistan, balochistan, northern sindh and southern Punjab are highly encouraged to apply.
Phone Number: 051-8431300
Fax Number: 051-8431555
Apply Now
The United States Educational Foundation in Pakistan invites applications for the 2022 Hubert H. Humphrey Fellowship and Fulbright Foreign Language Teaching Assistant (FLTA) programs. The Humphrey Program is designed for mid-career professionals, while the Fulbright FLTA provides young English teachers the opportunity to refine their teaching skills.
Application Deadlines
Humphrey: Tuesday, July 20, 2021
FLTA: Tuesday, July 13, 2021
To Apply
Humphrey: https://usefp.org/scholarships/humphrey.cfm
FLTA: https://usefp.org/scholarships/flta.cfm