HEC Terminate ETC Test System Consultant Fahad Ahmad Ali
Higher Education Commission HEC Islamabad announced today date 26 February 2021 Friday Public Notice About Termination of Mr. Fahad Ahmad Ali.
Fahad Ahmed Ali was working as a consultant (Test Development) Education Testing Council (ETC). he is no longer associated with the Higher Education Commission HEC ETC Test System from Date 04 January 2021.
HEC is not responsible for his action and dealing with students and institutes that are working under higher education commission of Pakistan.
Assistant Director human resources management (HRM) Amjid Hussain Shah removed terminated Mr. Fahad Ahmad Ali due to his non-compliance activities against the Law of Higher education commission and Government of Pakistan Education System.
The engagements and entitlements of Mr. Fahad Ahmad Ali contract. Any person dealing with Mr. Fahad Ahmad Ali shall do so at his own risk and the commission shall not be responsible.
HEC Aptitude Test Hat for Scholarships & Admissions 2021 Registration Last Date
Government of Pakistan education minister and higher education commission also hiring New Consultant for HEC ETC Test System.
Good Luck Mr. Fahad Ahmad Ali for your future life.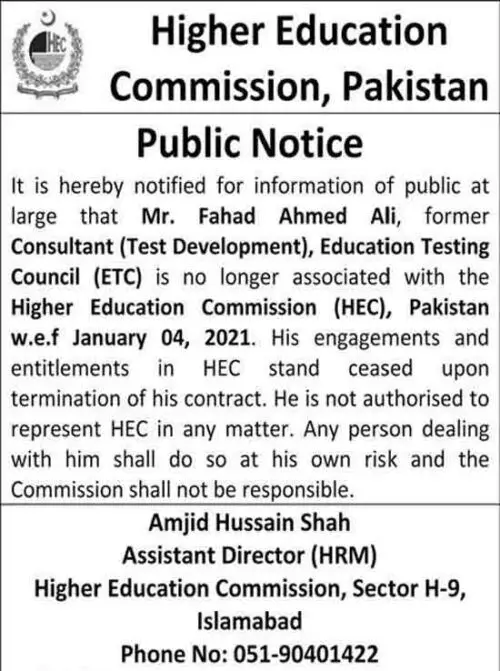 Higher Education Commission HEC today published Official Notification and Public Notice in different News papers.
HEC Undergraduate Entry Test for Admissions 2021 Result Online Registration Last Date