LARKANA: PML-N President Nawaz Sharif while addressing a huge public gathering in Larkana, said he is seeing a change in the thinking of people of Larkana, Sindh and across the country, Geo News reported Saturday.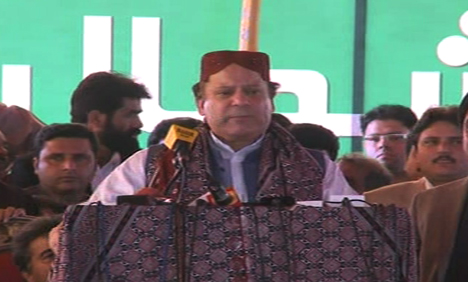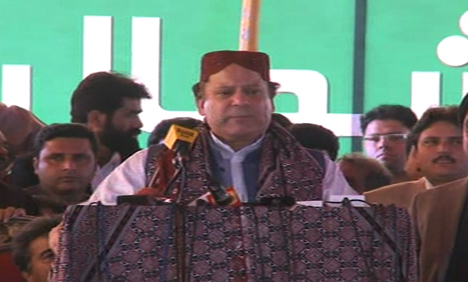 Nawaz said people of Pakistan are changing as he could see the same enthusiasm in the people of other parts of the country.
While blaming the PPP leadership, he said all such people are now ministers and advisors who left Mohratma Benazir Bhutto in critical condition when she was attacked, adding that such people could never be sincere with the party.
'The government has failed to arrest the assassins of leader of their party Benazir Bhutto,' he added. 'Arresting her killers should be the top priority of the government.'
He regretted that there is lawlessness in the country while during his tenure, he had eliminated the dacoits in three months and if given chance, they would eradicate this menace again.
He paid rich tribute to the martyred PPP leader Mohtarma Benazir Bhutto and said that she was his sister and if he will come in power again, he will bring BB's killers to book.
Mentioning about the flood victims, the PML-N leader said that it is our responsibility to help our brothers in need as they have suffered a lot.
He said that his government would approve loans on lenient terms to the skilled workers and educated people.
Addressing the loadshedding issue, Nawaz said there would have been no power outages if PML-N has been in government.
He lashed out at the PPP government and said the institutions like Railways, PIA and Steel Mills are suffering badly under the current leadership.