Girls and boys Cadet College Jhang Starts admissions 2021 for class 2nd, 3rd, 4th, 5th, 6th, 7th, 8th, 9th and 1st Year 11th Class. The last date of registration is . the procedure of admissions is first of all submit your admissions forms then school will be take written test, than physical test, interview and medical test for final approval. Cadet college Jhang for girls and boys a project of New horizon group of companies 10 years of academic excellence starts taking online registration for 11th class. Separate classes for boys and girls.
Last date of registration: open
Classes will be start from Date: 
Entry Test Will be Held on date in Cadet College Gulberg 3, Lahore and Serena Hotel Faisalabad on date.
Cadet College Jhang announces that Admissions are now open for the session 2020-21. The college invites applications for admissions from class 6th to 9th. Classes will start from 8-March-2020. Click here for Online Registration.
Method of Admission:
Registration Online through www.cadetcollegejhang.com
Online/Written Test:
Interview
Medical Checkup / Medical Test
Fee Deposit ( registration fees Rs. 1000/- College bank Account : 0239623371004101 MCB Sadar Jhang Branch)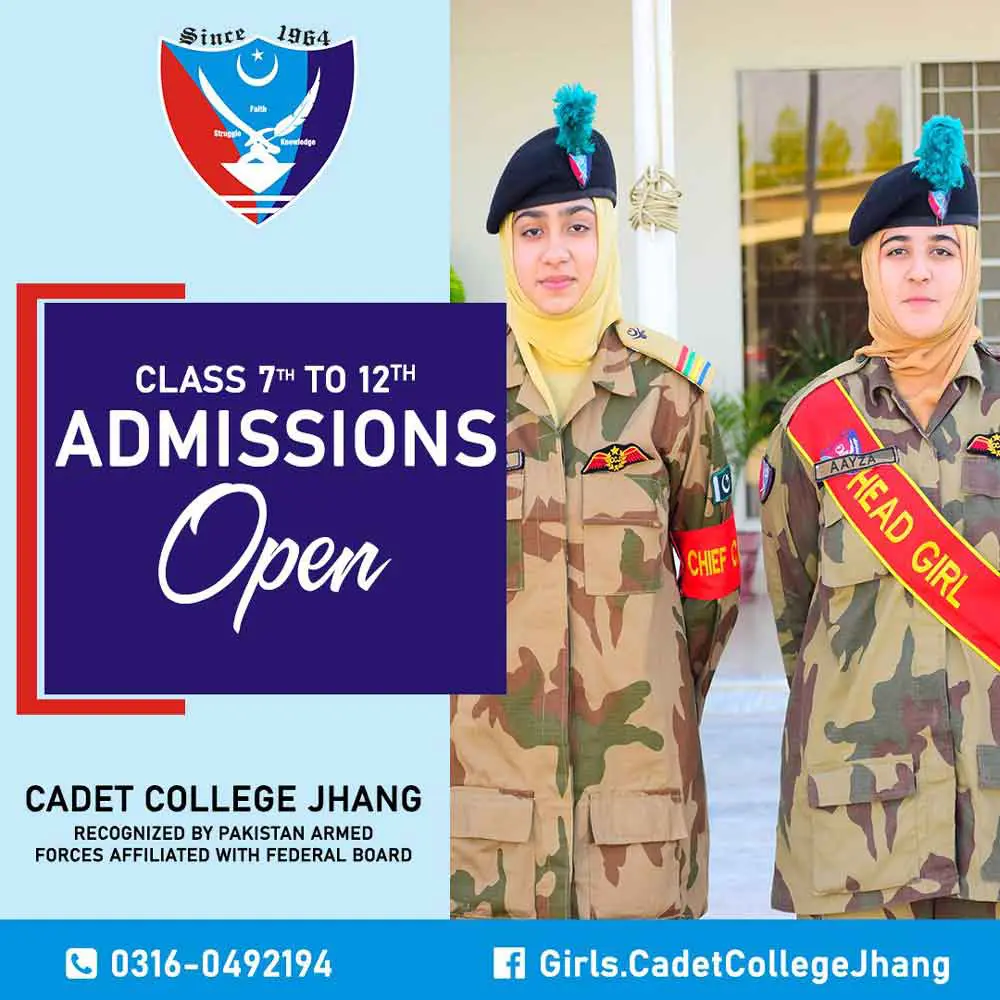 Online/Written Test
Written test will be conducted for which passing marks are 60%.
a) Class 2nd to 7th
Written test will include Urdu, English, Maths, General Knowledge & Science.
b) Class 8th & to 9th
Written test will include English, Maths, General Knowledge & Science (Biology,Physics,Chemistry).
c) Class 1st year
Written test will include English, Maths or Biology/ Physics & Chemistry.
Physical Test
Candidate has to pass the physical test in time decided by the physical instructor for admission. Description is as follows:
Running (1Km)
Chin Ups (10)
Push Ups (20)
Sit Ups (20)
Medical Test
The cadet should be medically fit on the following grounds and the medical report must be attached with documents.
Blood Sugar
Urine Test
Allergy test for sulpha drugs/penicillin.
Immunization/Inoculation/Vaccination Report
Anti HCV
Interview:
Successful cadets will be appeared for an interview with the Principal and CEO of Cadet College Jhang
Contact Details: 047-9200478 and Mobile Number: 0345-8410040
Read Also:
Cadet College Fateh Jang Admission 2021 Test Date Result – Fee Structure
Cadet College Jhang Scholarship:
if the candidate have more than 90 % marks he will get 84000/- scholarship.
85 % and more Marks will be get 48000/- Scholarship.
80 Percent and More Marks can get 36000/- Scholarship.
the child of teacher will be get 36000/- Scholarship Yearly.
How to Apply Online:
for online through STS www.stsi.org.pk and submit Online application form just go