CCF starts admissions in 5th, 6th, 7th, 8th, 9th Class and 1st year admission session 2022-2023. Cadet college Fateh Jang Opening Admissions, the prospectus and admissions forms can get from Principal Cadet College fateh Jang with Rs. 900/- or Demand Draft Rs. 1000/- with Name Principal Cadet College Fateh Jang, the admissions forms can download from official website of college www.ccf.edu.pk.
Application Deadline: 20 December 2021
Online Application Form: Here
The Maximum Age Limit of Applicant at the Time of Test and Interviews:
CLASS AGE LIMIT
CLASS 6th NOT MORE THAN 12 YEARS
CLASS 7th NOT MORE THAN 13 YEARS
CLASS 8th NOT MORE THAN 14 YEARS
CLASS 9th NOT MORE THAN 15 YEARS
CLASS 11th NOT MORE THAN 17 YEARS
Cadet College Fateh Jang will be offer scholarship for those who have 90 percent marks in their matriculation Exams.
Admission Open For Class 11th class:
Last Date of submission of Admission Forms: 20-12-2021
Admission Entry Test Date:
Classes will be start from date:
Course Programs:
FSC Pre Medical
FSC Pre Engineering
Inter Computer Science (ICS)
Online download Application Form: Here
Download Application Form for 6th to 9th Class: Click Here and for Admission in 11th Class Download Admission form from Click Here
Scholarship for Matric who Got 90% Marks
The expected written test Examination centers are Islamabad, Karachi, Multan and Lahore.
only on qualifying the written test and interview. Applications for admission are received on prescribed forms attached with the prospectus, available from college office,
Download from here or from the regional offices on payment of Rs. 800/- in cash or Rs. 1000/- inform of Demand Draft. ENTRY TESTS are held as per requisite academic standard of the class in which admission is to be sought. Competent authority announces center for the entry test. Medical examination is compulsory at the time of admission.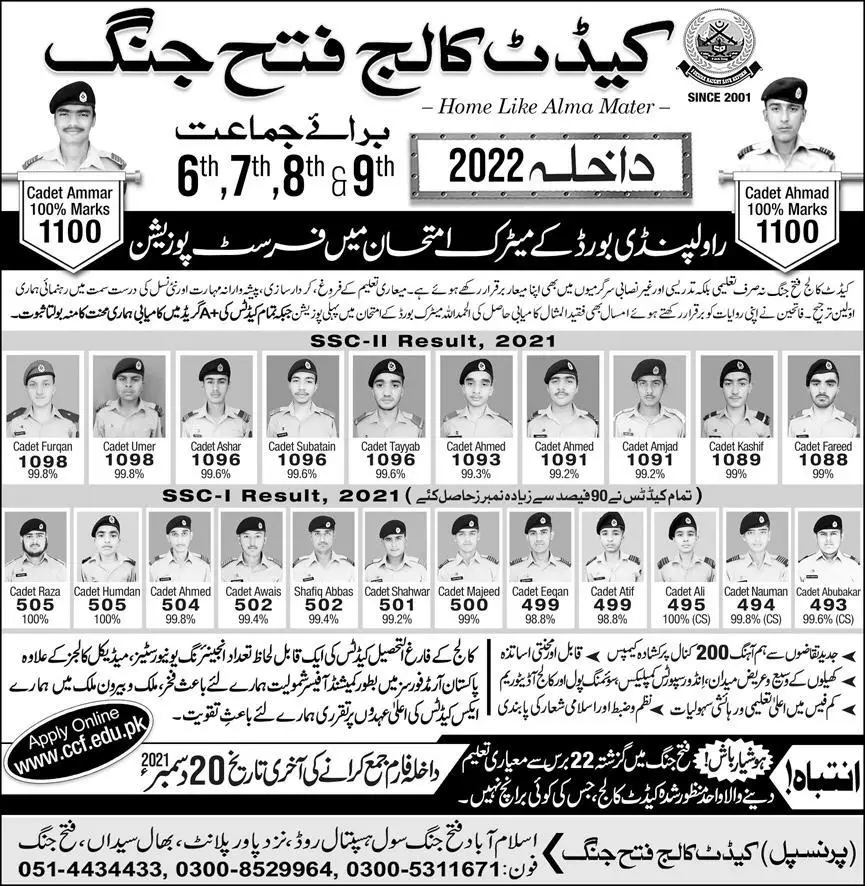 Read Also:
Girls Cadet College Mardan Admission 2021 Entry Test Date
Fee Structure:
HEADS
FEE
ADMISSION FEE
RS. 25,000/-
DEVELOPMENT FUND
RS. 5,000/-
SECURITY DEPOSIT
RS. 5,000/-
* SECURITY DEPOSIT REFUNDABLE ON LEAVING THE COLLEGE NOTE : FEE ONCE DEPOSITED WILL NOT BE REFUNDED
TOTAL
RS. 35,000/-
Term Wise Fee & Funds: Session 2021-2022 First Term (MARCH TO APRIL 2021)
TOTAL FEE PER MONTH FOR 1ST TERM = RS 20,500/-
Head
Deposit
TUITION FEE AND FUNDS (INCLUDING RS. 3000/- PM AS TUITION FEE)
9750 X 2
RS.19,500/-
MESSING AND HOSTEL
9750 X 2
RS.19,500/-
MEDICAL, WASHING, MAILING, SPORTS AND MISC. CHARGES
1000 X 2
RS.2,000/-
TOTAL
RS.41,000/-
TOTAL FEE PER MONTH FOR 1ST TERM = RS. 41,000 / 2 = RS. 20,500/-
Read Also:
 Cadet College Gadap Admission 2022 Karachi Fee Structure
Download Latest Entry Test Syllabus: