Fully Funded FULBRIGHT Scholarship 2024
The FULBRIGHT scholarship program for the year 2024 has been opened for all candidates who want to pursue their studies in the United States. It is fully funded by the government of Pakistan and managed by United States Educational Foundation in Pakistan (USEFP).
Students who are enthusiastic to pursue a Master's and PHD degree in the US on a full scholarship are highly advised to submit an application for the USEFP's Fulbright Scholarship 2024.
Scholarship Benefits & Grants:
The scholarships cover the following incentives:
Tuition fees
Relevant Textbooks
Airfare expenses
Living stipend
Health insurance
Assistant in VISA process
Eligibility for Master's degree program:
Candidates for the Master's degree program must hold a four-year Bachelor's degree from a recognized university or a 16-year combination of a Bachelor's and a Master's degree. Recent graduates are highly encouraged to apply.
Eligibility for PHD degree program:
Candidates who meet the requirements for the PhD program must hold a Master's, M.Phil., or similar degree (representing at least 18 years of formal study) from an approved university. Candidates with expertise in Pakistan's public sector, academia, or fields of teaching and research are greatly desired.
Eligibility criteria for all candidates:
Applicants from Pakistani nationals with outstanding academic records who plan to return and serve their country are encouraged to apply.
Except for clinical medicine, all fields are eligible.
Applications are particularly welcomed from those with expertise in the areas of energy, water, agriculture, health, education, environment, and climate change.
A four-year Bachelor's degree or a Bachelor's and Master's degree combined (16 years of formal education) from an approved university is required for Master's applications, while PhD candidates must have a Master's, M.Phil., or an equivalent degree (18 years of formal education).
Applicants must be ready to finish grants without their dependents if necessary.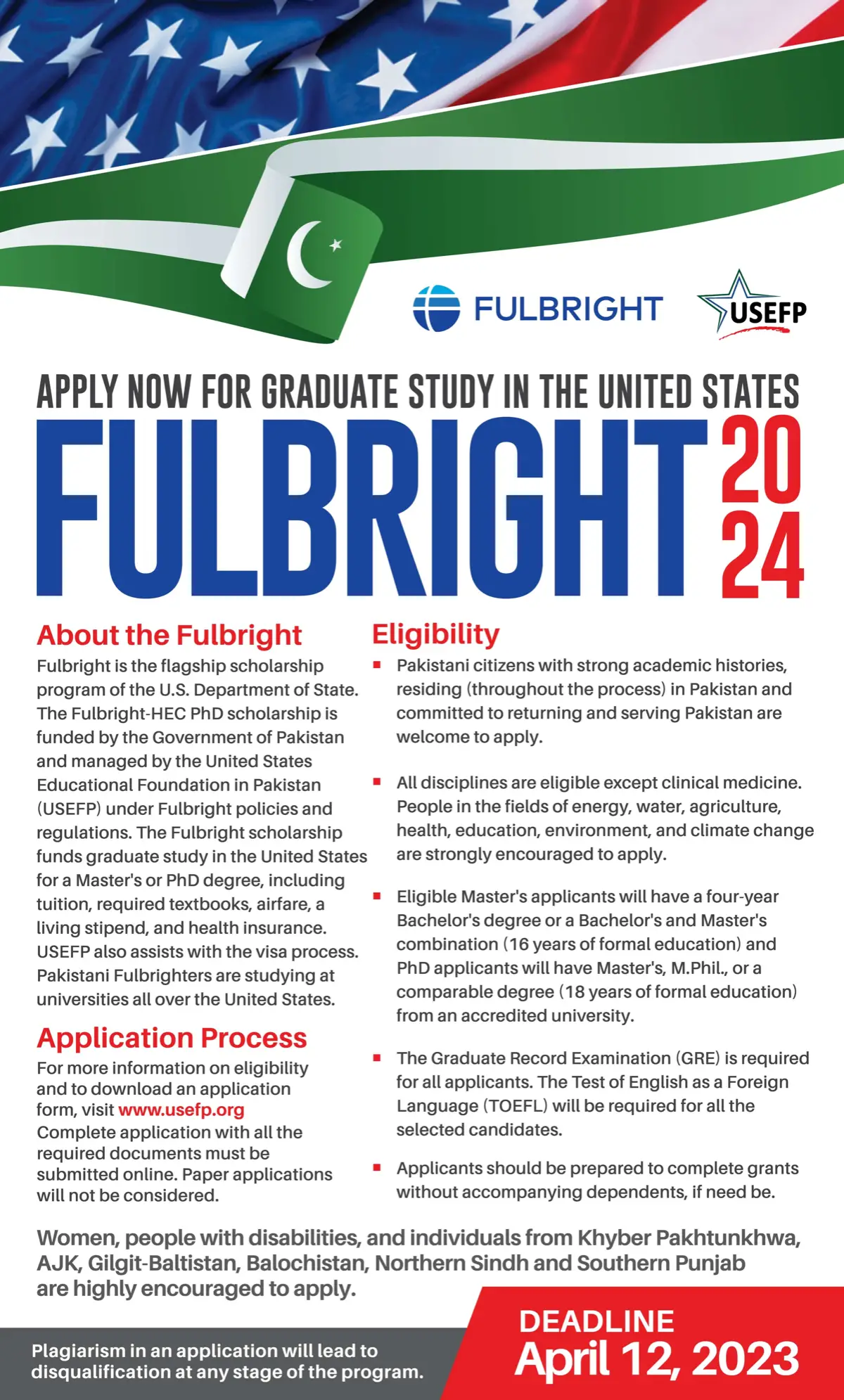 Hubert H. Humphrey Fellowship Program Competition 2024
Ineligibility:
Those who have dual citizenship of the United States and Pakistan or who have a spouse, parent, sibling, or child who is a permanent resident or a citizen of the United States.
Employees of USAID, the US Department of State, or the Fulbright organization.
Students who have already received one Fulbright scholarship.
Individuals with a student or work visa who are already enrolled in school in the United States or abroad.
How to Apply Online: Apply Here
Link on the following link to apply for this scholarship.
https://www.usefp.org/scholarships/fulbright-degree.cfm
Complete an application form and attach three reference letters. GRE Scores report is also required.
Upload all the scan copies of required academics.
All documents should be attested by the HEC department.
NOTE: Incomplete application and written application on paper will not be considered.
Turkey Government Scholarship 2023 Fully Funded Application
Deadline:
Last Date to Submit Scholarship Application Form: 12 April 2023
It is highly recommended that all students with good academic grades should grab this opportunity and make a good academic career at united states.
Pakistan Scottish Scholarship Scheme 2023 Online Application Form