Admissions in Sargodhian Spirit Trust (sst) Public School Rashidabad Tando Allahyar Sindh Open admissions deadline of receipt of admission applications Monday 30 January 2023.
Eligibility:
Foundation 7th:
the application must have passed class 6. and age must be between 11 to 13 years old Till Date 01 April 2023
Pre Cambridge 8th:
the applicant must have passed class 7. and age must be between 12 to 14 Years old till date 1 April 2023.
the applicants must have passed Class VI. All applications along with pay order / DD of Rs. 2000/- are to be sent to SST public school Rashidabad, Tando Allahyar Sindh.
SST Public School, Rashidabad is set to the academic training and grooming of boys aged 12-18. The School successfully capitalizes on inherent potentials of the pupils during these formative years for 'Know Thyself is the Real Education,' says Socrates. SST Public School is an embodiment of Sargodhian love for and faith in the merit of their alma mater PAF Public School, Sargodha. In current time. www.sstpsr.edu.pk
The School prides itself in creating a zest for knowledge and encourages its pupils to have inquiring minds through emphasis on research, discussion and access to modern learning tools. Thus the boundaries of their individual abilities are stretched and independent thinking is stimulated. The school has a 5-year programme:
Pre-Cambridge: The initial year at the school is used to bring students coming from diverse educational backgrounds at par with one another. The major emphasis is on developing communication and writing skills in English and Urdu languages; Islamiyat, Fundamentals of Science, Mathematics, History, Geography and moral tenets.
Cambridge-I and II: The 2nd and 3rd years at school prepare students for 8 subjects to enable them to take Cambridge IGCSE examination. A range of optional subjects is offered to allow student to pursue subject of their own interest.
Fee Structure:
Afterward fee will be charged bi-annually
Term Period Due-Date For IGCSE, SSC for HSSC
1st Term July—December 10 Rs. 200, 000/- Rs. 207, 500/- th June
2nd Term January—June 10 Rs. 200, 000/- Rs. 207, 500/- th December
Total Annual Fee Rs.400, 000/- Rs.415, 000/-
Table B (one time charges):
Registration Fee (Non-Refundable) 2,000/-
Admission Fee (Non-Refundable) 60,000/-
Building Fund (Non-Refundable) 30,000/-
Endowment Fund (Non-Refundable) 20,000/-
Security (Refundable) 25,000/-
Total 137, 000/-
Note:
WITHHOLDING TAX: 5% OF FEE WOULD BE PAYABLE ALONG WITH THE FEE OF TERM.
FEES ONCE PAID IS NOT REFUNDABLE AND THE MANNER OF THEIR SPENDING IS NOT ACCOUNTED TO/FOR THE PARENTS.
Other Expenses for the Year: Clothing, footwear, books & stationery, pocket money, travelling, telephone & postage, photographs, movie, various other club memberships, Cambridge Registration/External Examination Fee etc. will be charged in addition to the above, individually on actual consumption basis.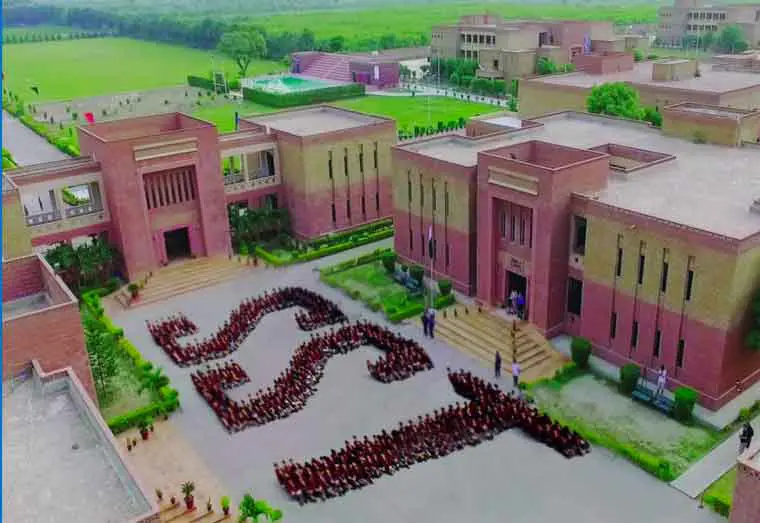 Need Based Scholarship Program 2023
Scholarship Policy:
SST Public School Rashidabad was the dream of SOBA (Sargodhian Old Boys' Association), and it was actualized to achieve a
truly visionary aim: provision of quality education to the children of less/under privileged families of Pakistan. To serve this purpose,
SST (Sargodhian Spirit Trust) resolved to initiate need cum merit based scholarship program which is effective since the inception of the institution.
The scholarship award is to facilitate only those students who have potential to learn, but their financial status is not strong.
The grant is governed by undermentioned conditions:
Selection Parameter:
The applicants, whose parents wish to apply for the grant of scholarship, must appear in Entry Test for the admission in school and come on merit set by the school management.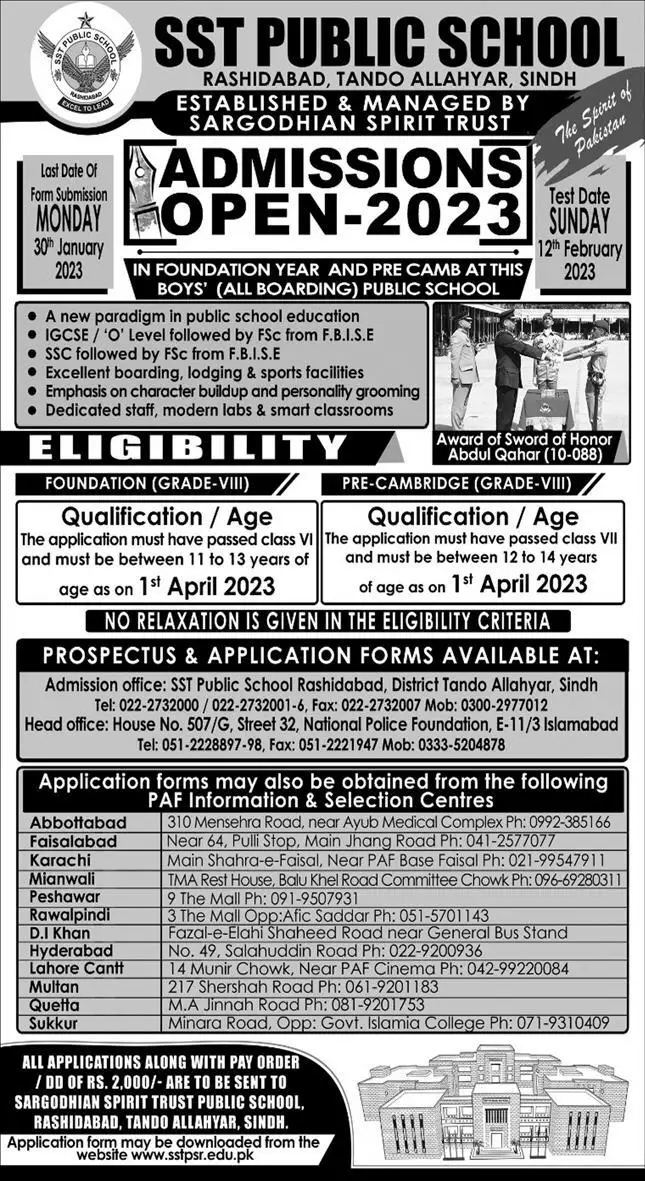 Verification of parents' claim for NBS:
Amount of Need Based Scholarship (NBS) depends upon the financial status of the applicant's family. After the applicant clears Entry Test, with the score set as merit, the documentary proof of income and expenses obtained from the applicant's family
shall be verified. In case, the required documents are not provided, it may reduce/withdraw the estimated scholarship grant.
Additionally, previous academic and extracurricular activities' record of the student is also considered for the scholarship grant.
Sustainability of Scholarship Award:
Scholarship grant starts from the time of joining the school and continues till the student passes out. For the continuation of award, scholarship holder is expected to maintain a minimum aggregate of 45% in exams over the year. In case he fails to maintain the subject aggregate, the amount of the scholarship grant shall be reduced/withdrawn. The scholarship holder is to ensure that he maintains discipline at the school. In case of violation, the scholarship could be reduced/withdrawn during the course of the year. It may also lead to expulsion of the student from the school.
Admission Form and Sample Entry Tests Papers & Applicable Syllabus Download Prospectus: Prospectus 2023
Last Date for the receipt of Application: 30 January 2022 Monday
Test Date: 12 February 2023
Entry Test Date  12-02-2022 Sunday