FPSC CSS Exam Schedule 2021 has been declared: Federal public service commission will hold the competitive examination CSS 2021, for recruitment to posts in BS-17 in various occupational groups / service under the federal government.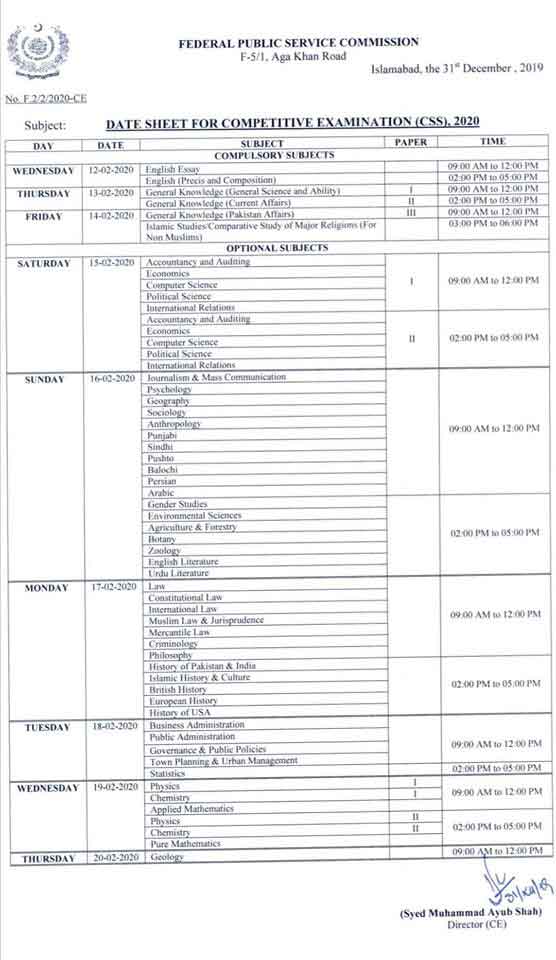 CSS FPSC Exams Schedule 2021
Advertisement for Application:
Open Online Application form:
Last Date to Submit Application form:
Selection List or Merit List Date:
CSS Exams Test Date:
Written Test Result announced on dated:
Cutoff date for determining the eligibility of the candidates in terms of age, domicile, qualification etc. will be 3l st December, 2021. Both male and female including disabled persons having at least 2nd Division Bachelor's degree between the ages 21 to 28 years as on 31.12.2021 are eligible. The upper age limit may be relaxed by two years in categories mentioned In Rule of 3 of CSS CE Rules 2021, subject to fulfillment of documentary requirements.
All aspirants may apply online for CSS Examination 2021 during the period 1st October to 31st to October 2021, followed by submission of hard copy of online form and documents as per procedure stipulated in Rule 7 of the CSS CE Rules 2021.
Formal advertisement for inviting applications will be issued In the last week of September, 2021.
Federal Public Service Commission CSS Exam Schedule 2021 FPSC CSS Competitive Exam date sheet Announced:
Download Date Sheet 2021:
Federal Public Service Commission CSS Exam Schedule 2021
FPSC CSS Competitive Examination schedule has been announced, CSS competitive Examination 2021 with effect from Saturday 12 February 2021 for Jobs in BS-17 given below
commerce and trade group
district management group
foreign and service Pakistan
information group
inland revenue service
military land and cantonment group
office management group
Pakistan audit and accounts service
Pakistan customs service
police service of Pakistan
postal group
railways (commercial and transportation) group.
Closing Date for Submission of online application is 11 November 2021
Federal Public Service Commission Offer CSS Examination 2021
The federal public service commission will hold the central superior services (CSS) competitive examination 2021 for recruitment to posts in BS-17 in the following Occupational groups/services under the federal government with effect from 16 February 2021.
The number of vacancies to be filled on the basis of 2021 examination will be announced later. depending upon the number of candidates, the examination is likely to be held at the following centers:
Abbottabad
Gujranwala
Larkana
Quetta
Bahawalpur
Hyderabad
Multan
Rawalpindi
D G khan
Islamabad
 Muzaffarabad
Sargodha
D I Khan
Karachi
Okara
Sialkot
Lahore
Faisalabad
Peshawar
Sukkur
Gilgit
ELIGIBILITY:
both male and female including disable persons having 2nd divisions in bachelor degree between the age of  21 to 30 years as on 31st December, 2021 are eligible.Graduate minimum 2nd Division.
QUOTA FOR WOMEN AND MINORITIES:
federal government has reserved 10 % of the vacancies for women and 5% for minorities within the share of provinces / regions. both are encouraged to apply.
For information visit
website www.fpsc.gov.pk
The statistics of CSS Competitive Examination, 2021 are as under:
Candidates Applied : 20717
Candidates Appeared: 9643
Candidates Passed in Written Exam: 202
Pass Percentage w.r.t Appeared Candidates: 2.09%
Read Also: CSS Exam 2021 FPSC New Rules & Regulations Announced