ETEA MDCAT Entry Test Paper Pattern and Syllabus 2021
Educational Testing and Evaluation Agency Khyber Pakhtunkhwa ETEA Announced today latest Paper Pattern and Syllabus for entry test of MDCAT (medical and dental colleges) for session 2021-2022.
Entry Test Subjects:
Subject        Question
English            80
Physics            60
Chemistry       40
Biology            20
Total Questions of ETEA MDCAT will be 200/- and Marks is also 200/- mean per Question per mark.
ETEA also marking Negative 1 marks for one wrong question.
The time duration of entry test will be 150 minutes (2.5 hours).
Read Also:
Khyber Medical University ETEA Entry Test Registration 2021
The above question and marks is just for pattern of question papers is generally to be conformance but, not limited to the guidelines given.
UET Peshawar ECAT Entry Test Schedule 2021 ETEA Registration Form Online
It's just to facilitate to the students, the final paper setting is the sole prerogative of KP ETEA.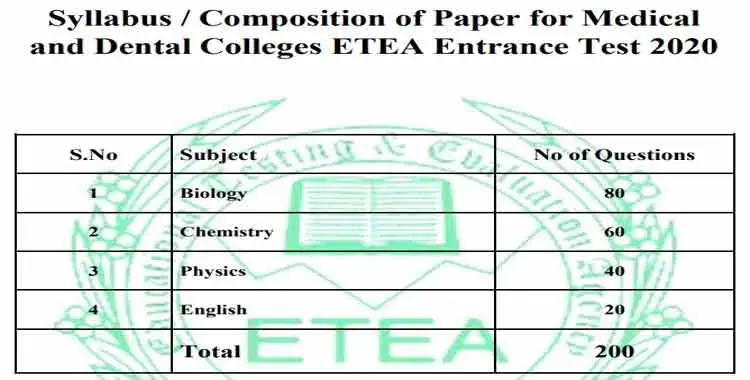 Syllabus / Composition of Paper for Medical and Dental Colleges ETEA Entrance Test 2021, download complete

:

Check Here