Cadet College Okara working under Cadet College sector government of Pakistan, Cadet College Okara Open admissions for session 2023-2024 in 8th class and 3rd entry Admissions Intermediate 11th class Pre Engineering, Pre Medical and computer science groups.
Cadet College Okara Admission in 8th Class 2023
Eligibility criteria for Admission in 8th class:
The age of applicant must be between 12 to 14 years old till date 01 April 2023. College can give age relaxation for three months.
1st Year Eligibility Criteria:
The age of the candidate should not be less than 15 years and not more than 17 years by 1st August 2023. Also, the age limit can be relaxed by 6 months to Hafiz Quran and 3 months to other candidates as per prevailing rules.
Admission of the candidate will be purely on the basis of open merit.
Candidate must have passed Class IX Annual Examination 2022 with minimum 80% marks.
Admission will be for boys only
All applicants who have passed 7th class or given 7th class Annual Exam and awaiting results can submit admission application form.
Last Date of Submission Admission application form for 8th Class: May 2023
Written Entry Test of 8th class will be held on dated: 07-05-2023
Interview and Medical Test for 8th class admission will be held
Exam Centers will be in Lahore, Multan and Faisalabad.
Written Examination:
The written exam will be held on 07 May 2023, Sunday.
Examination Centre: Cadet College Okara
The written entry test exam will be held from Matric subjects English, Chemistry, Physics, Biology, computer science and Mathematics.
Written Test of 8th class:
English: 50 Numbers
General Science: 50 Numbers
Urdu Islamiat: 50 Numbers
Mathematics: 50 Numbers
Examination Centers for 8th class Examination:
Cadet college Okara, Faisalabad Okara
DPS Race Course Road Near Iqbal Stadium, Faisalabad.
Multan Public School boys section bosan road, Multan.
DPS Model Town, Lahore.
All applicants must be write Examination center in Admission form.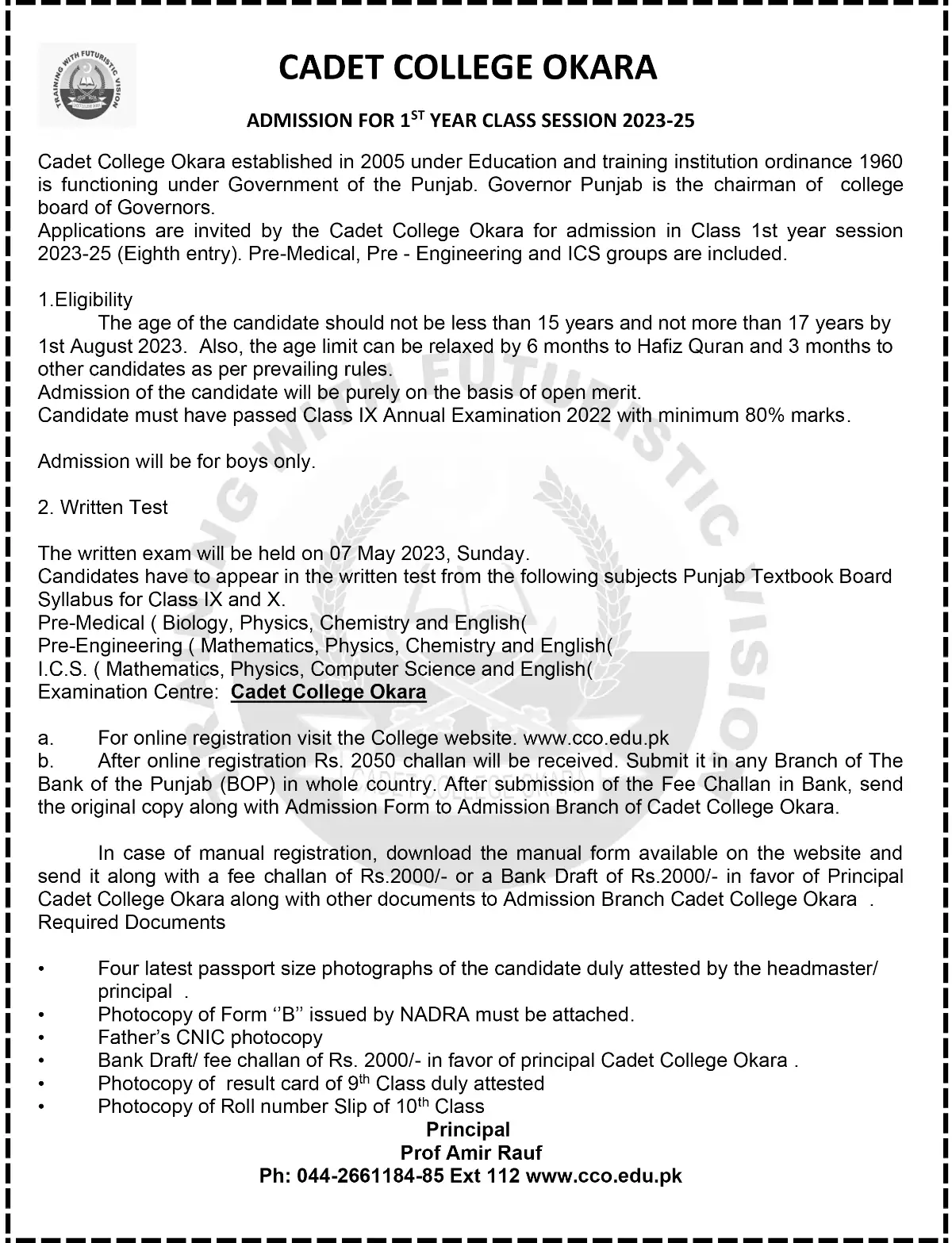 How to Submit Admission Application Form:
The college prospectus can be avail from bank of Punjab Jinnah Road Okara with the payment of Rs. 1000/- so the prospectus fee will be Rs. 1000/- and registration fees Rs. 1000/- Extra taken by College Admission office.
For online registration visit the College website. www.cco.edu.pk
After online registration Rs. 2050 challan will be received. Submit it in any Branch of The
Bank of the Punjab (BOP) in whole country. After submission of the Fee Challan in Bank, send the original copy along with Admission Form to Admission Branch of Cadet College Okara
College Prospectus can be avail though Courier with the payment of Rs. 1300/- if you download admission form through online than its necessary to submit pay order Rs. 2000/- with Admission form.
In case of manual registration, download the manual form available on the website and
send it along with a fee challan of Rs.2000/- or a Bank Draft of Rs.2000/- in favour of Principal
Cadet College Okara along with other documents to Admission Branch Cadet College Okara.
Four latest passport size photographs of the candidate duly attested by the headmaster/
principal.
Required Documents
Photocopy of Form ''B'' issued by NADRA must be attached.
Father's CNIC photocopy
Bank Draft/ fee challan of Rs. 2000/- in favour of principal Cadet College Okara.
Photocopy of result card of 9th Class duly attested
Photocopy of Roll Number Slip of 10th Class
Address: Okara Samundri Faisalabad Road, Okara
Phone: 0346 7625106
For further information contact these numbers:
0313-7353153, 0308-5234978, 044-2661184-85
Cadet College Okara Scholarships 2023
Cadet college Okara also offering Scholarship program for talented and position holder candidates. the student who will be get first position in any Board (Fbise, Bise, Bisk, Karachi Board, Balochistan Board, KPK Board, Sindh Board)of Pakistan will be given free admission, free book and with scholarship Amounted Rs. 2000/- Per month.
Cadet College Okara Admission in 1st Year 2023
The Last date for submission of admission Form 1st Class: April 2023
1st Year Entry Test Date, Medical and Interview will be held: 07 May 2023
The Entrance Test for 1st Year will be held on at Cadet College Okara.
Written Test:
the candidates will appear in a written test based on matriculation syllabus in the subjects of English, Physics, Biology, computer science and Mathematics.
Selection Process:
admission will be granted on open merit on the basis of marks obtained in matriculation Exam, written test, interview test and medical examination.
for best Cadet colleges read also:
Top Best Cadet Colleges of Pakistan
Eligibility for Admission in 1st Year:
Candidates who have passed SSC exams with at least 75% marks or above
15 years old to 17 years old till dated: 01 August 2023
The administration of college can give only 3 months age relaxation.
The marks in matric for Annual Exams 2023 will be 75%.
the admission will be given on open merit basis after checking the performance of student in Matric, Entry Test, Medical Test and Final Interview.
Read Also:
Cadet College Hasan Abdal Admission 2023 in 8th Class, O Level