HONG KONG: Asian markets slipped Thursday on fears that a summit to save the eurozone might fail to deliver a knock-out blow to the region's two-year sovereign debt crisis.
As leaders of the European Union prepare for the crucial two-day talks starting Thursday Standard & Poor's turned up the pressure on them to agree a plan by putting the EU itself on watch for a possible downgrade.
Tokyo shed 1.07 percent by the break, Hong Kong fell 1.32 percent, Sydney lost 0.38 percent, Shanghai gave up 1.11 percent and Seoul was 0.97 percent lower.
The losses come after most markets rose over the past week on hopes Europe's leaders would after several failed attempts finally resolve a crisis that threatens to tear the currency union apart and lead to another global downturn.
On currency markets euro eased to $1.3399 and 104.06 yen in early Asian trade from $1.3413 and 104.15 yen in New York late Wednesday.
The dollar was flat at 77.65 yen.
The Australian dollar lost ground on news the country's unemployment rate rose to a higher-than-expected 5.3 percent in November from 5.2 percent in October.
The Aussie was fetching US$1.0254, from US$1.0281 just ahead of the employment report.
New York's main oil contract, light sweet crude for delivery in January, fell three cents to $100.46 a barrel.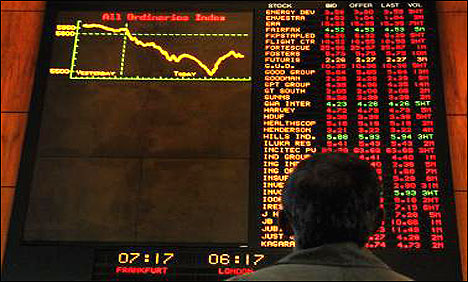 Brent North Sea crude for January delivery gained 16 cents to $109.69.
Gold was trading at $1,736.60 an ounce at 0315 GMT, from $1,728.60 late Wednesday.
Source: www.thenews.com.pk