Admission Open for Spring 2023 in Virtual University of Pakistan
Virtual University of Pakistan has opened admissions for spring 2023 session with effect for February 15, 2023 in accordance with the following schedule:
ADMISSION SCHEDULE- SPRING 2023
| | | |
| --- | --- | --- |
| Description | Day | Date |
| Admission Open | Wednesday | February 15, 2023 |
| Last Date to apply for Admission | Friday | April 7, 2023 |
| Last Date to apply for Course Exemption/Transfer of Credit Hours | Friday | April 7, 2023 |
| Display of Merit List for Biological Sciences Programs (Tentative) | Wednesday | April 12, 2023 |
| Commencement of Classes – Spring 2023 | Monday | April 17, 2023 |
Admission Criteria:
The applicants fulfil the basic admission requirements of a degree / diploma programs must possess the following documents:

Valid CNIC / B Form number.
Valid Email address (Preferably applicant's own)
Cell Phone number (Preferably applicant's own)
Photographs of applicant (Passport Size with Blue Background)
Scanned documents with clear readability
Equivalence Certificate from IBCC and HEC in case the applicant having A / O Level Certificates and Foreign Degrees as applicable.
Course Contents, NOC from Previous Institute and Incomplete Result Card (Only for the applicants who are seeking admission on the basis of credit transfer/course exemption through General Route based on the Incomplete Bachelor Result Card)
After completing the necessary codal processes and receiving confirmation from the relevant offices, admissions to foreign or dual national students will be offered. Overseas Students may use the online admission link or portal to apply for admission. After submitting the application successfully, the candidate must provide a printed copy to the Admission Office at the Virtual University of Pakistan in Lahore for processing and admission confirmation.
Merit Based degree program:
Limited Seats on Merit Basis – Only within Pakistan.
The applicants seeking admission towards Biological Programs i.e. BS Bioinformatics, BS Biotechnology & BS Zoology Programs will submit their admission application forms with Lab preferences as merit will be determined LAB Wise.
The merit list of successful candidates of Biological Programs will be published on website.
Successful candidate will deposit fee within due date published in the Admission Schedule – Spring 2023
Note: Each city will have its own merit. If any student wants to apply for more than one city, he/she must apply separately. They will not allow to go for practical other than merit city after admission.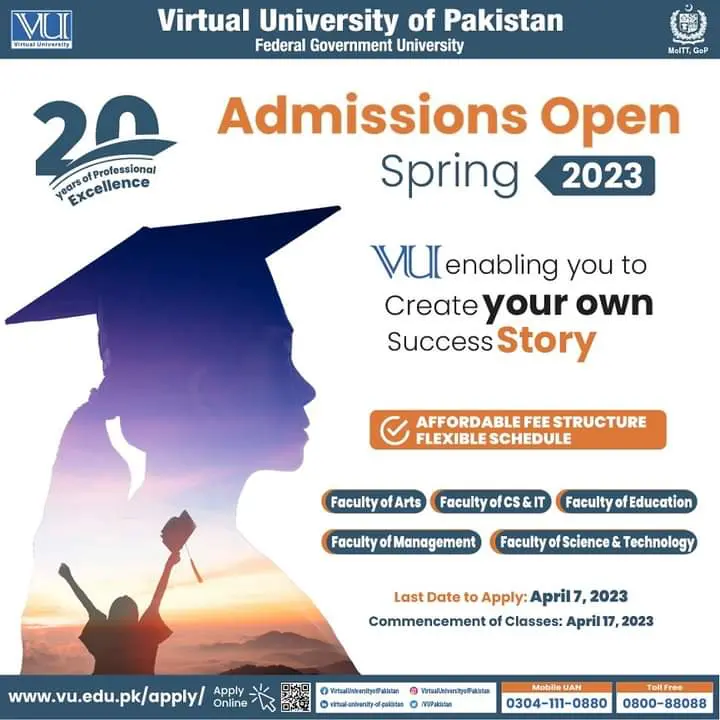 For more information visit vu.edu.pk
For detailed information and necessary documentations to be provided to the University.
https://www.vu.edu.pk/pages/AdmissionForeign.aspx
The admissions open currently classes of VU will be start from dated: 15 February 2023 and Class will be start from 07 April 2023 Online.
Government Virtual University of Pakistan Information and communication technology the first Government online University in Pakistan starts Admissions in all over the Pakistan for session 2023-2024.
Virtual University of Pakistan open admissions for 2 years bachelors program for BA Bachelor of Arts, BA business administration, BA Mass communication, BA sociology, BCom, Bsc Computer Science, Bsc Math and Economics.
VU 4 years bachelors programs
BS Software Engineering
BS Public Administration
BS sociology,
BS Mass communication
BS Marketing
BS Management
BS Information technology
BS Computer science
BS Commerce
BS Business administration
BS Banking and finance
BS Accounting and Finance
B.ED
Bachelors in Business and information technology BBIT
2 Years Master Program Offered by virtual University of Pakistan
Master of Business administration
Master of Accounting
Master of Accounting and finance
Master of Banking and finance
Master of Business economics
Master of Business studies
Master of Commerce MCOM
Master of Computer Science MCS
Master of Business MBA
Master of Information technology MIT
Master of Public Administration MPA
MS in Business Administration MSBA
Master of business Administration equal to MS
Virtual University of Pakistan offers different diploma programs you can visit official website of Virtual university of Pakistan www.vu.edu.pk.
Virtual University of Pakistan have more then 200 campuses in all over the Pakistan for providing educational activities with lowest Fee rates in Pakistan.