The national School system Aims Education Lahore Open Admissions in for session 2020-2021. The National school is best school in Pakistan, registration starts by The National School at branch of Barki Road Campus and Garden Town Campus Lahore, The National School increasing their network of school in all over the Punjab. The National School is working in Lahore, Rawalpindi, Multan, Gujranwala, Faisalabad and Gujrat and it will be available in other cities of Punjab.
School gives special Scholarships applying in march 2020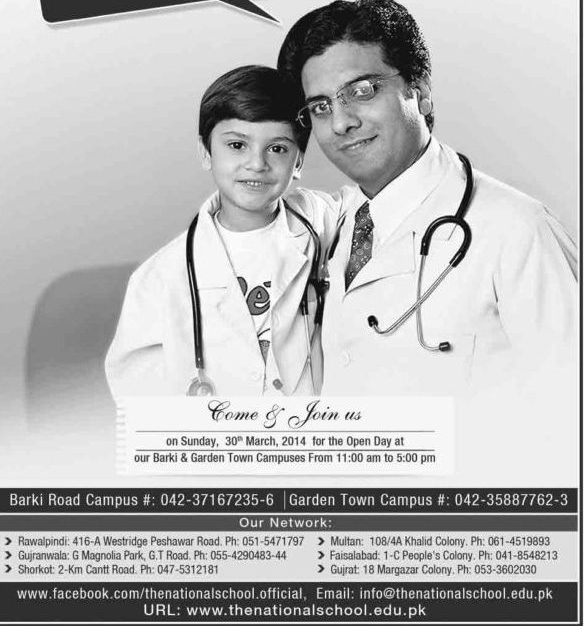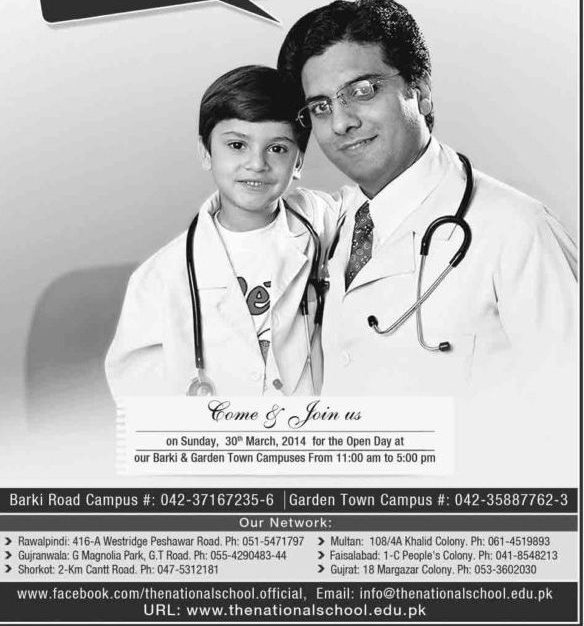 REGISTRATION
Parents wishing to admit a child should first register for an admission test by completing the admission form at the school office and taking an appointment card for the test and interview. Registration does not in any way confirm or guarantee admission. It is subject to getting through an admission test/ interview and availability of the seat.
ASSESSMENT/ADMISSION TEST PRE-NURSERY – KINDERGARTEN
An informal individual assessment test is taken combined with an interview with both the parents. Generally, the reading level of a child, the vocabulary and concepts of colours and numbers are assessed. In addition, the confidence of the child, the level of spoken English and motor skills are taken into consideration.
GRADE I
Applications for Class I onward are tested in three subjects – English, Urdu and Mathematics.
The pass percentage is 50%. Duration of each paper is approximately 30 minutes.
For the written test, the child should come properly equipped with a pencil, eraser, sharpener and ruler.
The papers are not set from any specific textbooks or syllabus but are of a general nature designed to test the aptitude of the child in the basic subjects.
The test paper is not shown to anyone and only marks are communicated to the parents/ guardians.
A candidate caught cheating during the admission test will be rejected.
The list displaying names of selected candidates will be put up on the notice board of the concerned branch on the date given by the school.
In all cases, merit is the sole criterion for admission. The decision of the school cannot be challenged in any way and will be final.
ADMISSION FORMALITIES
Parents fill in the admission form and pay the registration fees after which they receive:
Relevant Fee structure slip
Appointment card with testing date & time on it
Registration receipt
Prospectus purchase cash receipt
Admission and fee payment information
Prospectus & newsletter (if any)
The documents to be attached with the Admission Form include:
A photocopy of Provisional Certificate and Character Certificate from last institution attended
2 recent passport size photographs
Attested photocopy of Birth Certificate
Report card from last school
Test and interview with both the parents on the specified date
Result is finalized within a week of the test & displayed on the notice board. Parents are informed about further formalities
Parents are given the admission fee bill, payable by a certain due date in a specific bank as mentioned on the fee bill
Application forms are available at the school office and should be filled in the school
RULES OF PAYMENT:
The fees payable for the period of the summer vacation are paid in advance and prior to closure
Once the fee bill has been issued, payment is made directly to the bank where the school operates its account. Parents must pay the fees by the date specified on the fee bill
Fees paid after the due date is subject to a flat surcharge as specified on the fee bill
If the tuition fee has not been paid by the end of the second month, the student is automatically withdrawn
FOR FURTHER INFORMATION CONTACTS OUR BRANCH. Barki Campus Address : Main Barki Road Near PSO Petrol Pump Lahore, Pakistan Tel: 042-37167235-6