5 Pakistan is in List of Forbes 30 under 30 Asia 2019 List
Forbes USA Magazine every year publishes top listed candidates list under 30 from whole world as well as fewer than 30 Asia list. In this year 5 Pakistani entrepreneurs and game changers are selected: Forbes 30 under 30 Asia List 2019.
It's a proud moment for Pakistan and the people of Pakistan that five Pakistani are in top list that is published by Forbes today. Forbes every year published the candidates whose start New Business, New Technology in startup under 30 years old, there are many categories list and have a unique way to select the candidates in new field.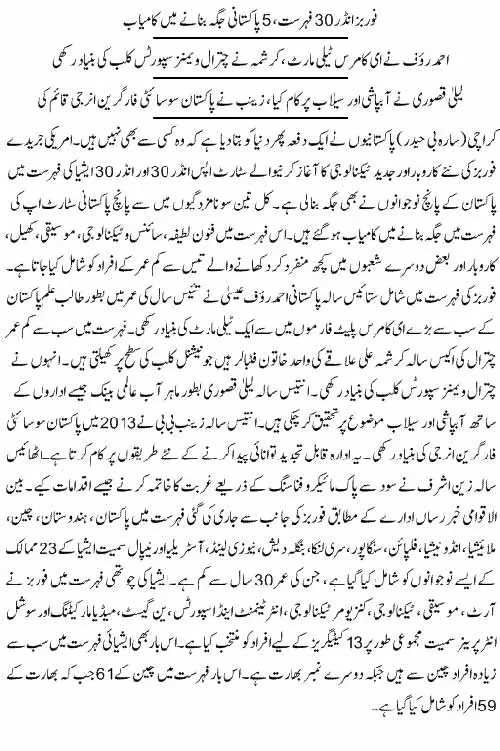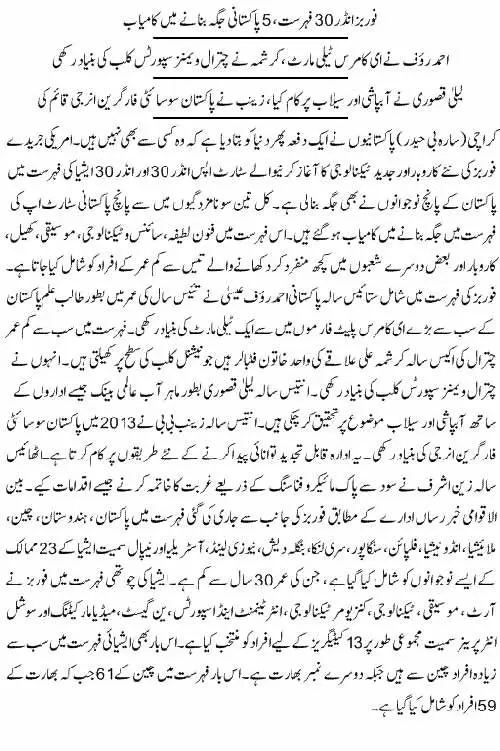 The complete list of Forbes 30 Under: Click Here
Pakistani Top Listed Candidates:
Karishma Ali:
She is only 21 years old, she belongs from Chitral, and she is only one female football player from all over the hometown that she is playing at the national level in national club.
Forbest said about Karishma Ali: Ali has represented Pakistan at the Jubilee Games in Dubai and also founded the Chitral Women's Sports Club.
Zain Ashraf Mughal:
Zain Ashraf Mughal is 28 years old founded interest free banking system in Pakistan and in this way the poverty can be decrease without interest. Zain Ashraf Mughal founded interest free banking system four years ago and this system raised over 600 entrepreneurs in four cities across Pakistan from four years with funding Rs. 900,000/- per person.
Ahmad Rauf Essa:
Ahmad Rauf Essa is 27 years old as a student make a biggest telemart in E-Commerce Platform.
Laila Kasuri:
Laila Kasuri is 29 years old and she is currently working with Global green Growth investment policy solutions division.
Forbes said about Laila Kasuri: "has led research at organizations such as the World Bank, the US Army Corps of Engineers, and the UC Davis Center for Watershed Sciences on climate-smart irrigation, flood risk reduction, and river basin planning".
Zainab Bibi:
Zainab Bibi is also 29 years old: in year 2013 she found Pakistan society for green energy, this organization working in new ways to produce technology in new methods.
Forbes said about Zainab Bibi: "Since its founding, the company has successfully developed a bio-fuel from waste tissue paper, and introduced Camelina Sativa, a drought-resistant plant that can be made into bio-diesel,"
All five Pakistani are eligible to get halt prize from forbes for year session 2019. LearningAll give special salute and congratulation to all, who make Pakistan Great.