8th Class Admissions in Cadet College Pasrur 2021
Cadet College Pasrur is working under government of pakistan, now open admission in 8th class for session 2021.
FOR 8TH CLASS 2021
Last Date of Form Submission: 20-11-2021 Entry Test Date Saturday, 07-12-2021 (11:00am)
Paper MCQs Type 100 Marks
Subjects: English, Math, Urdu, Islamyat
Registration Fee :1500/-
Late Fee. 3000/-
Bank Draft favor of
Principal Cadet College Pasrur.(any Bank)
Eligibility Criteria for 8th class:
The student having 7th class pass degree with age limit 12 to 14 years old till date 22 April 2021 are eligible to apply in 8th class.
Written Examination and Interview Schedule:
Entry Test will be held on date 30 November 2021 Saturday Time 11:00 at Cadet College Pasrur, Lahore and Rawalpindi. the entry test will be held from following Punjab Textbook board Books:
Mathematics
English
Urdu
Islamiyat
The Entry Test Examination MCQs will be objective type with 100 Marks. after the announcement of successful candidates, the college officials will be called for further Medical Test and Interviews.
College Prospectus and
11th Class Admissions in Cadet College Pasrur 2021
Cadet College Pasrur starts admissions in 11th Class session 2021. Cadet College Pasrur invites Admission Applications from those candidates who have 70 % Marks or more in Matric Board of secondary education. only fresh candidates who appear in SSC Annual Exam 2021 are eligible to apply.
Application form can be obtained from college office or download from college website www.cadetcollegepasrur.edu.pk Cadet College Pasrur will be taken Entry tests on dated 30-11-2021.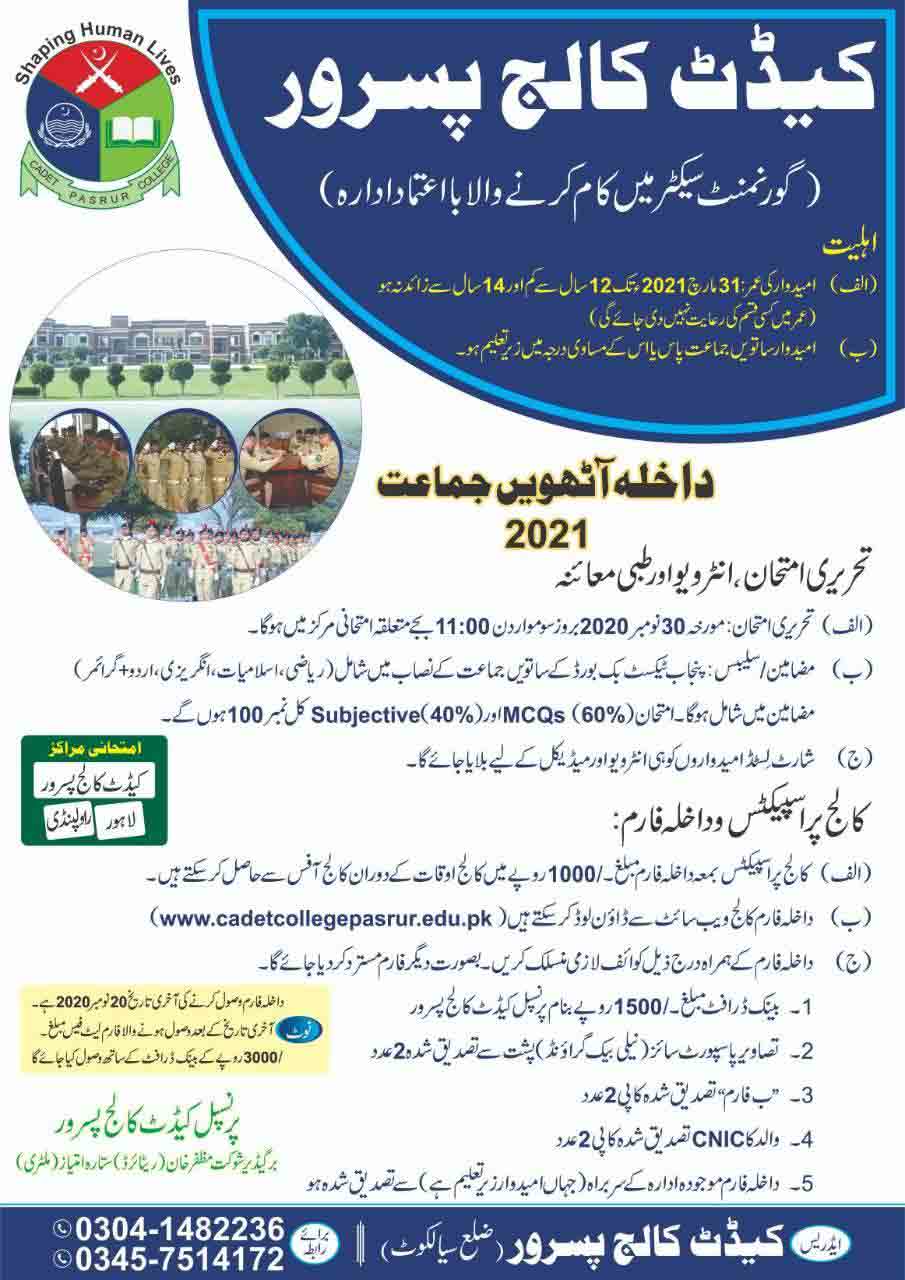 Sunday, followings subjects, Biology, Math, chemistry, Physics, and English.
Entry Test Centers:
Cadet College Pasrur
Lahore
Rawalpindi
The Entry Test will be conducted in Lahore and Rawalpindi only, if the applicants have 50 or more than 50 students otherwise, its necessary to to Join Cadet College Pasrur Entry Test Examination.
Entry Test Subjects:
FSC Pre Medical : English, Physics, Chemistry, Biology
FSC Pre Engineering: English, Physics, Mathematics and Chemistry
ICS Computer Science: Maths, Computer, Physics and English.
Interested students send their Admission Applications before dated 20 July 2021.
Entry Test Will be held on date 28 July 2021 Saturday
Admissions to Class XI 2021 Open from today.
Read Also:
Cadet College Fateh Jang Admission 2021 Test Date Result