It's a batter opportunity for students both male and female and especially female candidates can do this job from their own homes and where they live. Whether you are a student, homemaker or a part-timer, select flexible working hours that suit your schedule and earn upto 30,000/- per month.
Apply Online: [button link="http://tcs.rozee.pk/job-detail.php?jid=DXUR1Ug35gkXtLbPRVMfIVJxo6jOpacRQTev99trFa8=&ac=apply"]Click Here[/button]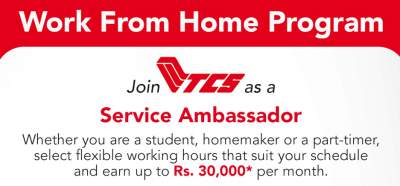 Job requisites:
The interested candidates who want to apply for Service Ambassador need minimum education intermediate / A-Levels.
The candidate must have education to run computer, Internet, and they must have their own computer, Internet, Mobile Phone, and a separate SIM card.
Excellent interpersonal and communication skills, the candidate must give four hours a day and 5 days a week.
The candidates must be able to attend mandatory 8 days training in Karachi or Islamabad city.
Job specification:
The candidate will be providing inbound and outbound customer support to TCS clients though phone and electronic channels.
Apply before dated: 20 April 2018 through Rozee website tcs.rozee.pk.
All interested male and female candidates may apply before due date. Only shortlisted candidates will be call for test and interview.