WafaqUl Madaris Al Arabia Pakistan Position Holders 2017
ملکی سطح پر پوزیشن لینے والے طلباء اور طالبات کی لسٹ دیکھنے
صوبائی سطح پر پوزیشن لینے والے طلباء  کی لسٹ دیکھنے
صوبائی سطح پر پوزیشن لینے والی طالبات کی لسٹ دیکھنے
Wifaq ul Madaris Al Arabia Multan today announced the Results of male and female candidates and the top position holders of alia year one to year 2nd and alima year one and second the position holders will be published year soon currently you can see previous years list of top position holders in below of this page. the result is announced today dated 24 May 2017 and the Top Position holders will be update here soon of year session 2017.
Position holders list 2015 will be published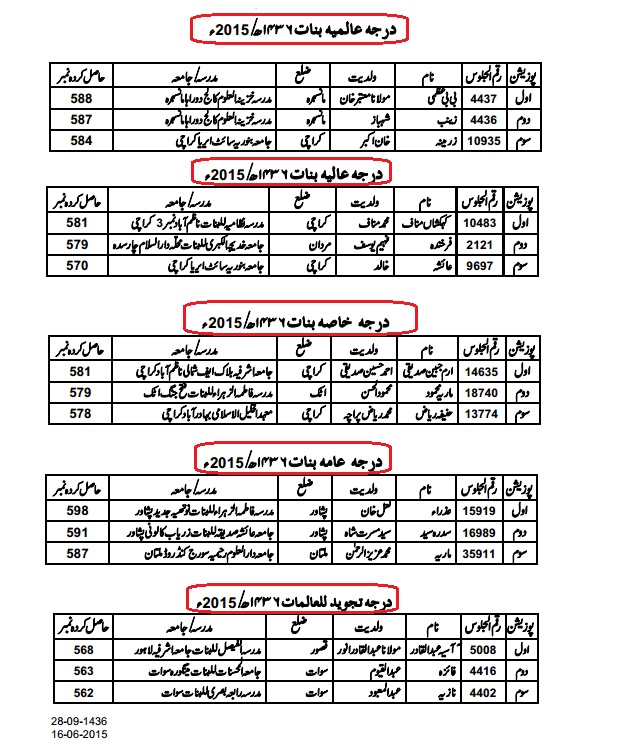 وفاق المدارس العربيہ پاکستان
سال 1436ھ بمطابق 2015ء ميں پوزيشن حاصل کرنے والے طلبہ/طالبات
بنات
بنين
ملکى پوزيشن ہولڈرز
صوبائى پوزيشن ہولڈز
بنات
بنين
صوبہ بلوچستان
بنات
بنين
صوبہ پنجاب
بنات
بنين
صوبہ خيبر پختونخواہ
بنات
بنين
صوبہ سندھ
بنات
بنين
صوبہ گلگت بلتستان
بنات
بنين
صوبہ آزادکشمير
Position holders list 2014
سال 1435ھ بمطابق 2014ء ميں پوزيشن حاصل کرنے والے طلبہ/طالبات
بنات
بنين
ملکى پوزيشن ہولڈرز
صوبائى پوزيشن ہولڈز
بنات
بنين
صوبہ بلوچستان
بنات
بنين
صوبہ پنجاب
بنات
بنين
صوبہ خيبر پختونخواہ
بنات
بنين
صوبہ سندھ
بنات
بنين
صوبہ گلگت بلتستان
بنات
بنين
صوبہ آزادکشمير
(Islamabad, Multan education news) Wafaq ul madaris has been announced the Results session 2013. In this year success rate of WafaqUl Madaris Al Arabia Pakistan remains 79 percentages. Total 175959 students become success in these results. The sadder of WafaqUl Madaris Al Arabia Pakistan sheikh ul hadees Maulana Saleem ullah khan and Nizam allah maulana Muhammad haneef Jalandhari announced Result 2013 1434.
In this Annual examination total examination centers remains 1459.
There are total 237911 students are registered for appearing in the annual examination under the Wafaqul Madaris and among them only 223739 students appear in the examination but all of them are not got passed as only 175959 students got passed and 47780 are those who got supply in the annual examination. Hence by this the passing ratio of the total student is 79% in year 2013.
The top position holder's 2013 detail given below
MA First Year Top 3 Position Holders 2013
First position Holder: Muhammad Umar Rafique
Second Position Holder Muhammad Zohaib
Third Position Holder: Kaleem Ullah & Saim ul Laiq
MA Second Year Top three Position Holders 2013
1st position taken by Abdul Majeed
2nd Position Taken by Abdul Qadir
3nd Position Taken by Shahab Ud din
BA Top three Positions 2013
1st position taken by Muhammad Zubair
2nd Position Taken by Muhammad Junaid Saleem
3nd Position Taken by Muhammad Akmal
FA Top Three Positions 2013
1st Position taken by Mudassar Shah & Qamar Abbas
2nd Position taken by Atta Ur Rehman
3rd Position taken by Abdul Wahab
Matric Top 3 Positions
First position Holder: Salman Khan
Second Position Holder: Ali Raza
Third Position Holder: Mushtaq Khan
Middle Top 3 Position Holders 2013
First position Holder: Hafiz Tasleem Shahid
Second Position Holder: Muhammad Musa
Third Position Holder: Abdullah Abid
Among Female Students Position Holders 2013
MA Second Year Position Holders 2013
First position Holder: Ayesha Saleha
Second Position Holder: Uzma rehman & Kahdija
Third Position Holder: Samia Tehmas
BA Female Top 3 Positions
First position Holder: Qurat Ul Ain
Second Position Holder: Haifza Samia Adrees
Third Position Holder: Saba Farooq
FA Female Top 3 Positions 2013
First position Holder: Ayesha Arif & Samreen Akhtar
Second Position Holder: Ayesh Sadiqui
Third Position Holder: Munaza Waheen & Raufia
Matric Female Top 3 Position Holders 2013
First position Holder: kehkashan Munaff & Iqra Muhammad
Second Position Holder: Saida Basheer
Third Position Holder: Laiba Tabassum
وفاق المدارس کے سالانہ امتحان 1434ھ/2013ء ميں صوبائى سطح پر نماياں پوزيشن حاصل کرنے والے طلبہ طالبات کى فہرست