University of Gujrat Hafiz Hayat Campus Starts Admissions for private students of classes BA/ Bsc / M.A / Msc Annual examination 2022.
Last date for registration is 23 September 2022
UOG Admission Schedule 2022-2023
ADMISSION CALENDAR FALL-2022
Online Admission Open April 08, 2022
Deadline for the Submission of Online Application Forms (Till 02:00 PM)
Uploading of Department wise / Degree wise / Date wise applicants lists of all applicants on UOG admission portal (https:/uog.edu.pk).
Medical Examination for the Reserved Seats (Special Person)
UOG Entry Test (Where required)
First Merit List for All Programs
Deadline for Fee Submission for First Merit List
Second Merit list for All Degree Programs
Deadline for Fee Submission for Second Merit List
Third Merit List for All Degree Programs (If required)
Deadline for Fee Submission for Third Merit List
Intimation of roll numbers and emails to the respective students by the departments concerned.
Departmental Orientation (Online)
Commencement of Classes for all Degree Programs
UOG starts admissions from and the last date of registration is for single fee private students. The Single free registration is Rs. 2000/-
The admission registration forms available at Punjab Bank branches with Rs. 30/- you can also download admission form from below this link butt with this form you must send Demand Draft of Rs. 2200/-
University of Gujrat UOG 1st Merit List 2022 Selected Candidates: UOG Merit List 2022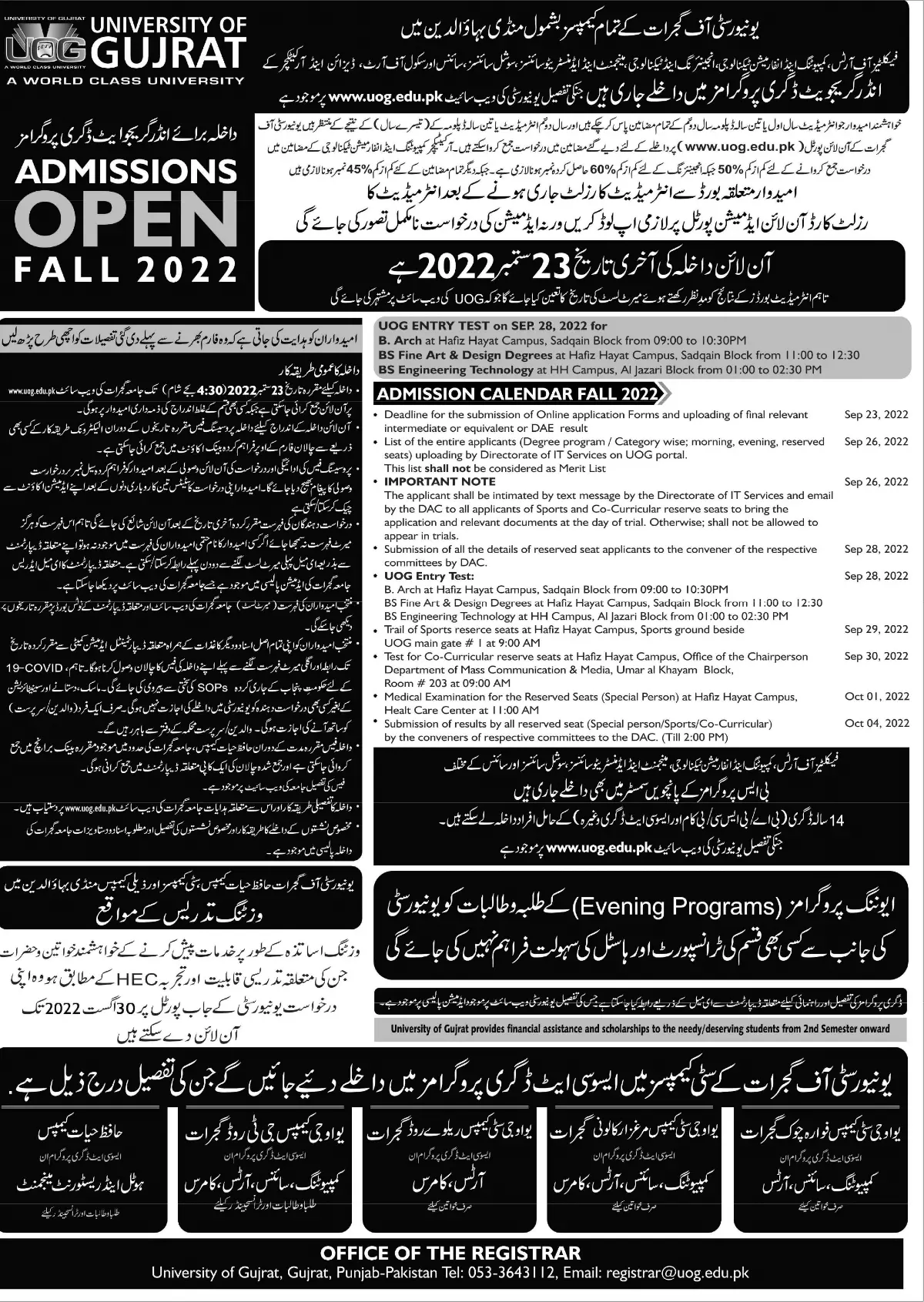 The certificates of Matric, Inter and graduate will be attached with registration form with ID card copy and latest passport size photographs.
For more details of admissions you can check below this image.
www.uog.edu.pk
UOG department of English starts taking online applications for BS English, MA English, M.Phil English, Linguistics literature PhD in English.
phone number 053-3643112 and 3643117 ext 155 email address: [email protected]
HAFIZ HAYAT CAMPUS, GUJRAT (CO-EDUCATION)
FACULTY OF ARTS
Undergraduate Degree Programs (Full Time Morning)
BS-English
BS-English (Applied Translation Studies)
BS-Islamic Studies
BS-Mass Communication
BS-Physical Education & Sports Sciences
Undergraduate Degree Programs (Full Time Evening 1:30 pm)
BS-English
MA-English
MSc Physical Education & Sports Sciences
MA-Islamic Studies
FACULTY OF COMPUTING & INFORMATION TECHNOLOGY
Undergraduate Degree Programs (Full Time Morning)
BS-Computer Science
BS-Information Technology
BS-Software Engineering
FACULTY OF ENGINEERING & TECHNOLOGY
Undergraduate Degree Programs (Full Time Morning)
BSc Chemical Engineering
BSc Electrical Engineering
Undergraduate (Full Time Evening 1:30 pm)
BS-Chemical Engineering Technology
BS-Electrical Engineering Technology
BS-Mechanical Engineering Technology
FACULTY OF MANAGEMENT & ADMINISTRATIVE SCIENCES
Undergraduate Degree Programs (Full Time Morning)
BS-Accounting and Finance
BS-Banking and Finance
BS-Commerce
Bachelor of Business Administration: 04 Years
INSTITUTE OF HOTEL & RESTAURANT MANAGEMENT
Undergraduate Degree programs (Full Time Morning)
BS-Hospitality Management
Associate Degree in Hotel & Restaurant Management
FACULTY OF SCIENCE
Undergraduate Degree Programs (Full Time Morning )
BS-Biochemistry
BS-Biotechnology
BS-Botany
BS-Chemistry
BS-Environmental Science
BS-Geography
BS-Remote Sensing /GIS
BS-Mathematics
BS-Physics
BS-Statistics
BS-Zoology
Undergraduate Degree Programs
BS-Biochemistry
BS-Biotechnology
BS-Chemistry
BS Physics
BS- Mathematics
BS-Zoology
MSc-Botany
MSc-Physics
MSc-Mathematics
MSc-Statistics
MSc-Zoology
M.Sc-Chemistry
FACULTY OF SOCIAL SCIENCES
B.Ed. (Hons)
BS-Economics
BS-History
BS-International Relations
BS-Political Science
BS-Psychology
BS-Sociology
Undergraduate Degree Programs (Full Time Evening 1.30 pm)
MSc-Economics
MA-Education
MA-History
MA-International Relations
MA-Psychology
MA-Sociology
SCHOOL OF ART, DESIGN & ARCHITECTURE (SADA)
Undergraduate Bachelor Degree Programs (Full Time Morning)
Architecture (05 Years)
Fine Arts (04 Years)
Design (4 Years): Specialization after two semesters/one year in the followings fields.
Ceramic
Communication
Multimedia Arts
Product
Textile
UOG CITY CAMPUS G.T. ROAD GUJRAT (CO-EDUCATION)
Undergraduate 05 Years Degree Programs
LLB (Hons)
Undergraduate Master Degree Programs (Full Time Morning)
Computer Science
M Com
Undergraduate Degree Program (Full Time Evening 1:30 pm)
Bachelor of Business Administration: 04 Years
Bachelor of Business Administration: 02 Years
UOG CITY CAMPUS MARGHZAR COLONY GUJRAT
Undergraduate Master Degree Programs (Full Time Morning, Females only)
Computer Science
Information Technology
Undergraduate Degree Programs (Full-Time Evening, Coeducation 1:30 pm)
BS-Computer Science
BS-Information Technology
BS-Software Engineering NUMS MDCAT Entry Test 2022 MBBS / BDS Syllabus