University of Management and Technology Offer MS/M.Phil admissions 2023.
The first 4 Stars W4 private sector university in the Punjab. 22 Year of the academic excellence. Redefining life, learning and leadership.
School of Business and economics:
PHD management (Management and Marketing)
Ms Management (Management and Marketing)
MS marketing
MS supply chain management
MS/M.Phil in economics
MBA professional (Morning/Evening)
School of Science and Technology:
Master/PHD Architecture
MS/PhD aerospace and Avionic Engineering
MS/PhD city and regional planning
MS/PhD computer science
MS/PhD electrical and power engineering
MS/PhD health information
MS/PhD Industrial engineering
MS/PhD mathematics
MS/PhD robotics, embedded
MS/PhD software engineering
MS/PhD telecommunication engineering
MS/PhD Physics
MS/PhD chemistry
Institute of audit and accountancy:
MS/M.Phil accounting (weekend)
M.COM specialization audit, finance, Islamic banking, corporate governance, Taxation and accounting.
School of social science and Humanities:
PHD education
PHD special education
PHD clinical psychology
PHD English
M.Phil education
M.Phil special education
M.Phil applied linguistics
MA education
Admissions are also open in four year Graduate program.
Apply before
Note: GMAT/GAT qualified candidates are exempted from UMT admissions test.
Separate hostels are available for both female and male students.
Pick and drop facility are also available.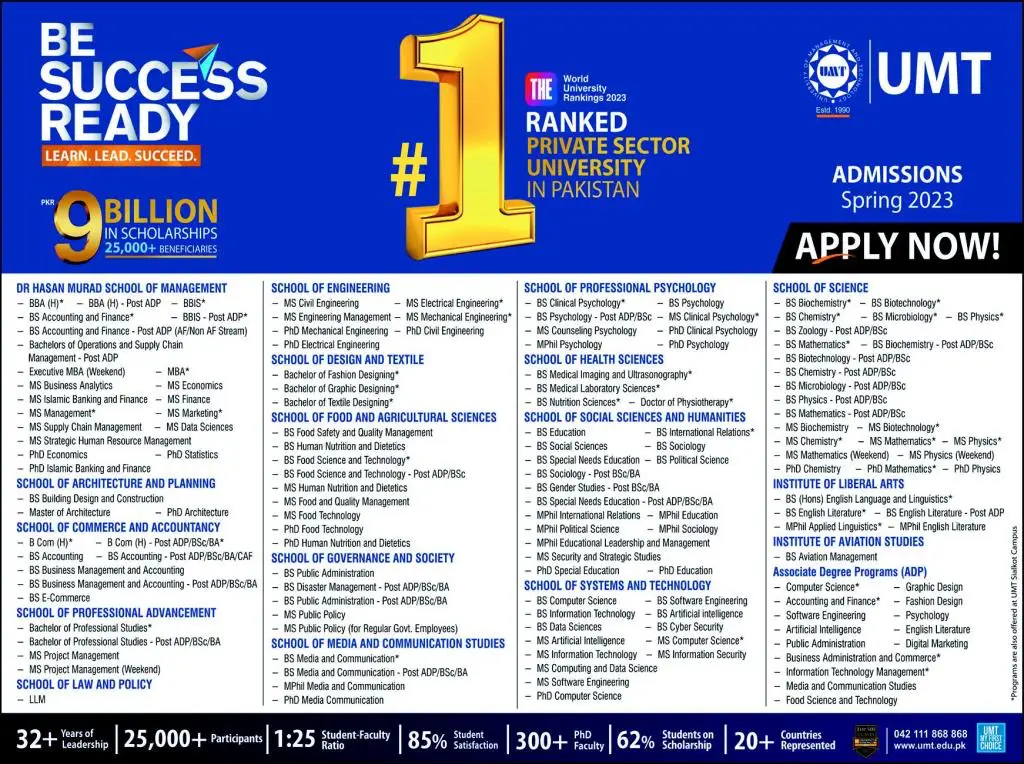 For contact:
phone no: 042-35212801-10, cell: 0300-8430686 email: sbe.info@umt.edu.pk
University of management and technology
C-II, Johar town Lahore Pakistan. Http: sbe.umt.edu.pk
UNIVERSITY WEBSITE: WWW.UMT.EDU.PK