UHS Lahore Admission 2021 MBBS BDS Medical Colleges Punjab Merit List
University of health sciences UHS Lahore today announced the admission schedule for MBBS and BDS in Punjab Government Medical and Dental Colleges for Session 2021-2022. The Students who are awaiting online registration, from today date 06 January 2021 students can submit Admission application online through uhs.edu.pk or www.bop.com.pk/UHS-Punjab/Login.aspx official website of University of Health sciences Lahore.
Admission Schedule:
Online admission application starts from Date: 11 January 2021
Last Date to apply online: 22 January 2021 time 04:00 PM.
Hafiz-e-Quran Test: 26 to 30 January 2021 at UHS Lahore University Main Campus.
Medical Board for Students with Disabilities: 26 to 29 January 2021.
Provisional Merit List of Applicants: 05 February 2021.
Final Merit List of Applicants: 08 February 2021.
Last Date for submission of Fee at College: 19 February 2021.
Second Merit List / Selection List: 24 February 2021.
Commencement of Classes MBBS / BDS: 01 March 2021.
Third Merit List / Selection list if any: 05 March 2021.
Only online admission applications will be accepted for first year MBBS and BDS in public sector medical and dental institutions of the Punjab for the session 2021.
Eligibility Criteria:
The student having HSSC (Intermediate) FSC Pre-Medical Degree with minimum 65 percent Marks 715/1100 or equivalent examination.
The candidates having public domicile are eligible to apply only. The students who are from Islamabad can apply for open Merit basis.
The applicants having 60 percent 120/200 marks in the National MDCAT-2020 for foreign / overseas Pakistanis seats SAT II Scores minimum 550 Marks in each Subject I.e. Biology, Chemistry, and Physics/ Mathematics or International MCAT Score minimum 500 are also acceptable.
In SAT II the weightage of biology will be 40 percent chemistry 35 Percent and Physics and Mathematics 25 Percent.
For foreign/overseas Pakistani seats, the eligible candidate must have obtained his/her HSSC or equivalent 12th grade Qualification from Pakistani Aboard.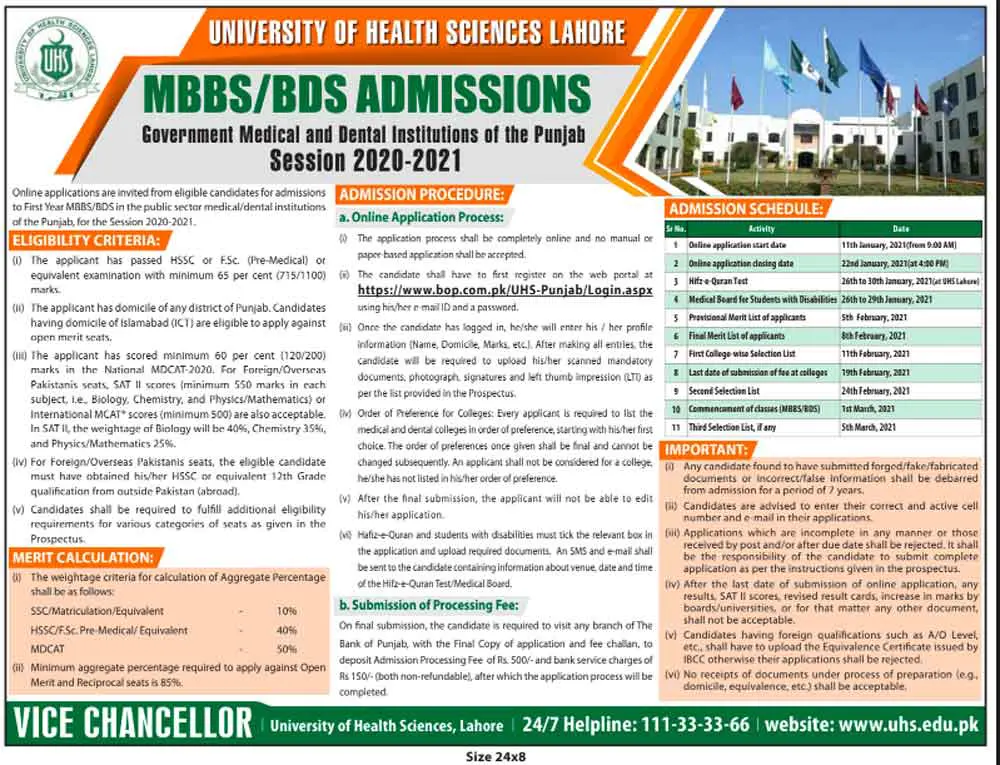 Merit Calculation:
The weightage criteria for calculation of Aggregate percentage shall be as follows:
SSC/Matriculation / Equivalent: 10 Percent
HSSC/FSC Pre-Medical / Equivalent: 40 Percent
MDCAT: 50 Percent
Minimum aggregate percentage required to apply against open merit and reciprocal seats is 85 Percent.
Complete Information with Apply Online: Click Here
Read Also:
UHS MDCAT 1st Merit List 2021 For MBBS Candidates